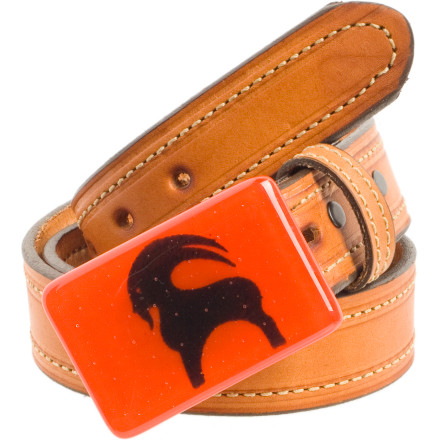 Detail Images

Community Images
Born in a fiery artisan shop deep in the Tetons, the Backcountry.com Glass Goat Buckle is handcrafted, highly-durable, and designed to be worn from the streets of Targhee to the mountainous Jackson backcountry. Local Jackson Hole artist John Frechette forms the glass for the buckles using days of freehand prowess, and he cuts the leather for his Strapped belts from local Utah leather. With a skilled hand, he cuts the layered glass design using a diamond-coated blade before firing his creations at for twelve hours at over 1,5000 degrees in a kiln. Finally, each piece of glass is individually cleaned and polished to satisfaction and then joined to its metal backing using a rock-solid riveting process. Only a handful of these Backcountry.com, Mountain Khakis, and Strapped belt collaborations were created, making these works of art truly rare and one-of-a-kind.
Note: While the colors shown are accurate, please bear in mind that each buckle is unique, and may differ slightly from the photos above
First off, it ran small so I have about a 30" waist and the 32" belt just barely fits, which is good because it's beautiful. Really nice leather, really cool and good looking buckle. I really like it a lot. You can feel the quality and there is no doubt I'm going to be wearing this for years to come.
Unanswered Question
what size belt for a 32 waist?
what size belt for a 32 waist?
Show Stopper - run small
Gender:

Female

Familiarity:

I returned this product before using it
The glass belt is really great once you see it in person. Unfortunately, They run a size small - and i had to return it. Waiting for more inventory!!!! Hope they come in soon..
What can I say the glass buckle is awesome (more durable than I originally thought), it is stylish and keeps my pants up. Just plain fun to wear around. Highly recommended!!! Get them while they last
After getting the right size and having had the belt for about 6 months now i can definitely say its my favorite. It breaks in for a very customized feel, and the leather looks awesome, and appears its going to get better with age. The buckle it self is also very sharp looking, looks great with jeans and other casual pants/shorts.
So far, I like the belt. Girl friend picked it up for me, as I honestly would never pay $75 for a belt. Its definitely more for style than actually holding your pants up since the distance between holes is about 1.5" and you will most likely always fall somewhere in the middle of two holes. Glass buckle face is epoxied to the metal parts of the buckle (not riveted as described) , so will see how long that holds up. Depending on what happened the weekend prior I am between a 36-38 waist. I purchased the 38 in red and am currently in the 2nd to last hole (closed completely) and have 3 holes of adjustment (5 holes total on this belt). So a 36 would probably put me on the 2nd to last hole on the other end. Its growing on me and continues to paint me as a BC.com poster child when rockin' it...

As a side note, my ADD was kicking in and I have to say that I have never heard of such a temperature, 1,5000 degrees!? Nor for the life of me can I understand what "at for twelve hours" means??! ("at for twelve hours at over 1,5000 degrees")

Yeah yeah, I know leave it be... but I couldn't at not help myself!
Will you be getting more of these BC?
Will you be getting more of these BC?
Your best bet for quick answer on stock question is to open a chat with a BC rep using the link at the top of the page. Best of luck!
Unfortunately, Backcountry.com will not be getting any more of these belts/buckles, as they were a limited edition production run.
I love how pro-sauce this belt looks. The belt itself is made from cowhide, super tough, thick belt. Make sure what it is holding up has larger belt loops to fit this belt.
I have a 33 inch waist. I bought the 34 and it fits with two spare slots. I get compliments on it all of the time and I cannot wait for it to break in. It is stiff right now, but I think I will love it even more once it breaks in.
...some belts are more belt-y than others though. The buckle is beautifully made, and will last a lifetime(with a little care). The leather belt supplied is the sort of thing that'll look better the longer you have it. You'll never need another. The sale price is a bargain too.
Is the buckle removable - can I use this...
Is the buckle removable - can I use this belt with a different buckle and this buckle on a different belt?
Best Answer
Yes, buckle arrives separately packaged to the actual belt. Clips in and out.
Are the sizes listed actual belt length...
Are the sizes listed actual belt length or do they refer to waist size?
The sizes are in relation to the belt length which I had to learn the hard way due to Thomas's incorrect response. A 32 belt measured around 37 inches, when most my belts for my 32 waist (Im basing this of of my pant size) are about 40 inches
A great leather belt that breaks in quickly for a great fit. The glass buckle is a cool design. It wears well. The colors look as pictured above. Nice collector item from BC.com.
holds pants up real well.