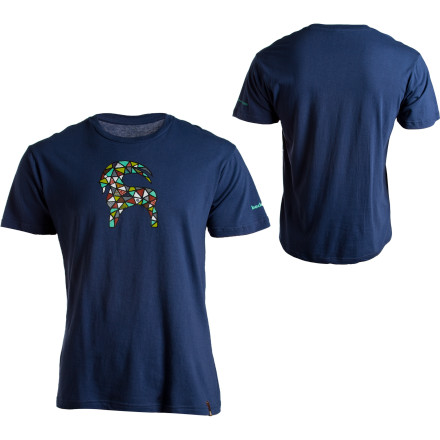 Detail Images
Like a mosaic of awesomeness, the Backcountry.com Men's Facet T-Shirt wears its Goat like a chapel flaunts its stained glass windows. 100% Organic cotton drapes your body in epic—yes, epic—comfort, while the printed Goat logo inspires and awes.
It did shrink. I ordered XL and I'm 6' 185 lbs and now I would say it's an "athletic" fit for me. So definitely size up one level when ordering, as I normally wear a Large in T-shirts. Love the stained glass style goat!!
HEY! anybody out there who could help...
HEY! anybody out there who could help me!!

ive read all the reviews for this shirt. most of them are not so good saying it shrinks too much. Well, i still really want one bad.

What size do you think i should get if i want it to shrink to a size medium. I am 6'1 165 or so. What size do you think i could bank on shrinking to fit me best???
Best Answer
everyone is saying that it shrinks one to two sizes after the 1st wash. I would go with an XL or 2X based on what everyone is saying. i think backcountry.com would do well to pre shrink their shirts.
Probably my favorite BC shirt, and have received multiple compliments. I'm 6'1" and 200 lbs so i went with the XL. Good choice for me but probably not the right size if you've got a keg going on. My boxers do show a little with my arms all the way up but not really a huge concern with an everyday T-shirt. Again BC shirts run small so order a size up
If you like belly shirts, then buy this shirt. Unfortunately, the fabric used with this shirt is more than sub-par when it comes to the quality I'm used to from BCS. You'd have to wash this by hand every time to keep the size even close to it's original, and that's simply unacceptable for a sub-$20 shirt.
The original fit of the shirt is quite nice and it looks good. After one washing/drying the fit shrinks slightly, but the length of the shirt is significantly shortened. I can't keep it tucked into a harness anymore, and reaching up without looking like you're wearing a child's shirt, forgetaboutit!!!!

Also, after that same first washing, the screen printed goat on the front of the shirt is already peeling off.

Bottom Line: You'll be disappointed if you buy this.
I am not a huge guy, i usually wear a M, or a small in brands that run large like nike. this shirt came and fit well, but when i washed it it shrank to look like a little girls shirt.
recommended order a size up
Nice shirt wanted to show my pride. I'm a XL. The XL out of the dryer turned into a med.
Errr... I don't recall ordering a crop top. I also got the heather gray Backcountry t-shirt, and while small for a Large (I'm an HONEST 5'10", so for most people I would be 5'11" or even 6' and 170 lb), it still fits well and is comfortable. But this shirt, unlike the grey one, looks like a friggin crop top! You can tell what kind of boxers I am wearing from all angles. Even worse, it fans out like a tutu to fit like a 48" waist. Terrible.
I was hesitant to buy a logo'd shirt, but I happen to like this design too much. Great shirt.
i love backcountry.com why wouldn't i buy their t-shirt