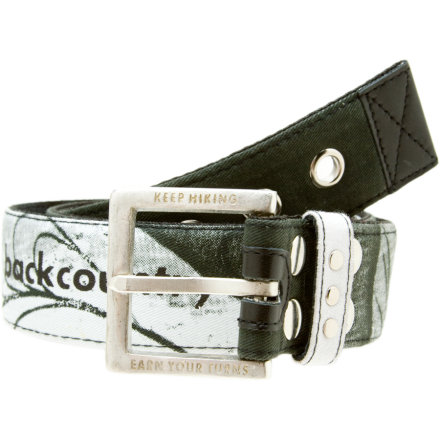 Detail Images

Community Images
Favorite Belt
Familiarity:

I've put it through the wringer
I bought this belt on sale and have been very happy with the decision ever since. I've had it for a few years now and it has held up very well. It always gets a lot of comments when I wear it around a ski mountain.
This is a great belt. Very strong, and well built. It is very good looking. It is a little bit wide, so it doesn't fit in some narrow belt loops. But I love mine.
What is the width of the belt? Just wanna...
What is the width of the belt? Just wanna make sure it will fit the loops on my ski pants. Thanks.
1.5". Just saw on the web site. Nevermind.
1.5". Just saw on the web site. Nevermind.
This belt is to cool for words. Strong belt and looks even better, little stiff at first takes some breaking in cause its got a thick double layer design. My friends all want one now.
Great belt. Just the right width. I'm a 33"-34" waist and all that was available was a large. I'm on the last notch of the belt. Wish they had a medium.
I'm looking for a belt for ski pants. My...
I'm looking for a belt for ski pants. My waist is 38. Is this belt long enough?
If you read the reviews, people in the 32-34 waist size generally find the medium fit them well, with room to spare. One reports the small was stamped 26-30, so extrapolate that to 30-34 medium, 34-38 large. So, based on that detective work, it seems this would work for you. And, always an easy return in any event.
Does the job and so far has been very durable through everyday use, hiking, biking, etc. I have a 34" waist and I am on the final (smallest sizing) of the L so the M is probably ideal for my size.
This belt holds my pants up. It also looks cool and takes forever for the Little metal rings to rip out (although they will eventually). One of the more durable belts I've found for the price. Good for months of skiing/working, depending on how rough you are on... your belts.
This is a sick looking belt. The writing on my buckle is different though, says "Grab here, use as a whip". Quality. I'm a 34" waist, should've gotten large but the medium just about works too!
Durable for work or play, love this belt.
Ski belt became my only belt
Solid construction, durable, and killer style and graphic. I love this thing and have been wearing it on almost a daily basis since September. 6 months and my only gripe is that it's a little wide and makes for a tight loop fit on some jeans. Beyond that very small thing this belt is sick!
Its a little big for using as an everyday Belt, but for the slopes, when you have layers on it works perfect. The Design is great I absolutely Love it.

The size comes as a 34-38
This belt is awesome!! Made better then any belt I found at the local mall and a lot cheaper. Works great.
Bit disappointed, the belt that came was very small, I didn't see a size choice when I ordered it. It fit my wife so I guess somebody likes it.
This a solid belt that I wear with jeans and my ski pants. Haven't had any problems with it. I ordered the Medium for my skinny 30 waist. I have several loops on either side. I'm happy with it considering its not too expensive for a belt that will hold up to a lot of abuse. Rock on BC!
It's waterproof and holds up your pants, what more could you ask for.
good quality at a reasonable price.
this belt looks great and fits perfectly!!!
light and comfy all you need to keep your pants up. I use it everyday but also a great belt to hold up my ski pants and unlike typical leather belts it's not stiff and doesn't stretch and crack over time
Great price and fit on this belt, i wear it all the time.