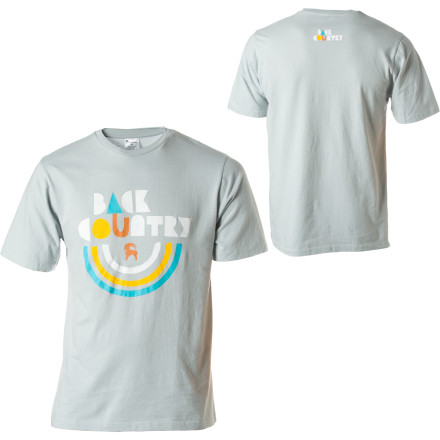 Detail Images

Community Images
I <3 BC.com and SAC.com. Thankfully, they've made the most absurdly soft t-shirt I've ever owned to make it easy to show off my mindless devotion to an internet retailer.
Super comfy (soft) and fits well. I'm 5'7" 145 and the medium fits me perfect. Like the design also.
got it onsale from SAC I believe and it is one of the most comfortable t-shirts I own! the material is wicked soft, and the design and color scheme are sweet. ditto on representing a sweet company! Thanks Backcountry!!
Backcountry makes the best tee's. The sleeves are the perfect length, and finally a tee shirt that sits below my belt.

You will never go wrong with any Backcountry/steepandcheap/tramdock tee shirt.

Im 6'2 195 and the XL fits perfect with an undershirt.
Will this shirt be available in a medium...
Will this shirt be available in a medium soon?
Doubt full it was just on Steep and Cheap yesterday... so I doubt you see it again.
i feel like a goober reviewing a t-shirt, but, considering i picked it up on sac for a song, it's a nice shirt worth the time. the shirt is a perfect weight - not an extra heavy weight, not so thin you worry about your nipples leaving a lasting first impression. i'm between sizes, and, knowing backcountry's athletic-fit proclivity, i sized up. nevertheless, i would have been more than fine sticking with the medium. learn from me, if you're between sizes go with the smaller. it's amply sized, and a great, smart-looking lounger for those times when i know people are on their way and i'm not interested in putting on something with a collar.
Great, super comfortable, looks awesome, and the L fits perfect for me (6'3" 220). Glad I'm able to represent backcountry.com here in MI!
Loved it, but size ran a little small
I wish the XXL of this shirt was the same as an Old Navy or even a Reebok, it's going to stay in my closet till I lose some weight and can wear it.
Too bad, the design is great.
Nice shirt overall. Comfy material as well.
I am 6'4" and this shirt is not only the perfect length, but it also fits perfectly in the sleeves and torso. It is not made like all of the other XL shirts that are way to wide and not long enough. Awesome graphics, great fit, I highly recommend it!!!
This shirt rocks. My friends are jealous when I wear it because it makes me look so cool.
Comfy T great for lounging, bumming around town or to the gym! I am 6'2", 220 lbs and the L is definitely a SLIM fit, but still works! Love it, and for the price...can't be beat! Thanks BC!
This tee rocks. Soft, slimmer fitting, organic coton, retro, and most importantly shows off my BC love
Love this shirt. Way to rock the goat without having the logo on your chest. Don't get me wrong, I love the goat but I can only have so many goats on my chest. Long live BC.
I picked this shirt up a month ago, and love it. Very soft organic cotton, good looking graphic, my only issue is: I'd hoped these would have a somewhat "slim fit" like previous BC (and company) shirts, and they do not. I'm 6'4" ~185lbs ordered the large, while I've kept and wear it frequently, surely could've went with a medium just as well. So, if you're in between sizes or want a more "athletic" fit, consider sizing down.
You got to love a good looking retro T. Backcountry never disappoints.