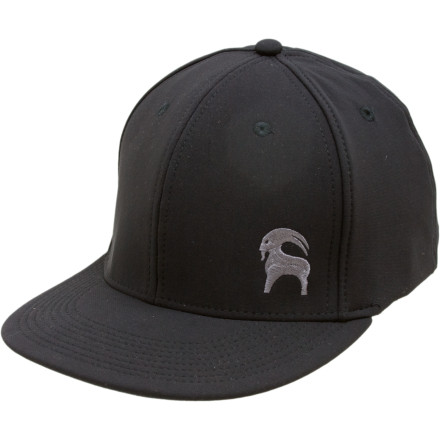 Detail Images

Community Images
Share your thoughts
What do you think of the
Backcountry
Creek Softshell Hat
? Share a...
Creek Softshell best thing ever owned
I ordered three of these hats and have been rotate the use of them for four years now. I have not used another hat. I love them and only wish I could buy more.
Unanswered Question
does anybody know who manufactured this...
does anybody know who manufactured this hat? this was my favorite style, and fit
Look like you're from the block... if you're into that
I have a huge head... normal hats just don't look right on me; they make me look kinda like Elmer Fud. This fits great and the material is pretty cool. It doesn't seem to get dirty as easily and it cleans well too. My wife calls it my "homey hat" which is far better than "Elmer Fud" in my opinion.
i love this hat, wish there was more, I have worn it out and want a new 1
weird fit, as most people say. nice idea...probably goes without saying that this material is wonderful. i just wish it fit more normally...there is SOOO much empty space above my head. disappointing. i would like to send it back, but wouldn't be worth it by the time i shipped it.
Perfect fit for us big headed people
this big hat fits my big head and keeps my big brain warm. looks sick too. it replaced eight other hats to become my daily cap. nice material, snug fit but stretchy and looks fresh. plus it wicks sweat away for you soppy beasts like myself.
Bleh. I look like a snowboarder.
I bought this b/c it was cheap off of SAC. Unfortunately, the L/XL is still too small for my giant dome, and the styling isn't quite the retro/classic/ski style that I'm looking for. It's more Jesse James, new school snowboarder than I'm looking for.
This there hat fits these chewing, drinking, extreme skier type's real good.
Sad to say another disappointment for me. I'm having horrible luck with hats lately. This thing is weird. The material is great and unique, but the hat just doesnt fit right. The front of it sits way too high on my head and makes me look like an idiot. But what can you expect for $12 i guess right? Do people actually try these products on before they go out to market? Just makes me mad something so small can completely ruin something cool.
Overall I'm a fan of this hat, just like other reviews the fit of the hat throws me off a bit. It's a very tall fitting hat, although it looks good on specific people. I have a very large head, but not tall at all so it looks kind of weird on me. I gave the hat to my brother in law and he loves it. Fits him good and he likes the fact that it won't hold sweat or smell as much as a cotton or wool hat. I love the tech side of the hat, the fit just was a big downside for me.
If you have you have a really huge head this hat is made for you..
I bought the Lrg because I have kind of a big head and this hat was way too big. They should call this the beavis and butt head edition, they would love this hat and it would fit them most likely. So if you have a really tall head and fat head this cap is perfect for you.
Yeah, this hat fits big and I have a med to large nogen. I ordered a Large/XL and I had to return it for a Sm/Med. However, I think its going to be a sweet hat and from what I could tell it will be good for kicking it and down for action at the same time. A must Get~
Thanks BC.com
Unanswered Question
I want to buy this hat for my dad for...
I want to buy this hat for my dad for christmas but after reading the reviews im not sure if its the right style of hat for him. so i guess my question is, is this a good hat for a 40 something dad?
I like it! Yes it has the skatebord look,but sometimes it is fun to be different.What i like about this hat is when I am ski touring or ski mountaineering people do not think I just eat granola and oatmeal.
Great material used to.
I read some of the reviews below, and I really like the fabric and the shape.... The fabric is light and doesn't "crinkle" like other a cottons or canvas. Its nice and loose, with an everyday purpose. You can exercise in it without it being a soaking mess also. The shape is a bit more youthful, but I like to be able to flip it around and wear it backwards sometimes without feeling like I drive a monster truck.

Enjoy!!
Abe Lincoln Could Rock This Hat!
Ok, first lets start with; Yes I know I work for Backcountry, I support the product team and everything they do they primarily do a great job with most product they push out, this hat however has a very awkward feel to it.

1. The Hat is too deep, it will go to your eyebrows so if you have a unabraw then this hat will dig with your style.
2. The Softshell is a great material for a Jacket not so much a hat, it tends to bunch up in the back (this is primarly because there is so much fabric not being filled up by the hat) My Welder Jacket is what I rock when it Rains not a hat.
3. The Goat stitching is a bit off (looks like a diagram to show you the diffrent meat cuts or muscles of our amazing mountain goat logo.
4. The Brim is HUGE, it creates this strange flair on the sides of the hat so the hat does't feel snug on the front of your head.

Well with all that said, if you have a tall head and like to rock the low riding hat then this is that hat for you. Again I love Backcountry product and I think it's some of the best out there, I was just not to impressed with this hat. Hopefully they will take these reviews and make the perfect hat for next season. Thanks!
I'm all about the goat gear... but like other's said, this hat just isn't right. The material is cool, but the fit is terrible, too tall. I wear the hell out of my Backcountry.com Goat Wool Flexfit Hat and wanted another and saw that it was no longer available, so I tried this. I would not recommend it. I'm sending mine back.
there are two kinds of hats, and this one is a little different than either. the one kind is the curved brim, low volume hat. check out the TNF flex logo hat as an example. the other kind is the flat brim, more volume hat. check out the Burton ADL hat, made by new era. this Creek hat is like that, except is uses softshell materials thats used in other technical garments. check out this vid (creek is at 2:06), all sorts of hats in the world, try a different hat.... http://www.youtube.com/watch?v=BrJpXFx-DnY