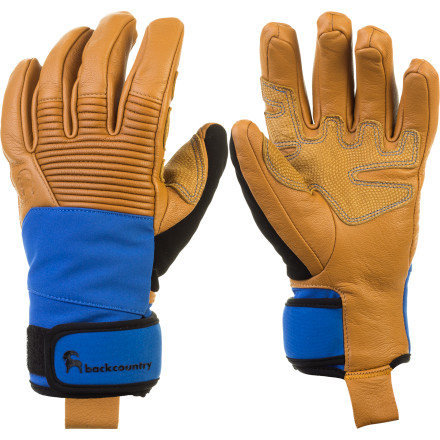 Detail Images

Community Images
Description
A Backcountry.com exclusive glove with Wasatch-grade protection.
Unless you've been living under a rock, you've heard of Utah's legendary Big and Little Cottonwood Canyons. The Backcountry Cottonwood Glove pays homage to the homes of Alta, Snowbird, Brighton, Solitude, and always-famous spots like Chad's Gap, Mount Superior, and God's Lawnmower. A combination of softshell and goat leather make this glove durable, an external DWR coating keeps your hand dry, and Superloft insulation adds warmth. We run this glove on sunny days, storm days, and the down days around town—it's just that good.
Durable water resistant external coating
Softshell and goat leather shell
Superloft insulation and merino and fleece lining
Hook-and-loop wrist closure
Unanswered Question
I only see size small and medium listed. Will you be getting any more large in stock anytime soon? These look like a great bd dirt bag replacement.
Goat glove!
Familiarity:

I've put it through the wringer
Keep the powder chill at bay! Soft plush leather, reminds me of my old ski coaches gloves, but with the wrist tensioning system - no snow aint gettin in hurrr!!!

Love em!
great glove
Familiarity:

I've used it several times
I got these gloves because old gloves had holes worn in them. I used them on a couple cold icy days at my local resort and my hands stayed warm the whole time. I then took them on a two day trip to Jackson Hole. The first day was bluebird and the second day was storm skiing with LOTS of powder. The gloves stayed dry for the most part, at the end of the second day they were a little soggy, even after lathering them up with Nikwax before the trip. Overall great glove.
Not a bad Glove!
Familiarity:

I've used it once or twice and have initial impressions
Took them on a bike ride in a down pour of rain, for the most part it keep me warm. because of the rain coming down it came in from the top of the gloves and got my hands a little wet. I was glad I did had them, other wise it would have been way cold. I would recommend them.
keeps my delicate hands cozy
Familiarity:

I've put it through the wringer
My hands get super cold. I usually have to wear mittens in any kind of chilly weather. I still do. But these are probably the best gloves I have had. I can wear them in below freezing weather (not much more though), and they have held up great. I've had them about a year. I run in them, bike in them, set up camp in the winter in them. Super pleased.
Well made!
Familiarity:

I've used it several times
The gloves fit me better than most. I have very large hands and finding gloves that don't constrict hand circulation is important for February in Maine. Hands stayed plenty warm at 30 below zero, but I have very good circulation. I like the velcro cuffs for easy on/off. finger dexterity was fair even with the insulation density. I haven't found a better pair of gloves with the features I need, but I'm still looking, so I rate them as "pretty cool."
Great glove with one minor setback
Familiarity:

I gave it as a gift but have feedback to share
I gave this to my father as a gift for skiing / and working outside.
He loves the look and feel of the glove. It's durable and comfortable.

The only reason I don't mark this 5 stars is because of the closure system. When undoing the velcro the glove has a tightening mechanism which can make it tricky to get off.

Though it does add stability, my father ended up cutting it out and prefers it this way.
Unanswered Question
I'm italian, do you ship your product also in italy? In this case, how much is it the shipping cost?
Favorite Glove!
Familiarity:

I've put it through the wringer
I originally bought this glove to be my new spring glove. I was surprised to find out that this is by far the warmest glove I've ever owned. The leather on the palm is excellently constructed and the extra patch on the knuckles is perfect for picking up skis and the like. My favorite feature though is the closure. While it has your standard hook and loop velcro it also has a strap underneath that pulls tight before your close the velcro.

As seen in the picture below. After you slide your and in you can pull on the strap to make it tighter. When ready to pull your hand out simply release lift the release with your thumb.

By the way, my favorite place to use this is Solitude in Big Cottonwood.
Good glove, but a tight fit
Familiarity:

I returned this product before using it
I like the glove's design and function- but sadly the XL is very tight on my hands. I measure 8.5" on hand length (per the sizing chart) and 9" hand circumference. Length is good but the gloves are too tight for comfort. Please add hand circumference to the sizing chart.
Unanswered Question
measure length 8.5, size up or down? Thanks
Great gloves!
Familiarity:

I've used it several times
These gloves are great! Very comfy and durable. I've worn these gloves for several weeks this winter in very cold weather while skiing. They are very tough, yet comfortable, and look great. The leather is soft, yet water repellant. The only downside is the thin nylon band attached to cinch strap. I cut mine off as it restricted ability to get gloves on and off easily.
Unanswered Question
I usually wear a size small in burton and other brands but according to the size chart I should be a medium. Is the size chart accurate or should I order what I normally wear? My hand measures 7 1/4 from wrist to tip of middle finger. Thanks.
Great gloves
Familiarity:

I've put it through the wringer
Finally found a warm glove....I wear a Medium (size 8 ish hand) and they provide ample warm on cold days. Water resistant enough for Wasatch conditions. Burly. Wrist enclosure may prove to be an issue over time as Velcro just doesn't hold up in general....no problems yet though.
Snug and toasty
Gender:

Male

Familiarity:

I've used it several times
I got these as a gift for my father who apparently has ever-growing hands but conveniently these fit me perfectly! My dad was going to be my guinea pig but now I have been using them first hand for snowboarding on warm days (25-40 F) and snowmobiling a couple times a week in temperatures down to 20 F. I would not suggest much colder then this for extended periods of time. The goat leather on these is an excellent wind, cold and water resistant material and the lining is plush and snug without restricting my hands. These are great for slightly warmer days on the mountain, ski touring, hiking, snowball fights and cold weather utility. So far they are very durable and I have had no waterproofing issues. Great utility Glove!



Let me know if you have any questions about the glove on Live Help chat.
awesom gloves
Familiarity:

I've put it through the wringer
I've used these gloves for a season and they are holding up awesome! still warm and the leather is holding up great


Cold!
Familiarity:

I've used it once or twice and have initial impressions
I found these gloves to be extremely cold. I went skiing on a 25 degree day and my hands were frozen solid. The gloves fit very well however and I found the wrist tension system to be very cool.
Rad glove
Familiarity:

I've used it several times
I think I'm normally a size 10 glove? Usually wear a medium and medium in these was great. A little tight in circumference at first; but, stretched to a perfect fit quickly.



Other than 1 pair of Black Diamond Patrol gloves that I like, I have used Dakine gloves for years almost exclusively. I have had great luck with durability and love the dexterity of the Sabre and Cobra gloves. I have found Dakine to make descent gloves offered at fair prices. The BC Cottonwood gloves also appear to be well built and have good dexterity. I personally am a big fan of the cuff closure system.



5 stars since they feel like a great glove so far and are offered at a reasonable price point. Only a flaw in durability would bring the score down. I will know the durability better by the end of this season.


Surprisingly Fantastic Gloves
Familiarity:

I've put it through the wringer
I've got raynauds, which is a circulatory disease that affects blood flow to extremities, like fingers and toes. In other words, I'm always looking for good, warm, waterproof gloves. When my hands get cold or wet once, it's game over. I lose circulation in my fingers and they turn into big, cold, painful blocks.



I checked out the Cottonwoods (actually, a gift from my wife), and had low expectations. I'd used Stoic gear before, but never Backcountry. My best performing gloves are all technical fabrics--goretex this and that. So I didn't have the highest of hopes.



I've been incredibly pleasantly surprised by how versatile these are. Between the leather and the DWR, they're great in just about any reasonable conditions. They're not 'dunk in a bucket of ice water' waterproof, but they're functionally waterproof for outdoor activities ranging from skiing to snowball fights.



On the range of warmth, these are mid-high warm gloves--think of them as a 7 on a scale of 1-10, with 1 being super thin and 10 being the warmest 5 finger gloves available on the market. They're surprisingly warm, keeping my hands comfortable in temps down to the mid 20s when engaged in active pursuits like skiing.



They come cut to allow for curled fingers, such as when you're gripping ski poles, and they have surprising dexterity. Manipulating zippers, buckles and bindings is very easy.



The tensioning system at the wrist is the BEST SYSTEM I'VE SEEN ON ANY GLOVES, EVER. I have gloves that cost $350. The Backcountry gloves have a better tensioning system at the wrist than even those super pricey ones. When you pull them on, pull the velcro away from the glove and it tightens up the nylon strap; then slap the velcro down and they stay taut. To take them off, release the velcro, and slide the tensioning cam down the nylon strap. Super easy to do (even with gloves on), super reliable, bulletproof, and it just plain works. I'll repeat--it is the best system I've ever seen in a glove.
Great Glove, needs more durability
Familiarity:

I've put it through the wringer
I got this glove for xmas last year, and proceeded to use it almost every weekend after that for the rest of the winter. id use it primarily winter camping and ice climbing. they are awesome gloves, the perfect combo of dexterity and warmth, and durable leather. I say they need more durability in the title, and only give it 4 stars, because the stitching between the thumb and index finger came undone on both hands. That being said, its probably because these are more for skiing than ice climbing. I dont think the ice tools were too kind to them. And Im still ordering another pair, because they are all around great gloves