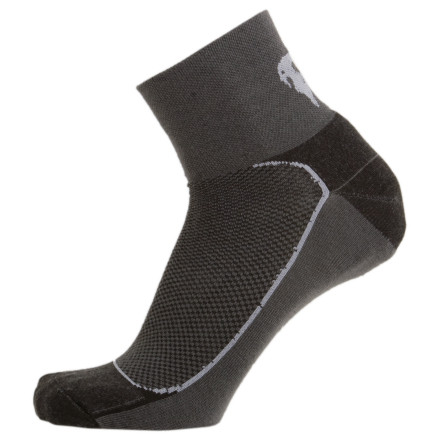 Detail Images

Community Images
I took a 3 wk trip to Africa. typical luck, my bags got left in Paris. so I'm in the Democratic Republic of Congo for a week with one pair of these socks. they were awesome. washed them in a river everyday and let dry over night. when I wringed them out, most of the smell left them, but they did get a little funky during the day. very "cool" temperature wise. a good hot weather sock. price is right too
Great socks. I use them for hiking and mountain biking and they keep me dry and comfortable. I usually wear these with my Vasque trail runners, but they are tall enough to wear with my Keen mids. You won't find better socks for the money.
These are great socks for the money. I am a size 12 and the xl fits great, especially after a wash, which is rare with most brands. They are breathable, comfortable, wick well and are fairly durable. Overall a great sock for the money – would highly recommend these socks for any physical activity.
I wear a women's 7 and have the S/M - I got the socks on a whim, but really like them and they've become my favorite day hiking/running/mountain biking socks. They come up fairly high, but roll down nice and don't cut off circulation when you wear them that way . . . but since they are a little higher than normal running socks, they're great for keeping out rocks, dirt, etc. on the trail. I find the socks comfortably snug and haven't had any problems bunching, or with abnormal wear.
ReviewBackcounty Merino Trail Sock vs. the Cocona Trail Sock
I purchased both of these socks and have been very satisfied with both of them. There are some differences I wasn't aware of before I bought them, so here it goes. I wear a size 8 hiking boot, so I bought size S/M in each.

The Merinos are quite snug, though not tight. I have no additional bunched up fabric to cause blisters. The overall thickness of the sock remains consistent and comparable to most hiking socks. They do retain some heat and moisture, so if your feet sweat on the trail, they'll stay wet for a while. If dry, they insulate reasonably well.

The Coconas, on the other hand, are loose-fitting. On a few occasions, I have gotten blisters by the toes (where the excess fabric matriculates to). The top of the sock is a very thin, though very durable material, which ventilates air very well. The overall sock feels like a lighter weight material which I would only suggest using in hot environments.

Additionally, while each are ankle high socks, I found the Merinos to be about an inch shorter than the Coconas. If you are wearing a medium hiking boot, the Merinos will come up just over the sides of the boot.
Backcountry.com Cocona Trail Sock
I have two pairs of these socks. I wore them every day I went skiing this past winter. And one pair is still unused. Ok, so I'm kind of a dirtbag ski bum, but by the time I retired the first pair, it was summer skiing in Mt. Hood. I even washed 'em a couple of times. ...seriously!
great socks! I like the higher cuff...it's perfect for wearing under mid height hiking boots. Durable, comfortable and just the right amount of padding
I love these socks! They fit perfectly and breathe nicely for summer/warm weather backpacking and hiking. They also dry quickly in the sun after a long day.
I've been wearing these socks for several weeks now and I can say they definitely do their job! Moisture-wicking is fantastic, odor control is great, and they fit true to size. The only problem I have is I noticed some weak spots in the stitching inside the ankle that could possibly fail over time. Overall, an AWESOME sock! Seriously, I have several pair of smartwool socks and these are WAY better...especially in hot weather (I live in Texas). I have a size 11-11.5 foot and the size LG fit perfect. Good buy!
I've used them now on hiking and jungle trails... Awesome, look mom no blisters !!
My feet are warm and protected, I own 6 pairs now.
Thin, but svelte - also runs a bit large
These are pretty nice socks - quite thin but form to your feet well. The sizing is a little tricky - I am a men's 9 or 9.5 and the S/M is definitely big enough for me, especially with their stretchiness. For long hikes I might want something a little thicker in the heel, but these work well for biking too.
i gave these socks a try on 4 or 5 different hikes and they simply didn't keep my feet as cool / dry / comfortable as my coolmax socks do. out of the shoe it felt like they let a lot of air through, but they didn't wick sweat well at all once i got active. overall i guess the price of these things is too good to be true : /
Wore these socks for the first time working out. Smelled them afterwards....they smelled like all my other nylon socks.

Other than that, they are great socks, just don't sniff 'em when you get home.
Some of the best socks I own! I will be buying several more.
I bought the L/XL and they are too big for me. Returning for the smaller size. There isn't a sizing chart currently for these on the site. I think they will be good socks though as I've used the ski version of these and they are great.
I was surprised by how thin these socks were when they arrived, so naturally I figured they wouldn't perform all that well on the trail. I was wrong. Not only did my feet feel cool and comfortable, my hiking shoes felt roomier inside - adding to my comfort. I now have several pairs of these socks and recommend to all.
For size 10.5 feet, would the S/M or L/XL...
For size 10.5 feet, would the S/M or L/XL size be better?
I wear a 11 or so and I find the l/xl too big. My dad has the s/m and they fit me better.
Best Answer
I wear a 10.5 and I'm very glad I got the L/XL. They do shrink after a few washes. Great, super comfy socks. Wasn't expecting much but I've ordered a couple more pairs after trying 'em out.
comfortable and breathable, good for both running and wearing for everyday use. slightly big--I wear a women's 7--but they still work on my feet.
These are probably the most comfortable socks I own. They're breathable and don't hold in moisture. Way more bang for your buck than average.