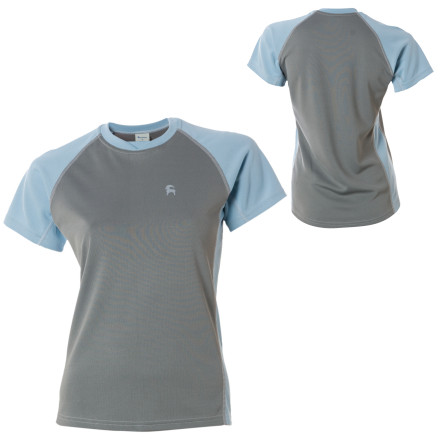 Detail Images

Community Images
, ☃bcs_badge_alumni_label☃
Cute Backcountry short sleeve T-shirt
The combination of light gray and light blue is great. The material is super soft. It is maybe not the one for really hot days as it may not be super fresh. The fit is true to size, it does not stink and colors and shape keep the same after multiple washings.
It's a cute shirt without being a tshirt, but still sporty. The only con is that it's small, pretty tight. I'm a pretty solid small (I'd say not a small-medium), but this shirt I would love to see in a medium. It washes well too. I don't dry anything, I put it on a clothes line. It is still snug. Other than ordering bigger next time, I would definitely recommend this!
Ahhh I got my shirt 3 days ago and I have rarely taken it off since. The cocona material is super wicking, so even when I am a bit damp in the pits I feel dry. I am usually a small and the small fits me perfectly. The only reason it doesn't get a 5 from me is the neck hole is a little tight.
Unanswered Question
What is the weight for a size large? Someone...
What is the weight for a size large?

Someone in the review said they would not recommend it for a multi day hike? Why not?

Thanks
My girl loves these things
According to her, they are soft and true to size. She says they are perfect for her to work out in. What ever makes her happy, makes me happy too!
I like the design, the shape and the performance of this shirt. I have two of them already, the blue and the red (would have bought the coffee color, but my size was not available anymore). I am 170cm and 63kg. I am broad-shouldered and don't like wearing shirts as tight as most women apparently do, therefore I usually go for men'r shirts. But I like short sleeves and not all too long shirts, just like this shirt. Putting all that together, makes this shirt in size L perfect for me. Would probably buy a third one in the third color if they had my size.
pretty much does what it says. good price and style.
This is a great shirt. Looks great, does not stink, washes great. Fits true to size. I'm getting another. At this price you have to get one (or two). I wish they would make a longsleeve 1/4 zip T-neck like this
This shirt felt great and looked great. It fit really well and was accurate to the sizing chart. the best part is that it's very affordable too!
I love this shirt! As you can tell from the other reviewers, there's not much to dislike about it. It really is a do-anything shirt. It feels great on and the colors are nice. I bought these (I got three of them) near the end of summer and I could tell right away that I was going to be living in them next summer.
This is my favorite hiking shirt. I have the chai/grass one and the color is a really pretty lime. It fits much better than any of my TNF shirts and works really well. It's cute, functional, and has a flattering fit - and it's affordable.
Can I exchange it if I need to? I'm not...
Can I exchange it if I need to? I'm not sure what will fit better. I'm pretty active and I'm 5'1. I'm thinking a small will fit but I'm not sure.
Absolutely. If you get the small in and it's too small, you can order a medium immediately and send the small back. When backcountry receives your small they will credit your account.
If you do end up needing to make a return you might look into clicking the "chat" button that is at the top right of the page and one of the employees can hook you up with a return number, and get your new size ordered immediately. Backcountry has the best customer service around.
I am 5' 3" 135 and ordered the medium. Fit is good. I wear it running. Is nice and cool for the hotter summer days.
The goat on the sleeve is reflective-way cool! I ordered a small. It's too small. But still looks good. Order a size bigger. That's my advice.
Nice shirt, I'd recommend it.
I bought this shirt in a medium and a large because I was unsure which would fit better. The medium was just right. The material is comfortable and light weight- great for biking/hiking/camping etc.
When I first put it on the neck seemed a little tight in front, but I got used to it quickly & don't notice it anymore. It wouldn't deter me from buying another.
Comfortable Shirt for Hiking
Bought this shirt for my wife and she loves it. The material is nice and wicks just like any poly. The shirt looks sharp when she has it on, but the sizing seems to be a little off. Probably should order a size up. She is a tried and true size medium and it just doesn't quite fit. It is a little too short and fairly tight on her. The quality of the shirt is great; just missed the sizing.
Decent shirt for a quick workout
This is a decent shirt if you are looking for a quick-wicking polyester shirt at a good price (when on sale). I do not really buy into the 'odor-negating' properies, as it seems to perform like a normal poly shirt. It works if you are going for a run around your neighborhood or a workout at the gym. I would not recommend it for a multi-day backpacking/outdoor trip.
I originally bought two for my daughter and ended up buying her one more. They are great shirts. They fit really well. She is an average size of 5'7" and usually wears a medium or large. The large fit her perfectly. The nice part is it is long enough to not expose her stomach while exercising.
, ☃bcs_badge_alumni_label☃
great for anything!
I just got this shirt in Radish/Cirrus and I really like it. I'm taller and shirts are often too short for me, so I went with a M even though I usually wear a S. (I've actually found that even as a S in most shirts/jackets, I am definitely a M in Backcountry.com shirts/jackets.)The Medium fits perfect. It's not too tight, not too loose and it's the perfect length. The back is a little longer which is always nice when you don't want to give your belay partner a show while rapping off a climb! I've used it biking and climbing and just hanging out around the house.