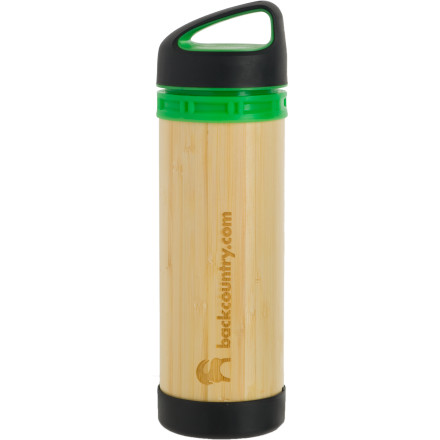 Detail Images
Both classy and glassy, the Backcountry.com Bamboo Bottle holds all the water you need, and it looks like a million bucks, to boot. Rather than use plastics which absorb taste and leach into your water, Backcountry crafted this bottle from glass and added a bamboo exterior to give you a firm grip. Isn't it time to upgrade from that beat-up aluminum canteen that you've been dragging around town since 1998?
A bottle for a specific purpose
Familiarity:

I've put it through the wringer
I've owned this one for a couple years, and really like it. I like having a glass alternative since the plastics often infuse a taste in warmer weather, and despite each round where they tell us THIS plastic is safe we always seem to find out otherwise. That being said, it's a glass bottle, so it's got some weight. To those complaining about how heavy it is...you bought a glass bottle. Think about it.



My only two gripes are I wish it was a bit bigger (but that would obviously make it heavier) and the cap is a huge pain to screw on. Like other posters, it often takes 3 or 4 tries to get the threads lined up. I understand they have new cap options now, so this may no longer be an issue.
I love the look and feel of this bottle, I just wish it was bigger.



The only issue I have is screwing the lid back on which usually takes me 2-5 times to successfully get back on the bottle, not THAT big of a deal, but kind of annoying.
A Great (But Heavy) Idea
Gender:

Male

Familiarity:

I've used it several times
I got this for my girlfriend as she loves bamboo. It's very stylish and the idea of using glass over plastic is awesome. The downside is that it's 17oz. That's the drawback to glass over plastic, but it's not a backpacking item. She uses it at the office and around the house and loves it.
pretty cool
Gender:

Female

Familiarity:

I gave it as a gift but have feedback to share
This bottle is more for looks than functionality but still pretty cool! The glass inside bamboo is genius.
Great idea bad execution.
Familiarity:

I've used it several times
Great idea, bad execution. Bought multiple of these all have started leaking within a few days. The bamboo came with cracks that spread quickly. The tops started leaking by day 4 of light use. Hopefully a better version comes out, because water tastes great outta these.
Agree with some of the other reviews here - this is great for a refreshing drink in the office, and glass is great for that purpose. Leads to great taste, it looks cool, but wouldn't take anywhere in the outdoors.
Heavy
Gender:

Male

Familiarity:

I've used it several times
The bottle is very heavy, and the lid takes some practice to be able to quickly put on, overall good bottle.
So eco
Gender:

Male

Familiarity:

I've used it several times
I feel like a panda bear drinking from this. Impress your hippy girlfriend.
Great look, function lacks
I saw this and immediately fell in love with it. The fact that it is wood AND glass totally sold me on it. However, it's heavy and the construction is questionable. When trying to tighten it and loosen it you can sometimes take it apart with out meaning to. Also, the one I had seemed to leak no matter how tight i tried to tighten it. Had to return mine, loved it, but couldn't trust it to not leak all over my stuff.
Besides it being a touch heavy, and a bit small, this is a great water bottle. Water just tastes better out of glass, and you don't have to worry about flavors leaching into your water from whatever you had in there last night.
Glass and bamboo, how can you go wrong.
This bottle looks good and is easy to clean, but... inner container is glass = heavy and fragile. Buy only if you never drop things. I broke mine from a 1.5' fall. Backcountry took care of me though and I will continue to buy from them! Great company.
Great to have a new option
Between the nalgene style plastic and metal bottles it's rare to find new ideas but I really like the idea behind this bottle. The glass wrapped bamboo seems so much more natural, it stays cool and the water tastes just a bit more pure. I like it! Down side with this is the construction, you have to be very careful when disassembling the bamboo because if you don't expect it the glass part could drop right out and potentially do what glass does.
Let me start by saying this thing isn't light, but that's what makes it a perfect desk bottle. I never felt completely comfortable having my Nalgene open on my desk next to my computer, but this sits solidly and makes me feel safer. I also love that the outside is removable so you can throw the glass inside in the dishwasher. Since it is glass, I can use it with flavored and mixed drinks without it picking up the flavors (like my Nalgene does.) With the bamboo outer, it looks great too!
With this bottle. I hate drinking out of plastic, which makes this bottle amazing. I love that it has the protection (if you drop it), it's super sturdy and I no longer have to drink out of plastic. The only downside to this bottle is that it doesn't hold as much as most plastic bottles, but it's the perfect work or at home bottle. I'm still giving it 5 stars, cause I love the design and everything else about it.
Water in glass just tastes better. I wouldn't use this one on an epic hike, but it is perfect for hydrating around town or at the office.
Love this water bottle. The glass is clean and refreshing and the bamboo keeps me from breaking it.
I love the overall concept. Looks great, very functional and great on hikes. I also love that it leaves my water nice and crisp. That said, you guys need to get the spouted version of this bottle. The top can be a pain to take on and off as the top doesn't always want to line up correctly. This is especially annoying on a hike.
I bought my wife and i both one of these bottles.
The glass in super durable! Love the fact I can undo the parts and stick everything but the bamboo in the dishwasher.
It's great!
Cool bottle, but that's where it stops
I really wanted to give this more stars because it is a cool bottle, but if you're going to buy it just have realistic expectations.

It's way too heavy for backpacking; it barely fits in "standard" cup holders; it's a little nerve-wracking to take glass with you everywhere you go; and the lid can be difficult to line up properly.

BUT, it is great for the office. It's nice to still have clean tasting water after it sits in the bottle for a bit, and it's great to advertise your loyalty to backcountry.com and sustainable materials. Just don't replace your Nalgene for the real back-country.