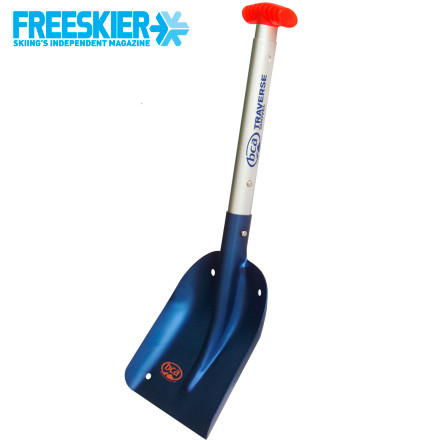 The Backcountry Access Traverse EXT Shovel offers the backcountry enthusiast a lightweight aluminum digger that extends out to 30 inches and weighs in at a modest 21oz. The Traverse EXT's strong oval shaft is easy to grip with a gloved hand. The T-grip can be looped through and worn without a pack with user-supplied webbing or rope, and the 6000-series aluminum blade powers through set-up snow like it's feta cheese.
I lost one of the push pins for this shovel....
I lost one of the push pins for this shovel. anyway to get a replacement?
I tried like heck to just figure out what that piece is called. Best recommendation is to contact BCA.

http://www.backcountryaccess.com/customer-service/contact-us/
This is a small easily packable shovel that will do the job it was designed to do. That being said I have a few issues with it.
1) It has a pretty small blade so moving snow will take a bit more time.
2) Although the shaft extends to a nice length and the fact that the shaft stays attached to the blade is great, but how it slides out from the blade is not designed to my satisfaction. The tolerances between the blade and shaft are so tight that the shaft can become sticky and requires allot of force to open.
3) The number of pins you have to push to get it fully extended is confusing the first few times you use it, which to me could become an issue when the user is panicked.
4) The design on this shovel is on the right track to a great system, but again it's not fully developed. An easy change to the blades design would allow the user to extend the shaft out to it shorter setting with one quick pull. How it is now the user has to push in a pin in order for the pins to clear the blade. Something so simple yet BCA over looked it.

Don't get me wrong, this is still a good shovel that will work when you need to preform a rescue. It's built strong and will last a long time. With a few small tweaks this could be one of the best shovels on the market, it's just a shame they didn't, and it isn't.
compact, lightweight, extendable, sturdy. What more could you ask for? Fits in my shovel pouch and I forget all about it because it is so light.
This shovel fits in pockets that my Voile wouldn't but I haven't noticed digging any slower. This is a great shovel at a great price and weight. The simplicity of the BCA products is much appreciated - it's a shovel, keep it simple.
this is a great size. very lightweight, yet it seems very strong. i was also impressed by how long it extends to (compared to my old lexan life link). for the price you cant go wrong. very good value!
I have a smaller backpack (Dakine Heli Winter pack) and this shovel fit great into it. But when you need to use it, the long handle really helps you out a lot. Its also extremely light weight. You don't even notice it when its in your backpack.
will this fit in the Dakine Heli winterp...
will this fit in the Dakine Heli winterpack
Yes it will, but depending on how you want to carry it, you may need to take off the handle.
I usually carry my shovel on the outside of my Dakine Heli pack, it fits great. It can also fit inside the pack if you wanted to carry it that way.
Backcountry Access Traverse EXT Shovel
This shovel is awesome.... It is almost one of the lightest shovels out there... But still has a telescoping handle... It's blade is small and it just doesn't take up that much space in the old pack.... In my quest to lighten my winter pack this is one of the items that allowed my to drop 6lbs off my back!!!
How's it do digging in dirt?
How's it do digging in dirt?
For loose soils, it will work. For hard packed stuff, this will be terrible.
love it. Fits perfect in my dakine pack!
This shovel is very lightweight, but at the penalty of only a few ounces over the very lightest shovels on the market (i.e., Voile XLM as well as BCA's own fixed-length version of the Tour), you also get a telescoping shaft. The blade is still small, but has an effective shape. Overall, a nice weight compromise between the very smallest shovels on the market and the more full-sized options.
(Picture is of me using the shovel for some snowpit work near Mt Hood.)
This one's handy in my trunk when not in my pack. I tried it out in my back yard with the heavy, late snowfall this May - strong and quick - 'sWhat you need. The Traverse EXT is lightweight and well-designed.
What is the collapsed length of the handle...
What is the collapsed length of the handle removed from the blade
great shovel, not too big to get into your pack and not too small to shovel some snow. It will have trouble shoveling if the snow is so hard it is almost ice.
What are the blade dimensions?
What are the blade dimensions?
Easy to store, assemble quickly, and sturdy. Dug a few pits so far, and no problemas. I like the weight savings and how easily it fits into my BD Ascent 30 daypack for skiing and mountaineering.
Great shovel for any winter outing
I was debating between this shovel and the Black Diamond Deploy series. I choose this one and I have not been disappointed. I dont do extreme climbing and so I dont have any avalanche experience with it (hopefully wont ever) but whenever I am out in the snow, this goes with me. Snowshoeing, winter camping, this is great tool to have. Very light weight and functional, and very easy to extend. Blade is very good. Highly recommended.
will the shaft fit in the loops on the...
will the shaft fit in the loops on the side of a dakine heli pro 2 back back?
Best Answer
Fits great, with room left over for a probe if you really cram it in. I ragged-dolled on a few landings with the shaft in the side loops and it stayed put.
I have a Heli Pro II and it fits perfectly, extends about 3 inches past the top loop.
Fortunately I have not had to use it so far this year. It packs great into my Stash pack and leaves plenty of room for additional gear. After my avalanch class I will let you know on how well the shovel works.