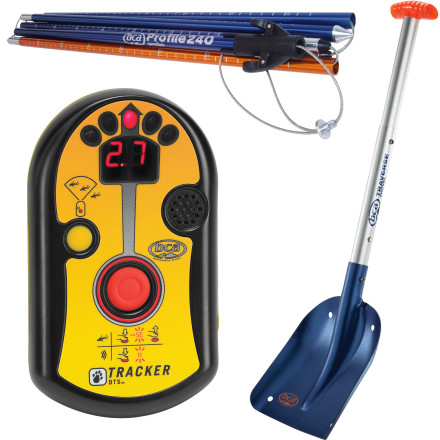 Be smart and safe and equip yourself with the Backcountry Access Tracker DTS Freeride Package. An easy-to-use digital Tracker DTS Beacon, Profile 240 Probe, and B1 Extendable Shovel increase the odds you and your partner will survive an avalanche in the back or slackcountry.
Tracker DTS Beacon's digital display shows both distance (in meters) and direction with red LEDs
Profile 240 Probe features a quick-tensioning system for fast assembly and depth markings in one-centimeter increments
Burly, lightweight B1 Extendable Shovel has an unbeatable strength-to-weight ratio that won't let you down in stressful situations
What do you think about this product?
Have questions about this product?
Got this set up to have for a spare when my 60 year old mother comes from eastern canada to the westcoast to slay some backcountry. Shovel and probe are light enough, and as everyone knows the DTS tracker is simple and quick to use. I recommend this to all my goofy snowmobile friends that don't think they can afford safety and piece of mind.
Hey....I know this is beyond stupid!....!...
Hey....I know this is beyond stupid!....! I am not a skier but have a daughter who is fearless and it SCARES me. So my question is: is this device for the skier who ends up in an avalanche/accident? or for the rescuer/searcher? Thanks for your help.
Best Answer
This kit is for both the skier and the rescuer, these are the minimum equipment every skier should carry while skiing around possible avalanche terrain, the way the beacon works is that when you strap it on in the morning and turn it on, it automatically on the "send" mode so if you get caught under an avalanche, your friends and other rescuers will turn their devices to "search" mode and they will pinpoint the person wearing it..
Also it takes practice to get used to using the beacons in a case of emergency. you also need the shovel and the probe to determine the exact location and dig up your friend in case that you're the rescuer.
there are many avalanche awareness classes, so check with your local resort..
No questions about safety are stupid. Alibaba covered it quite well.
I check the brand that you can ship to...
I check the brand that you can ship to Canada, but this a package and all items of this package can ship to canada? Thank you!
you will have to contact customer service on that one. 800-409-4502 or open a chat now window (top right of your screen). people that answer questions on these threads dont have access to shipping information, and customer service reps dont typically answer questions on here.