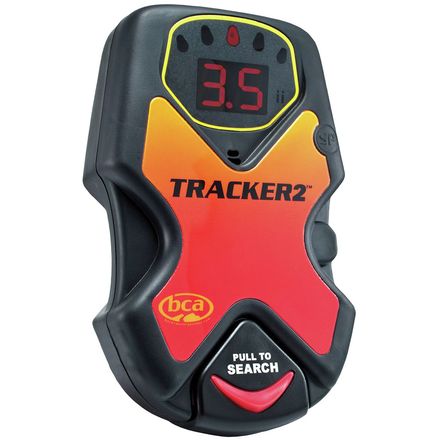 Detail Images

Community Images
Description
The Tracker 2 is the new standard in simple, reliable beacons from Backcountry Access.
The Backcountry Access Tracker 2 subtracts weight and size, and adds real-time display and a third receiving antenna to the best-selling, dead-simple Tracker DTS. The third digital antenna increases accuracy and provides a strong buried signal in any orientation, while the real-time display eliminates lag time, allowing you to narrow your search zone quickly when seconds count. The Tracker 2's single search / transmit switch makes learning and teaching a snap, and it reduces confusion when you hit adrenaline overdrive.
Unanswered Question
Can I order this product with the sale price and take delivery when it is back in stock?
Does this beacon come with a multiple burial setting? Or is it multiple burial compatible?


Greg:



The tracker 2 will automatically detect if there are multiple (2+) burials within range. BCA has a great video and manual that shows exactly how the tracker 2 functions in a multiple burial situation: http://backcountryaccess.com/product/avalanche-transceiver-tracker-2/



Give me a call if you have any more questions ext 4758!
Does this beacon come with the front sling pack to wear at base layer?
Devon,



Yeah the Tracker 2 will come with the sling for wearing.



Shoot me an email anytime you have questions!



Jared D.

Expert Gearhead

801.736.4336

jdowns@backcountry.com
Great beacon for novice to expert
Familiarity:

I've put it through the wringer
I have been using this beacon for the past several seasons. I typically get in close to 80 days every winter wearing my beacon. These include a mix of ski patrolling, course leading AIARE Level 1 and Level 2 avalanche courses, ski guiding in the San Juans around Silverton and Red Mountain Pass, and personal skiing. I used this beacon on my American Mountain Guides Association (AMGA) Advanced Ski Guide Course for the close proximity multiple burial beacon drill and will likely use this beacon on my AMGA ski guide exam next spring in Valdez, AK. I want a beacon that is simple and works every time. The Tracker 2 does this. These are several key features of the simple Tracker 2 that I love.

1) The toggle switch to get the beacon from transit mode to search mode is one of the simplest on the market, even with gloves or mittens on. There is no finicky button or switch. The toggle is HUGE and easy to deal with.

2) The LED display is extremely easy to see even in low light OR with polarized lenses. If you have every tried to fill up your car with gas while wearing polarized lenses your know how the screen can be difficult to see. The large red LEDs are visible regardless of lighting or eyewear.

3) The Tracker 2 detaches from the chest harness. This allows it to be worn either in the harness or in a pocket. While my personal preference is to wear my beacon in the chest harness, I do like the option to be able to detach it from the harness. More and more ski guides, patrollers, and backcountry skiers in general seam to be wearing their beacons in designated beacon pockets on their pants. If the beacon is preeminently attached to the harness, this is not an option.

4) Ease of use for OTHERS. If I am buried in an avalanche and dug up by somebody that has a beacon OTHER than a Tracker 2, I want them to be able to figure out how to turn my beacon off without my help. While multiple-burials are unlikely in the US, they are possible. Having a beacon that others can figure out and turn off is a comfort to me. I do not want my partners struggling to figure out how to turn my beacon off.

While the Tracker 2 does not have a marking/ flagging function for multiple burials, I found to not need to not make a difference. The close proximity multiple burial drill in the AMGA ski exam involves finding three buried transceivers in under 7 minutes. Two of the beacons are buried extremely close, and one is a deep burial. After trying serval different three antenna beacons, I have found that the Tracker 2 is the best beacon on the market for locking on to the strongest signal. This is due to its fast processing. If there is a multiple burial (which statistically is low anyways), since there is no marking function there are not any extra buttons to push. As long as long as the deposition pile is covered in a systematic fashion, there is nothing additional to do. Despite not having a flagging function, the Tracker 2 still performed flawlessly on my AMGA rescue drill. If I can find three beacons in under seven minutes with the Tracker 2, I can certainly find one beacon.

Overall this is an awesome beacon. Despite newer beacons being available that taught fancy features, I have stuck with the Tracker 2 and been extremely psyched about it.

Josh Kling,
AMGA Certified Alpine Guide & Certified Rock Guide
AMGA Assistant Ski Guide
IFMGA Aspirant Mountain Guide
AIARE Level 1 & 2 Course Leader
Ease of Use
Familiarity:

I've put it through the wringer
This beacon is super easy to use and really easy to learn with. Its not too complicated while still getting to the mark as fast as the other, more high tech devices. Teaching Avy courses, I find most students have the easiest time with this model. Simple and easy.
Works for me.
Familiarity:

I've used it several times
It is pretty simple. I know there are fancier ones out there but I am a guy who never learned to program the time on the VCR. I only know how to use a fraction of any high tech piece of equipment.

I want it to be simple and this one is. And I am a cheap asshole.

So lets recap..

Quality. Check

Ease of use. Check

Great value. Check

I think it is a pretty easy decision and If I am that worried about an Avalanche I will take a course and most likely I won't be out in those conditions anyhow or I will go buy an ABS device to keep the odds in my favor even more.
Simple and effective with one catch
This beacon is simple, and the three antenna system is more effective on a fine search then the previous model so in a situation where time is critical it is great. Be careful not to depress the search mechanism when using in a rescue situation - its very easy to accidentally do this and the mission is then lost.
Easy choice
Familiarity:

I've put it through the wringer
I've been using the Tracker 2 for 3 seasons now. It's durable and shows no signs of wear after all this time. The simplicity of the beacon is definitely a draw and leads to fast searches.
Backcountry filming w Tracker2 in WY
simple
Familiarity:

I've used it once or twice and have initial impressions
straight forward simple design - easy to use
Great beacon!
Familiarity:

I've put it through the wringer
After extensively using my original tracker, i decided to make the upgrade to the 2. I am not disappointed at all. straightforward design and use, and the reliability that bca is known for. I wouldn't hesitate on buying this.
Hello. Does this come with the harness?
Has anyone had any experience regarding the durability of this beacon? Impact with hard objects etc.
Tracker beacons have proven to be some of the most reliable beacons on the market. However no beacon is really designed to take hard impacts.



This will hold up well if you take a hard fall. If you were buried and dragged over several rock bands it could be damaged, however almost any beacon on the market could be damaged in a scenario like that. If used for the purpose it is designed for this beacon will hold up to years of use.
A Backcountry Gear MUST HAVE!!!
Familiarity:

I've put it through the wringer
I've never had to use my BCA Tracker 2 Avy Beacon for an actual rescue, however the Tracker 2 is so easy to use that anyone can learn to use this device in a matter of minutes. Very reliable, batteries last quite a long time, and I don't go anywhere in the backcountry without. A MUST HAVE for the exceptional blower pow days on steep terrain and a must have in general. Highly recommend the Tracker 2. BCA has the most affordable and reliable avalanche safety gear on the market to date.
Mandatory Gear
Familiarity:

I've used it several times
After being buried a meter down in an avalanche many years ago, I have always made sure to take avalanche gear along with me in the winter backcountry. This beacon replaces my older Pieps and I find the BCA Tracker 2 very easy to operate, accurate, and the harness is very secure. It is, as noted several times here, easy to mistakenly switch back to transmit.
Easy to use
Familiarity:

I've used it several times
Great simple beacon. With a little practice it guides you to a signal with ease.
good beacon
Familiarity:

I've put it through the wringer
this is a great beacon. its reliable, high performance, and very easy to use.
Great Beacon!
Familiarity:

I've put it through the wringer
This is a great product that is very solid. I am pleased with the easy of use. It works really well in search mode. It will defiantly help you find your buddy in an emergency. The harness that is included works well as well. Great product and one that I hope to never use.
Excellent product
Familiarity:

I've put it through the wringer
My first beacon and I am very, very pleased. It does its job and ensures I will be found quickly in the event of a rescue.



Great auto search mode and "special mode" for multi burial searchs.



Compact enough and light weight. Great strap system on the harness that ensures it wont swing around or be uncomfortable while riding.