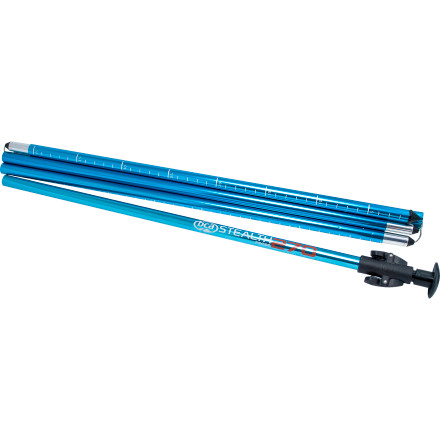 Colors
Description
Travel smart in the backcountry.
Whether you prefer to slash quick lines outside of the resort gates or head out for longer backcountry tours, add the Backcountry Access Stealth 270 Probe to your avy gear setup. This lightweight, compact, and durable probe stand up to years of abuse and is easy to use when time is not on your side.

The Stealth 270 is ideal for recreational skiers and moderately deep snowpacks
Durable, strong aluminum components withstand winter's harsh elements with ease
Lighweight probe easily compacts and fits into your backcountry pack for convenience
Easy assembly cuts down on rescue time when you're in a hurry
Laser-etched depth markings allow you to identify burial depth
As always, get proper avalanche training and practice using your gear before venturing out into the backcountry
A good buy!
Familiarity:

I've put it through the wringer
This is a very solid and well built Probe. It might not be the lightest Probe on he market but when you use it, you can tell it will last for years. Nice construction and easy to deploy. Worth buying!
Durable and easy to use, and the price is good. I prefer an aluminum probe, the carbon ones break easily if you accidentally put any sideways force on them.
Pretty good!
Familiarity:

I've used it several times
I used this in Japan digging pits etc etc. We fortunately didnt need to use it for what its intended purpose though. I found the mechanism really easy to use and my only gripe was that I should have taken a longer probe due to the amount of snow they get in Japan. That being said, thats nothing to do with the probe and just me underestimating the depth of snow.



As others have said its not the lightest but its certainly not heavy and wouldnt necessarily consider buying a lighter (carbon) probe given the price of this one. Cant go wrong.
Great probe
Familiarity:

I've used it once or twice and have initial impressions
I'm looking to upgrade my current probe and this looks like it's going to be the probe for me. It's not the lightest but it's durable and it goes together smooth.
It's a probe.
Familiarity:

I've used it several times
This is a perfectly adequate probe. It isn't super light, but its not super heavy either. It is long and has a pretty solid, quick and easy to use deployment method. If you need a probe. this is a good one to have.
sooo easy to use!
Familiarity:

I've used it several times
quick & easy to deploy, easy to fold back up. check out BCA's video: http://www.backcountryaccess.com/product/stealth-270/
What would be your preference and why this...
What would be your preference and why this probe vs going for the BCA Carbon 260 ?

I'm not sure on the pro's or cons either way other than weight saving, any advice would be appreciated.
Best Answer
Hey Damp, thanks for the question!



The main difference between these two probes is the construction material, aluminum versus carbon. Here's what BCA has to say on that front:



"Carbon probes are lighter than aluminum probes but aluminum probes are more durable and are more suitable for every day use."



The 260 Carbon probe weighs in at 7.5 oz, where this probe weighs 10.5 oz. You should also consider the lengths depending on what type of snowpack you receive. The 260 Carbon probe is only 8ft 6 inches and this one is 8ft 10 inches. You may want to consider a longer probe if you live near a maritime snowpack such as those found along the West Coast. If you do live where the snowpacks are deeper, check out this longer BCA probe: http://www.backcountry.com/backcountry-access-stealth-300-probe



If you ski in a shallower continental snowpack like Colorado either of these shorter probes will suffice and it comes down to a question of how often you use it, and how important you consider the weight of the probe to be.
Hey Lexi D, thanks for the information.
Does anyone know if this probe fits...
Does anyone know if this probe fits comfortably into a Black Diamond Bandit Avalung backpack ? Keen to get one if it does. Really appreciate any replies.



Cheers
Best Answer
I couldn't find any measurements for the Bandit Pack online, but the packable length of this probe is 1 ft 6.5 in. You can see if it fits by measuring the functional length of your front stash pocket on the pack.
Hi Lexi D, Thanks for the reply really appreciate it.
Backcountry Access Stealth 270 Probe
Love this probe. Simple is key in the backcountry, and BCA nailed it with their Stealth series of probes. The simple pinch mechanism for deployment/break down makes things quick and easy when using your probe. Doesn't take a lot of practice to get used to, although practice is essential with all rescue gear that will be used for safe backcountry travel. The 270 size fits into my Black Diamond Covert Pack perfectly. If you are in the market for a new probe, I would recommend the BCA Stealth series.
Quick draw
Familiarity:

I've used it several times
Of all the probes I have used this is the quickest and easiest to get fully erect. It also breaks down easier than most.
Quick, light, locks excellent
, ☃bcs_badge_alumni_label☃
BCA Stealth 270 Probe
BCA Stealth 270 Probe
as the description says. Great for a moderately deep snowpack, glad to have it in my bag.