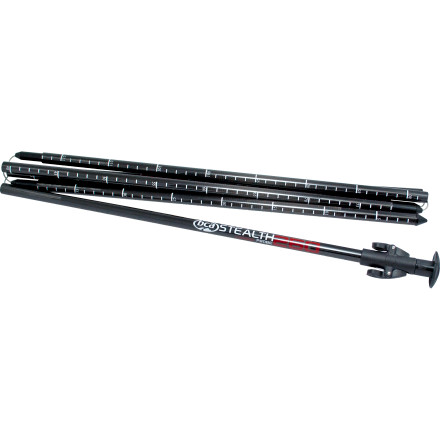 Colors
Description
Cuts down on weight, not strength.
If you're all about blazing up the skin track to get a few turns in before work, than you're a prime candidate for the Backcountry Access Stealth 260 Carbon Probe. This wickedly lightweight carbon probe has the strength needed to poke through the snowpack without weighing down your minimalist kit.

Super-light, full-strength carbon components withstand winter's harsh elements
Lighweight, 1cm-diameter probe easily compacts and fits into your backcountry pack for convenience
Easy assembly cuts down on rescue time when you're in a hurry
Permanent depth markings allow you to identify burial depth
Note: as always, get proper avalanche training and practice using your gear before venturing out into the backcountry
Light is right
Familiarity:

I've put it through the wringer
I've used many probes over the last 20 years. Some good, some not so good. 1st decide what size you want. I think 200cm is too short. (you would need to put your hand all the way to the snow to get as deep as the pros recommend - and that's back breaking) I think 300cm is a bit of overkill. So I like 260... I like carbon fiber because not only is it light, but because it is stiff & ridged and hopefully won't bend & tweak as much as an aluminum probe when it hits chunky / icy avy debris. Finally, and maybe most importantly, the quick lock system has worked really well over the years. (fyi - not all locking systems are legit...)
Light and Strong
Familiarity:

I've used it several times
I am very happy with this BCA Carbon Probe. It's super light and is ready to use in seconds.
Light is right
Familiarity:

I've put it through the wringer
This is the probe that I put in my heavier packs because it is so light. With a super intuitive deployment mechanism, this probe is assembled before it even hits the ground.
light and easy
Familiarity:

I've put it through the wringer
What else do you want in a probe. Fast, simple, and light!
Big Fan
Familiarity:

I've used it several times
It's quick to assemble, rigid, and light. The locking mechanism is great. The measurements are solid and durable.

Luckily I've never needed to actually use it in a combat situation but every time I've used it in practice it's been solid and reliable.
Stealth 260 Carbon Probe
Familiarity:

I've put it through the wringer
Light and efficient! it's impressive how fast it folds out and within seconds your probing. Seconds can mean the difference in these circumstances. The locking system is the fastest I have came across and the fact that it has held up through many training scenarios, I am fairly impressed with the durability of a carbon probe. Whats the best tool for your bag? For me its the the stealth 260 carbon probe by BCA. Best regards.

Benny Schmitt
Fast, Fast, Fast Deployment
Familiarity:

I've used it once or twice and have initial impressions
Was out today doing some practice search and rescue today in the Wasatch and even the instructor was impressed with the efficiency at which you could get it set and start probing. Besides the obvious advantage of being light... getting it put together in seconds could be the seconds you need to find your buddy...worth it!
Great locking system
Familiarity:

I've put it through the wringer
I just got this probe this year. To be perfectly honest, I don't know why I chose to get the carbon version of the stealth probe. Maybe if you aren't teaching classes and using your probe a lot, you can get away with the carbon version, but after a couple of weeks of teaching awareness classes, this probe broke. It cracked and although it is still functional, it snags when deploying it on the wire. I was literally talking about how amazing this probe is when it happened...so I will definitely be getting the stealth probe again, but will not get the carbon version. The locking system is the fasted system that I have seen yet. Super easy to use, no wasted time, and a great probe. However, take note that if you are using this probe over and over again to practice or teach, you may want to consider the aluminum option.
Well designed and executed
Gender:

Male

Familiarity:

I've used it several times
The probe is exactly what I wanted. It's light, clearly marked, and the deploy/lock mechanism is the easiest and simplest that I have seen (better than the BD, Ortovox, and Pieps probes I've used). Nothing needs to be screwed, tightened, or tensioned. I agree that the probe practically assembles itself before hitting the ground.



Fortunately, I have yet to use it to locate somebody. I didn't ski much avalanche terrain this season, but I usually carry it on backcountry days in VT to check snowpack depth and loading in different spots. It's a must-have in avalanche terrain, but it's light enough that I don't mind carrying it otherwise just for a few tests.
So fast to use, assemble and disassemble, depth markings are clear and large, light and easy to pack. Extremely well made..... If you don't want to waste time this bad boy covers it all
The lightest
Familiarity:

I've used it several times
If you are looking to shave weight for long tours drop in on this probe. I've been using it in my tour bag and couldnt be happier.
, ☃bcs_badge_alumni_label☃
BCA Stealth 260 Probe
BCA Stealth 260 Probe
Jaw dropping performance
Gender:

Male

Familiarity:

I've put it through the wringer
The first time I laid hands on this probe I was dumbfounded at how light it was. Featherlight comes to mind yet doesn't quite do it justice. Aside from the low weight is its performance. The probe ASSEMBLES BEFORE IT EVEN HITS THE GROUND, even on my first try it went together that quick. That is damn near unheard of and when every second and gram counts, this s the probe I grab.