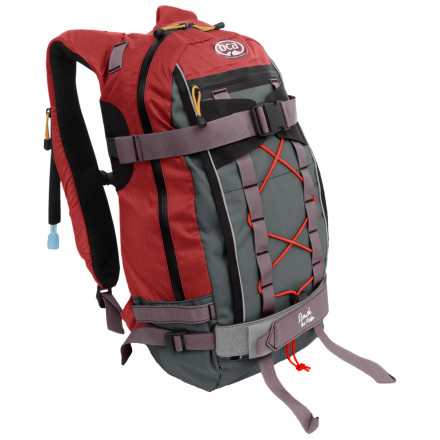 Detail Images

Community Images
Share your thoughts
What do you think of the
Backcountry Access
Stash BC Rider Backpack - 2135cu in
? Share a...
If you're a woman, you'd better have a long torso
I've had this pack for 2 years and have worn it for probably 80 days of skiing and it looks brand new. It has definitely held up under stress. I am a 5'5" female with a VERY long torso and this pack fits me perfectly (I have a 28 inch inseam for my leg length if that gives you any idea of my build). So, if you're a woman, you must have a long torso for this pack to fit you.

The pack holds all my AT and avy gear nicely organized, plus additional layers, a lunch and snacks and a thermos of tea. The pack is very low profile and completely forms to your back - I don't even know it's there. I have tried using it in the summer for day hikes, but I find the padding on the shoulder straps to be a little too thin without all the layers I wear while skiing.
This pack is awesome -- big but manageable, comfortable to wear, and the ski/snowboard straps are burly. The hydration system is good (on par with the CamelBak SnoBlast), the various pockets are nice. My only quibble with the design is the main zipper -- it doesn't come around corners very easily, and it often requires two hands. Deal-breaker? No. I would buy this pack again, but I hope they fix this in future models.
I've had this pack for 2 whole seasons now and it has yet to develop any wear issues. I would buy this pack again...very easy to access all my avy equipment even when fully loaded. Although this is the "Rider" version of the pack and I only ski...I chose it because the tacky straps on the back used to strap a board to the pack make for a great strap to stow my helmet on the skin up. Taken 2-11-09 on Allison Clay, Kachina Peaks Wilderness, AZ.
i do love my bc stash rider but only wish it could be a bc stash rider diva! i'm a tiny girl (5 nothin' 115) and this pack is one boyfriend too much! it is intelligently designed and i find it versatile. i can hike summer trails w both my kids and carry enuf water and essentials for all of us, but of course this is a backcountry snowboard pack. i will continue to use it for multiple outdoor applications but plan to buy a stash diva to use for all but the burliest backcountry snow adventures!
Unanswered Question
Hello
Do you know if this pack would carry...
Hello
Do you know if this pack would carry a pair of DPS Lotus 138 skis? Preferably vertically on the pack? Sometimes they will fit like a snowboard, but other times the bindings get in the way. I have an Arcteryx Silo 30 that carries them ok, but it is wearing out. Just wondering if this pack would be a good replacement?
I got this pack 2 years ago, after much research (not enough I guess)-- The torso length is giant. I had never tried on a BCA pack, and am a 5'5" female. My 6'1" boyfriend thought it fit him well and definitely was not too small.
Can I replace the bladder? I have a pack...
Can I replace the bladder? I have a pack the leaks?
You can replace the bladder through Backcountry Access directly if you can't find it at www.backcountry.com
My to to guiding / backcountry shredding pack
I have had this pack for the past four seasons and it is still holding strong after much use. It is a good size for day trips. The hose inside the shoulder is an excellent idea and it does not freeze unless it is well below zero and I forget to "blow back." Holds a snowboard very securely. Holds skis in A formation and across the back well. Ski loops on side are large enough to accommodate split board when split, which is vital for me...been skinning on split and gets too steep to skin...throw the split snowboard on your back and start busting trail up the waist deep pew, knowing it will be worth it shortly, when you stop fighting gravity and start rippin'! One drawback is that the material against the lower back tends to hold snow when warm. I minimize this by keeping it out of the snow by laying the pack down on its back (outside). Zippers work well and are waterproof.

In short: this pack excels as a single day backcountry snowboard or ski pack with the best placed (in the shoulder) hydration system on the market.
I've had this pack for a year now and I have no complaints. I've used it to haul my skis as well as on extended MTB trips. Everything this pack claims to do it does well. Holds gear close in for my frame (very broad shoulders, 5'7", 145lbs). Zippers hold up well considering I do not take care of them (pulling and yanking, side-loading, etc). The fluids have not frozen up on me, however I always blow some air back into the tube prior to sealing as a precaution. All straps are holding up nicely as well as the fabric. All in all, a tough pack which I would buy again in a heartbeat.