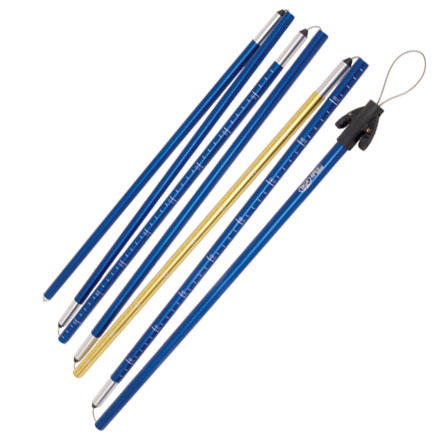 Community Images
For organized search and rescue teams, instructors, or anyone who wants extra length and bombproof durability for constant use, the Backcountry Access SR3 Avalanche Probe is the one to reach for. This is BCA's longest probe at 9 feet 8 inches fully extended, and features their thickest diameter 7075 aluminum tubing for extra stiffness and resilience under stress. There's a weight penalty involved with the SR3's burly, long construction, but if the difference between finding and losing a victim is a matter of inches, you'll be glad you have them to spare.
Sturdy, quick, easy.
Familiarity:

I've used it several times
Though I haven't used this probe in an emergency situation, I know if it were to arise, this probe would not fail. Extremely easy to use and the lock mechanism is very solid and sturdy. Another great product by BCA.
Durable cascades probe
Familiarity:

I've used it several times
Nice, long probe for deep snowpacks. A little long, but still fits in most packs (including, barely, a bandit avalung). You need a lot of energy to be able to shovel 10 feet, but its good to know the you can find stuff that deep.
When it comes to probes, it's tough to figure out which one is the right fit when there are so many options out there. This is one of the longer options but also still very light. The extension mechanism works great and with a flick of the wrist you can go from collapsed to locked and ready to save a friend. Also has laser etched number increments which in my opinion is crucial.... because the probes with printed numbers always eventually rub off.
Backcountry Access SR3 Avalanche Probe
Great avalanche probe. Sturdy construction and it folds out in a matter of a couple seconds. I like that it is 300cm. I wouldn't own anyhting shorther. Would recommend to any friend.
An amazing probe for one reason only, besides length. The laser etched numbers don't rub off. I've had previous poles where after a season of skiing, (I ride with my gear 95% of my days, in or out of area) the number are totally rubbed off. Not a huge deal, unless you're trying to record accurate snow measurements in a pit. If you want to get your layers charted right, get this pole!
I spent many hours working with one of these probes and it was a solid performer. Pros: Durable, long, fairly comfortable top for pushing it into the snow. Cons: None really, except maybe it is not especially light.
One of my bc ridding partners has this probe and he loves it. The speed at which this assembles and locks in place is bar none. It's a great size and seems to be well built and sturdy so it should last the test of time. Since this is something that might be used to save my life, I want the best and I approve of it. I am glad he chose this one.
(that's what she said) Sorry I could not resist. I have had this in my pack for a few days now. Took out my old 265-er. I have not noticed a weight issue while riding lifts, book-packing, or skinning.

I like the longer length, espically since the Wasatch and Tetons are getting hammered early this year. However that is not why I bought or carry this probe.

When digging pits, and recording analysis it is imperative that I be able to get accurate results. So I can look back and compare my old data to new data. Part of this is looking at depths of various layers. My old probe (BD265) had absolutely no markings left on it. 3 years in a pack, for about 270 total days of use, the numbers on it had been rubbed off.

I am hoping the "laser etching" prevents this from happening again..time will tell.
Backcountry Access SR3 Avalanche Probe
This is definitely one of the best probes for any area that gets a decent amount of snow. If you want to risk a buddy's life because you wanted to save a couple ounces, look elsewhere, but I'm led to believe that the extra couple feet is a lot more important than a couple ounces. It'll fold out quick, get through gnarly chunks of avy debris, and basically just do what it's designed to do, and in the situations you'll be using it, that's what matters most.
You cant go wrong with Bca products, High Quality. I took my first Avy class this year, and he brought up some good points on all of the gear. Probes need to be strong enough to pierce thru ice chunks and heavy pack, and long enough so that you dont bend over every time you probe. Your friends life may depend on your choice.