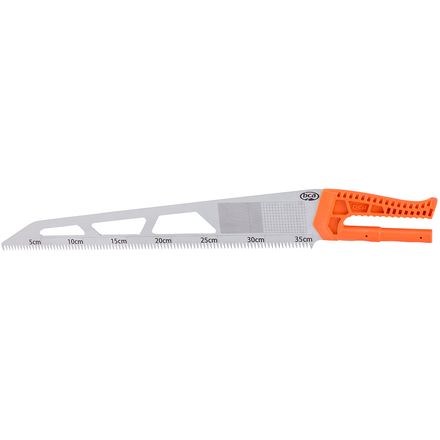 Colors
Description
A snow-and-more-saw.
Whether you're slicing out a perfectly square freestanding column or cutting branches to pull your buddy out of a tree well, the Backcountry Access Snow Saw packs the function you need. BCA is one of the few companies that equips their saws with actual wood- and ice-cutting teeth, meaning you can use this saw for situations extending beyond pure snow study.
Laser-etched centimeter markings
Protective sheath included
Bone Saw
Familiarity:

I've put it through the wringer
The BCA Snow Saw does just what it should. It's ridiculously sharp and can cut everything, including wood, like butter. I'm giving it 4 stars because it could be a little less flimsy.



For everyone who's had trouble with the plastic sheath, I had similar issues and bloody times attempting to get the saw back into it until I figured out that the sheath "folds" open, allowing the saw to slide right in, then it snaps shut. Since then I haven't had any problems with it and it has stayed put while in my pack. Hopefully this picture gives you an idea of how the sheath opens...
Saw does what it's supposed to do. Cuts through the snow with ease and precision. There are better, stronger saws, but for basic tasks like column tests, it works well. Not a great cover for the blade, but all in all, a solid saw.
This is a good saw, it's sharp as hell, so be careful...like Jason down there said, the sheath isn't the most solid thing ever. Other than that, it's light, and it fits in a Dakine Heli Pro DLX pack just fine.
Good saw
Gender:

Male

Familiarity:

I've put it through the wringer
This saw works great: cuts through the crud easy and I'm not compelled to get a new one, but ...



The sheath on the saw doesn't stay on really well without using a rubber band (which is easy to lose in 10+ ft. of snow). I'm kind of shocked that the sheath hasn't ever partly come off and I haven't reached into my bag for a water bottle and cut myself ... badly. This thing is really sharp!



Other kind-of bummer: I wear a S/M Black Diamond pack and the saw is too big to fit in the avi. tool organizer pocket.
This saw is simple. Nothing other than a solid/sharp saw with a good handle. If you want a snow saw that will cut through just about anything, look here.
Love this saw. I use it for snow pit stabalization testing. However, the blade sheath that comes with it is useless. It's difficult to get on. I cut my hand pretty bad while manuevering it back on the blade. Ended up making a sheath out of cardboard and lots of duct tape.
Ad says this saw comes with a sheath but...
Ad says this saw comes with a sheath but reviews say no sheath. Does this saw come with a sheath?
Best Answer
It does come with a protective sheath. Sometimes it does fall off when in transit or getting picked from the warehouse, but it should come with it. If people don't have it, they can contact us or BCA and we can get it taken care of.
My saw came with a sheath, so I am happy with it. It rocks at cutting wood, in the picture I just defeated an asian lumberjack at a wood cutting contest, so of course this saw rocks! and for digging pits and testing snow it works well. Only downside is that is just barely short enough to fit in all of my packs, making for a tough fit sometimes.
No sheath... and sharp: It will tear your pack to hell. They say that it's the only saw to be good at cutting wood... that's because that's really all it is, a wood saw with cm marks. Lastly, it's not compact. Doesn't fit in side country pack.
I won plenty of BCA gear of which I am happy. This saw however, is not one of them. There are better ones out there.
Definitely, needs a sheath. Doesn't come with one. Very sharp cutting surface, good. A little too narrow from blade teeth to back of blade. It is light.