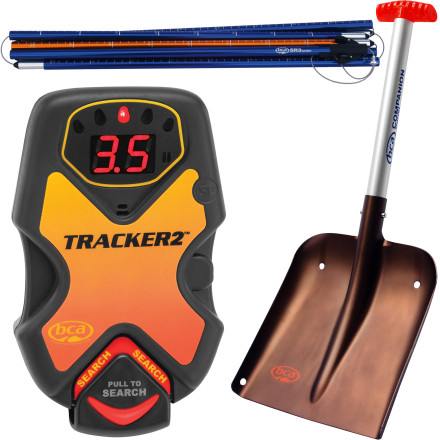 Serious travel in the backcountry requires avy equipment that's easy to use and that stands up to the elements. The Backcountry Access Pro Package combines the three necessary elements every snow professional needs for a lightning-quick response: the celebrated Tracker 2 Beacon, a burly SR3 Probe, and a lightweight aluminum shovel.
Triple-antenna Tracker 2 features unparalleled ease of use and gives distance to victims on a real-time display
Tracker 2's simple display and one-button operation helps prevent you from fumbling or freezing up during an emergency
Companion EXT Shovel blends solid construction with an exceptional strength-to-weight ratio; a straighter blade helps make smooth snow-pit walls
SR3 Probe uses BCA's fast-assembling Quickie system to be search-ready in a cinch
Probe extends to 9ft 8in (300cm) and comes with BCA's standard depth markings for measuring snow pits and estimating burial depth
What do you think about this product?
Have questions about this product?
Received the gear not to long ago and it's awesome! The Tracker II beacon is so easy to use and extremely simple, which is good when you're in a bad situation. The shovel is a gunmetal grey, which looks better then the copper color they have in the picture right now. Extendable handle to make it a bit longer if you like that. Overall, easy gear to use and definitely worth the price.
The beacon is easy to use and reliable, and the shovel and probe are easy to assemble when time is of the essence. Can't beat the price.
...but all of the items in this kit can...
...but all of the items in this kit can be purchased individually on Backcountry for $372.08... (I realize that's not a question)
Best Answer
Because..... This way they come in a set, and, you get to give Backcountry.com more money.

It makes sense if you don't think about it.
With the semi-annual sale they have going on right now, this package is actually cheaper than buying everything separately.