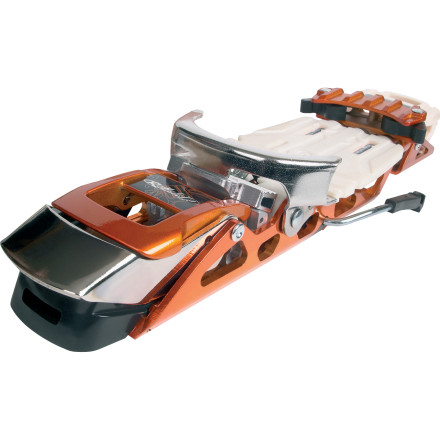 If you like spending more money for a heavier binding and stiffer boot that cracks at the flex point than this system is for you!
Unanswered Question
I fit a 26 shell ski boot - and I know...
I fit a 26 shell ski boot - and I know that both 26 and 26.5 are usually the same size shell with different thicknesses of insole in the boot. What size should I get given that according to Rottefella 26 is a small and 26.5 or bigger should order a large? Is there some overlap between the sizes? I guess I'd order smaller to have lighter binding?
Unanswered Question
when are you likely to start selling the...
when are you likely to start selling the 2009 models with the improvements?
Love that the top review is from someone that hasn't even skied the binding...

My biggest gripe with the system so far is the range of motion in tour mode, which is considerably less than that of the 01 I was on before. That said, NTN skis down way better than the 01s in terms of lateral control and smoothness of spring engagement. The extra features really are the icing on this cake, not having to bend down to engage a heel throw, not needing to use leashes when at a resort, and releasability are all very nice features to have. Skiing them with Crispi Shivers, which I am also loving.
Boots aren't ready yet, so switching back to traditional
I'm sorry to say that I've switched back to Scarpa T1's and BD 01 bindings. My scarpa TX Pro boots cracked, and the Crispi's were stiffer than I like, so I switched back to T1's and BD 01's and couldn't be happier. They're lighter and they tour better than the NTN system. I really like the concept of the NTN (step in, releasable, ski brake, torsional stiffness, tour mode), but I just don't think it's there yet. The binding skied downhill incredibly well, and uphill ok, but if the boots crack or are too stiff, then the complete system doesn't work yet. I'm hopeful that Garmont will add an NTN boot next year and that Scarpa will fix their TX Pro plastic issues and that it will all be ready for primetime next year. In the mean time, it's back to 75mm for me.
I took 'em out for a day of skinning, and the NTN binding were good uphill, but not amazing. It's a heavy binding, and the tour mode doesn't pivot as freely/effortlessly as I would like, nor does it have the range of motion/pivot that I would desire. That said, they're much better than a binding without a tour mode, but I've found that others with a tour mode like the G3 Targa Ascent do go uphill better. However the downhill performance of the NTN is 2nd to none, and you couldn't pay me to switch back to my G3 Targa Ascents now that I've skied NTN's.

Pulling up the tour mode level takes some doing, and in cold, heavy CA snow I had to stomp on it with my boot to get it to go back down. But I think that will soften up over time. As a side note, my TX Pro boots broke (crack around the toe/bellows) on day 6 and are on their way back to Scarpa, and my new Crispi NTN EVO boots should arrive today. :) So although isn't not perfect yet, there's no way I'm going back to traditional tele boots & bindings.
Unanswered Question
are green tubes available/ what to do with...
are green tubes available/ what to do with red not used tubes
NTN - Definitely the future of tele!
I have 5 days in so far on my '09 NTN bindings and Scarpa TX Pro boots and I couldn't be happier. The combination is a good predictable, stiff set-up with great control. It's a smooth progression between the flex of the binding and the flex of the boot. I love the step-in set-up and wow is it nice not to have to deal with a leash for once. While I haven't released from them yet, I think I will love the release function when I crash hard enough to pop out. On first glance, the tour mode looks great, but I'll update my comments after I take them uphill for a full day or two in the backcountry. So far, I'm very happy. I've skied them on hard-pack, Sierra cement, and a foot of WY powder, and they were great in all 3.
Do you bend your toe when you are in the...
Do you bend your toe when you are in the binding. It doesn't seem like it would.Also, because over 40% of knee injuries happen when you fall back, does the binding release from backward pressure?
You do. I have a fellow tele teamer that uses these. And no, it doesn't have backwards release, but neither do other tele bindings. Sideways is better than nothing.
The voile CRB Harwire Releasable does. As a matter of fact, a snowboarder who is in the free rider program at my mountain asked for my opinion on the bindings that he should get and I recommended these. After riding in the park on them he thanked me because they saved him from injury by releasing backward a few times while jumping and such in the park.
what is your opinion of the NTN product...
what is your opinion of the NTN product maturity? Do they have the design dialed in, yet? I have heard mixed reviews about the binding's reliability, with recent design changes being required to fix flaws. Similar reviews on the Scarpa NTN boot.
Best Answer
Second generation certainly better than the first. Boot choice is key, make sure to demo before you buy. The Scarpa TX is very different in the bellows from 2008 to 2009. Evo is unchanged. There is also a Crispi Shiver, comparable to the TX. Yes, the bindings will change, but the standard is set, so if you like your boots, then you can change over or upgrade the bindings as you go. (end Nurse Ben's comments)- I'd like to add that the Scarpa TX Pro boots are breaking, so I'd definitely suggest the Crispi. I just returned my broken TX Pros and picked up a pair of Crispi's. The bindings are great, but not yet perfect. That said, I'm glad I made the jump. (end David's comments)