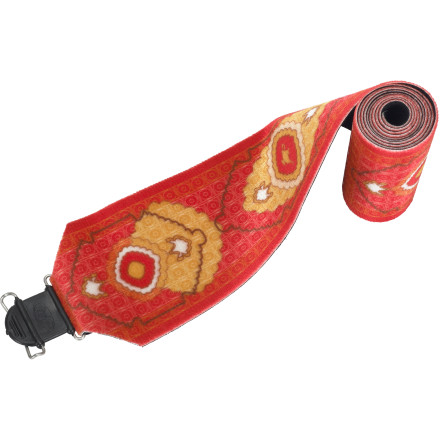 Colors

Community Images
Slap on the Backcountry Access Magic Carpet Skins, do a beacon check, and begin your trek up the mountain for some deliciously deep pow turns.
Water-repellent nylon sends you gliding steadily up the skin track
Glue is formulated for cold North American temps
Tip and tail hardware is compatible with most ski designs, including rounded twintip designs
Included trim kit gives you the tools you need to cut your skins to fit any sidecut
Length: 195cm
Unanswered Question
Can I get away with the 130mm skins for my RMU North Shores 135-145-114-130-126?
Unanswered Question
Would these work on line sir francis bacon's in 178? Wondering about the 195 cm length..
Dependable
Familiarity:

I've put it through the wringer
The best gear is the gear you never have to think or worry about. I never have to worry if my Magic Carpets will be up to the task. The glue is borderline cement (easily remedied by a strip of packing tape), the glide is fantastic and the grip on the way up is second to none. I do however use an STS tail clip verses the stock tail clip as I think it is more versatile and the skins can fit multiple length skis. These skins have never failed me even after years of use and abuse.
fleek
Familiarity:

I've put it through the wringer
O the compliments I get on the style of these skins is enough to recommend them! but then how easy they are to cut to your ski's and how well they glide and also purchase makes them an easy decision. best skins i've owned yet.
Magic Carpets
Familiarity:

I've put it through the wringer
The name says it all. My Magic carpets have led me to some of the most magical lines of my life in Japan, Alaska, Tetons, San Juans, Sierra Nevada, etc. I always hear of people complaining about there skins on the track as I walk by or look back. The glue is incredible and I have never had a problem with them getting clogged with snow or too wet to keep me going all day for multiple laps. Might I add the glide on the Magic carpets is incredible. Really fast both up and down hill. The nose and tail clips are practical, light and fast when assembling and disassembling your setup. Over time I have had to replace the tail clip, but other than that I have never had them fail me in the mountains. Well worth every penny, and a must have to keep you going all day every day. Best regards!



Benny Schmitt
Unanswered Question
I m new to skinning and have the RMU CRM 175cm x 138-101-128 Which size skins and what else should I get to make a go of this? Undoubtedly these will be short tours in my 1st year.

Thanks a bunch

BO
Grabbed these skins for a week-long trip to a backcountry ski lodge in the B.C. interior. After having used BD skins, and G3 skins, these get my 2nd place preference. (G3, BCA, and BD - is my final answer).



THE GOODS

* CUTTING: fairly easy to cut, though the directions weren't the best I've seen. G3 has a FAR superior cutting tool, so if you can get your sticky paws on one of those, certainly do it. The cutting tool included with these is identical to what you would find with BD. It works, it isn't amazing, it isn't truly awful. But when compared to the G3 cutting tool - well, this just takes quite a bit more time.



TIP & TAIL ATTACHMENT: Just fine, the tip is very secure and I never had any issues. The tail attachment is a little trickier, and I found it difficult to both attach and remove without taking my gloves off. All said and done, it's a MUCH better tail attachment than the BD skins, but I like the cam strap design on the G3 skins best of all.

That being said, this tip/tail arrangement works, I like it far better than BD's design and I never had any issues.



* GLIDE - excellent. Never had any issues with glide, these skins felt great.



* GRIP - Nothing amiss here either. I would say these perform a tiny bit better on really steep sections than my G3 skins, so the grippiness is among the best I've found for the snowpack I've encountered. (That's mostly drier, low-density, low-water content in both Utah and interior BC).



* PACKABILITY: Again, excellent. These pack down VERY small and take up far less space in my pack than my BD or G3 skins ever did. They did get fairly stiff and less packable when it was -4 out but that's pretty extreme temps - BRRRrrrrrrrrr. They were so packable I even put skins in my jacket for the first time - I could never do that with my BD or G3 skins because they were so bulky and I like a tighter fit on my touring kit.



* CON'T BELOW....


Unanswered Question
Would these skins stretch to fit a pair of 200cm RMU Professors
Will the 110 fit my Ski Trab Tour Rando XL Ski or should i get the 115 and cut to fit?
Best Answer
The 110 mm will work just fine. The tip may be a bit bigger but, its only 3 mm and isnt where most of the friction is applied anyway. To be honest though I would put a really light skin such as a pure mohair on your really light ski.
But Nylon tends to last longer, and i don't have a lot of $$ for my set up.
Not for Venture Storm Splitboard
Familiarity:

I returned this product before using it
I picked these up in hopes of using them on a 166 Venture Storm Splitboard. I talked with a gear guru who recommended them but they did not seem to want to fit on the deck. Now the nose is a bit more pointy than most boards, so that could really be the issue, but even when I tried to line it up it was pretty far off. Maybe too far off for comfort for most boards. The skins themselves looked like they were well made, had very nice long hairs and strong glue. So this review is a bit of a wash. I am sure the skins are great for skis, but not a good fit for my particular splitboard. Maybe others have had better luck?
Which climbing skins are best for 191cm...
Which climbing skins are best for 191cm Dynafit Stoke skis
Best Answer
Hey bobp831936,



Thank you for your question.



I would suggest the 130mm size in these BCA Magic Carpet Skins. You can trip them to the shape of your Dynafit Stoke skis to have the most effective surface area of the ski covered.
Climb up anything with these
Familiarity:

I've put it through the wringer
I've had these skins for about a year now and I'm buying a second pair for my new, much larger skis. Like the people before me have said, the glue is amazingly sticky, almost to the point of frustration. Almost. They've broken in well and are still superbly sticky but I'm not longer having to yank them off my skis at the top of the hill.

I'm not the hugest fan of the tail piece, I certainly don't trust the rubber piece to hold up but so far, it's showing no signs of wear!

Now to the glide, I've had these skins take me up some seriously steep stuff without a single problem. Well, that's not entirely true, they didn't fair so well on the steep icy slope we were attempting to zig zag up last spring, but I could barely boot pack up that slope, so I'll let them slide there.

Basically, when my friends are sliding around on their BD skins, I've always been able to confidently go around them and continue up the slope. Feel like I could climb a wall with these skins!
Any ideas on how to store these skins? my...
Any ideas on how to store these skins? my old Black Diamond skins came with a mesh so that I could put the skins together and not have to deal with glue on glue. I see they are rolled up in the picture, but wouldn't the plush on the sticky compromise the stick?
if my skis are 182cm in length will i be...
if my skis are 182cm in length will i be able to fit these skins to my skis considering they are 195cm?


Cameron,

You may be wondering why these skins are so long and why they are only offerred in one length. The good news for you is that the skins are ultra long so you can adjust them to the length of your skis and these will fit a 182 ski just fine(It's magic!). The tip is riveted on the skin so you will cut the tail end, attach the rubber hook and fold the skin on itself. Just make sure you don't cut the skin too short or you will be wondering where all of those 195 centimeters went. Slap these badboys on and you will be riding your own magic carpet all over the mountain.
How long are these skins? Can anyone post...
How long are these skins?

Can anyone post a photo of the tailhook, please?
These are 195 cm in length. Sorry, I don't personally have any photos but may be able to get one from the guys at the warehouse for you. If I do, we'll post it.
Best Answer
What you are seeing in the photo above is actually the tail hook. The tip loop is a shaped piece of metal.
will these fit on a split board
will these fit on a split board


According to BCA these will fit on a split. They are not specifically made for a split so they might take some finagling at first but they should work.


I bought a pair of the Magic Carpet skins last season and I like them better than my BD ascensions because they pack smaller. The BD ascensions are much stiffer than the Magic Carpets and don't pack down as small. When I first got the BCA skins they were really sticky but the glue has since broken in. I would rather have to much stick than not enough, especially in the cold. They climb and glide really well and the hardware seems to fit on any shaped ski, including my square tipped Moments.
Great Skins
Gender:

Male

Familiarity:

I've used it several times
As a previous reviewer said, the glue is almost too sticky. Of course, if it's extremely cold, that will be a blessing. They grip even crappy snow well, and trimming and installing hardware was easy.
hello. I have some older school TUA Ride...
hello. I have some older school TUA Ride 104 Telemark skiis. They are 185's and I would like to buy these Backcountry Access Magic Carpet Skins. Also, I have a pair of Karhu BC waxless skis that are 195's. The questions are these: Can I pull off one pair of skins for both lengths without compromising performance AND will the skins be effective on the waxless based Karhus that have more camber?? Thanks
Hey - I recently bought a pair of these skins myself, so I can tell you a few things about them. First of all, the tip and tail mounting hardware is great, my buddy just got Black Diamond skins, and we both agree my hardware is nicer. However, the tail piece attaches by cutting the skin down to about half its original width, and then doubling it back through. So if you cut the strip long enough to pull it through and make the skin tight on the 185, you would have about 10 cm of skinnier skin under your ski on the 195s. Not necessarily a problem, but something to think about.


i know climbingskinsdirect.com makes simple skins so i imagine you could use any skin and not use the tail piece. and the camber shouldn't matter as long as your skin is wall to wall underfoot. don't know about the waxless base.