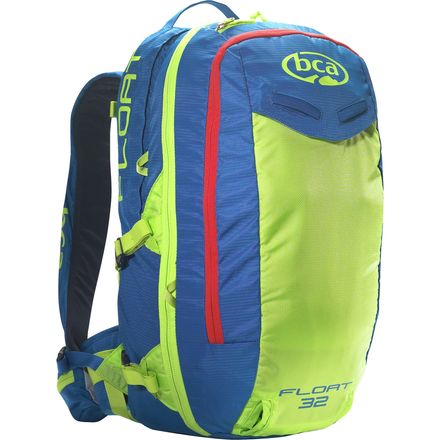 Colors

Detail Images

Videos
Description
For dedicated backcountry junkies who need all the essentials.
No matter how carefully you plan and study, backcountry skiing and snowboarding will always carry the risk of getting caught in an avalanche. However, wearing an airbag can double your chances of survival should you get caught in a slide. The Backcountry Access Float 32 Airbag features the Float system plus enough space to stash everything you need for all-day tours and highly technical approaches.
The Float airbag system is light, affordable, and easy to use, and most importantly, it could save your life. It uses a compressed air cylinder to almost instantly inflate a 150-liter airbag that helps keep you at or near the surface of a slide in order to minimize evacuation time and blunt force trauma from debris and hidden obstacles. Backcountry Access also has the world's most extensive network of cylinder refill and exchange centers, making it easier for you to get a new compressed air cylinder after you have to deploy your airbag.
In addition to having enough space for avalanche safety essentials, it also fits your climbing skins, extra layers, snacks, a hydration reservoir, and more. Dedicated probe and shovel sleeves make your avalanche rescue tools easily accessible so you don't waste a second if you have to dig out a partner. Compression straps help you minimize bulk for better stability while you ski, and the adjustable waist belt keeps the pack from swinging around and throwing you off balance. The Float 32 even includes a dual ice axe carrying system for the most adventurous backcountry explorers.

Float airbag system
Integration for BC Link radios
Hydration sleeve
Diagonal ski carry and vertical snowboard carry
Helmet sling
Compression straps and adjustable waist belt
Dual ice axe carrying system
Compressed air cylinder sold separately
What is the maximum length of ice axe that we can put on the outside of this pack?
Hey Robin,

This bag actually has two ways to stow an ice-axe. For shorter tools you can stow them tip down; this will fit for shorter tools (about 16" or less). Longer tools can be stowed internally with the tip up. Again, just an estimate.

Check out the below video at the 2:40 mark for a demonstration.

Ben
BCA Float 32 Airbag Backpack
Great Backcountry/Touring Pack
Familiarity:

I've put it through the wringer
This is now the second BCA Float 32 pack I have owned and I am a big fan of the new version. I use this pack for split boarding and bigger/longer backcountry days.



The stand out difference with the new version is the ergonomics and sizing. The new pack looks to be a least a few inches shorter that the previous version, and now comes with a hip strap that is adjustable(vertically) according to your height. I am 6'2'' tall so I never had any fit concerns with the older bag, but I could see how the bags height could caused fit issues with shorter users, the updated Float 32 should address this and I'm sure will be welcomed by shorter (than me) folk.



The new compression straps on the side are big improvement. They are much more burly and do a better job a cinching down the pack when you are getting ready to ski/ride. They now have buckles that make it much easier to strap down gear to the sides of the pack if need be. As a snowboarder/split boarder, I have been able to use them to "A" frame my split board when I needed to walk/hike. I realize this renders the airbag system non-functional, but it was a welcome option when I was starting at a trailhead below the snow line.



Shovel/probe pocket works as expected and is easy to access. The color difference with the zippers is a thoughtful touch to visually separate the pockets.



New hip strap now has two pockets (one on each side) which I love because thats were I stash food/snacks for the approach. I also keep chapstick and a small compass in one just so they are always in my pack and easy to get to.



The upper sternum strap now has a built in whistle, which I appreciate because it's one less thing I have to remember to bring/have.



My only real gripe with the new version is that the 'goggle' pocket has been moved inward so now it is positioned between the gear pockets and shovel/probe pocket, so that when my back is full of skins/poles/gear etc it makes it a little harder to keep an extra pair of goggles, or I worry about my sun glasses getting a little crunched when descending. Kind of a minor thing, but just trying to address all the changes.



I have used this pack for a while now and definitely put it through its paces. Touring in Colorado, Utah, and Alaska and the thing hasn't shown any wear at all. Especially impressed after a 3 day backcountry camping trip in Colorado last spring (towed sleds to carry camping equipment) were it really got abused and used in ways other than what it was designed for. A definite improvement from the former version, I would highly recommend this pack.