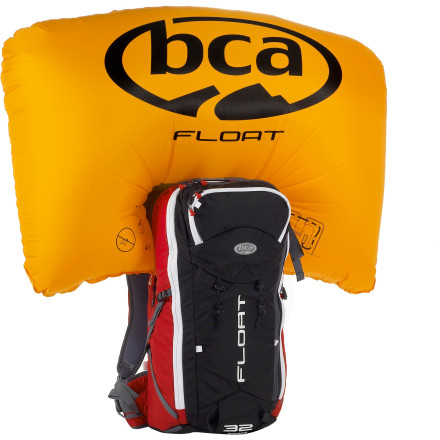 Colors

Detail Images

Videos

Community Images
Description
A ski backpack with a built-in airbag to help you stay on top of an avalanche.
Skiing in the backcountry comes with the inherent risk of exposure to avalanche terrain. Should you find yourself caught in a slide, the BCA Float 32 Airbag Backpack is a tool that offers a drastically increased chance of survival. Pull a trigger on the shoulder strap, and a highly durable airbag quickly inflates behind your head, decreasing your odds of burial in avalanche debris by increasing your overall buoyancy. Even with this technology, the Float Backpack still offers all the storage you need for your shovel, probe, goggles, and other gear—here's to the evolution of safety beyond the rope.
Easy-to-operate airbag system uses a compressed air cylinder to inflate a large synthetic airbag behind your head and shoulders in order to increase your overall buoyancy and decrease your likelihood of full burial in the event that you're caught in an avalanche
Highly-durable, single-chamber airbag inflates via a 2,700 psi compressed air tank operated by a trigger that can be placed on either the left or right backpack shoulder strap
Venturi inflation system is TUV and CE certified
External shovel & probe pocket gives you a place to store your avalanche survival tools for quick access
Lined goggle pocket keeps your eyewear handy and protected from scratches
Hydration sleeve holds your choice of hydration bladder to make sipping easy
Diagonal ski carry frees your hands on steep slopes so you can lean into the slope and dig with your ice tools
Helmet carry keeps your brain bucket secure so you can take it off for the heli or the tram ride
BCA recommends that you deploy your airbag at least once per year. Once you have discharged the compressed air cylinder, you need to bring it or send it back to BCA, BCA Canada, or to an authorized BCA Float cylinder refill station
Follow this link to enter your area and see a full list of cylinder refill locations near you: http://www.backcountryaccess.com/about/map/
Editor's Note: wearing this airbag system does NOT guarantee that you will survive an avalanche burial or a slide amidst avalanche debris; get educated, get the right tools, travel with partners, and be smart out there
**Cylinder Not Included**
Great day pack with just enough space
Familiarity:

I've put it through the wringer
Been using the BCA packs since the original. Now they've streamlined the airbag components and redesigned the pack that i don't even notice the extra weight of the canister/airbag. I use it for long day missions or sidecountry off resort with enough room for crampons, ice axe, extra layer, food, water and a dslr camera. With the ski carry system you can easily through them on your back and there is a pull out helmet cover for those hot days skinning. If you don't need the extra room, check out the smaller float 22.



Pack has great adjustments for any body type, i'm 6'1" and fits great. Another great feature is the BCA radio compatibility to feed the radios through the shoulder strap to stay in touch with friends.



Definitely worth the buy to stay safe and carry everything you need. If you fly, filling the canister is way cheaper than the other packs, any dive/paintball shop should be able to.
GREAT AIRBAG! Lots of space!
Familiarity:

I've put it through the wringer
BCA FLOAT - Awesome backcountry bag! So lite you barely feel it on your back. It does not really impede your movement. Can carry everything you need for a day trip and still provide you that safety and security. Easy to refill at a local scuba shop too. I highly recommend this airbag! BCA makes some great backcountry gear!
Great peace of mind; pack needs work
Familiarity:

I've used it several times
As with any airbag pack, this provides a nice bit of peace of mind that you're odds of a full burial are reduced. As always, remember that no airbag pack can guarantee that you won't be buried and really don't do a whole lot to protect you from cliffs, trees, and other hard objects that you might encounter on the big white ride. In terms of the airbag functionality, this pack is really easy to use, deploy, and re-arm. The air canister connects with an air hose a screw-in trigger cable. It's easy to access and arm/disarm for traveling. Another nice touch is that the trigger can be set up in either the left or right shoulder strap with a couple minutes of effort. I'm also a big fan of the compressed air systems - I took this pack up to Alaska last winter and it was very easy to pack the empty air cylinder on the plane and get it filled at a dive shop in Anchorage.

As far as the actual backpack is concerned, this pack could use some love. For starters, the frame and shape of the pack is very long and the harness makes the pack ride pretty high on your back. This would definitely be an awkward fit for people with shorter torsos because the top of the pack would end up at or above your shoulders. The interior pockets and organization are ok but not great. There is no back panel access and not much in the main pocket to keep smaller items from getting lost in the abyss. The ski carry system work ok but again not great. The straps seem a little undersized for carrying skis without fraying or cutting through.

My last major gripe is that the leg strap kind of sucks. Most other packs have one end of the strap sewn into the bottom of the pack with a loop in the free end to connect to the hip belt. This pack comes with a loose strap with loops on both ends - you can run it under a leg and loop both ends through the hip belt, but it's pretty awkward and makes it easy to lose the strap when you take the pack off. Seems like a minor point, but the leg strap plays a key roll in keeping the pack from riding up when deployed in an avalanche.

Overall, I think this is a decent pack and if money is a big issue then this is a good way to get an extra piece of safety gear in your kit without totally blowing the bank. That being said, the $$ tradeoff is for pack features and comfort. If you're going to make the investment in an airbag pack I think there are better options on the market for comfotr and features (particularly the Mammut and ABS packs) for not that much more money.
Here is a video showing a deployment of a BCA bag and it's use in a real avalanche.



Note: This bag does not guarantee you will not be buried - please make sure when travelling in the backcountry you are well educated and have all the proper equipment to keep you safe
Hands Down Best Airbag on the Market!
Familiarity:

I've put it through the wringer
I got the Float 32 in the middle of this season and couldn't be more pleased with it. At first, the high volume was a concern, but the ergonomic fit and light weight makes it a non-issue. Plenty of room for food, skins, water, a layer, plus an emergency kit as well as all the standard avalanche tools. I've spent days with the ABS, Black Diamond and Mammut airbag packs and this one is my favorite. The fit, functionality and weight make it the best airbag on the market in my opinion.
Decent pack, could use some improvement.
Gender:

Male

Familiarity:

I've used it several times
I purchased two of the Float 32 backpacks for the added safety while riding in the back country. Fortunately I have not had to deploy the air bag in an avalanche situation. My review is more on my observations with what I like and what I see room for improvement. I am 6?2? and the pack fits nicely. I was concerned that the pack maybe too large and I considered a smaller one. After 4 trips out using it I am glad I didn?t get anything smaller. I have found that with food, drink, extra clothing, and a handful of the ten essentials the pack is pretty full. Overall I am pretty pleased with this pack.
Notes:
Things I like:
The added feeling that am doing what I can to increase my chances in the event of an avalanche.
Deployment handle storage is good; just remember to unzip it when you hit the trail.
The quality of construction is good.
The shovel and probe area is nicely set up.
Zipper quality is good.
Deployment cylinder storage and connections are good.
Things that could use improvement:
More small pockets! In addition to the goggle pocket there is a pocket on the right side of the waist belt and only one small pocket in the main compartment for storage. There is a key hook in the inner pocket.
The waist belt material is very thin; a thicker material would allow the waist belt to have some rigidity. I found that with a heavy coat it was awkward to connect the buckle. I found that the adjustment of the waist belt and the leg harness was not very easy. I found the leg strap to continually loosen up. The instructions leave a fair amount to the imagination on how the leg harness is used. I think I will make modifications to this area of the pack.
Although the pack is set up with a path for using a hydration bladder there is no hanging means in the main compartment. I found my hydration bladder would get bunched up and restrict the flow to the hose. I melted a small hole in the inner trim at the top of the pack and installed a hook to fix this.

It works.
Gender:

Male

Familiarity:

I've used it several times
Great Price, great size, and it works. I take it up to RMNP, and pack everything you need for a day trip, and I always pack more food than others, plus a 2L camelback. Although this pack doesn't have a place specifically to hang the camelback (you could sew one in), but I've yet to have any issue lying it across everything else, and it's never really in the way. Once you're touring, you're rarely in there, unless you're grabbing food. or stuffing skins. It fits nice on your shoulders and hips, and it felt good to carry on a 6hr tour up to Tyndall Glacier and back down to the lot at Bear Lake.



Only issue, is that the small pull strings on the zippers seem a bit unsubstantial. I had to email BCA for a few replacements, but they'll send at no cost to replace, else it's just a great pack for the cost.



OH!, and refilling for 3$ at the local paintball park is super cost efficient. They let me pull it and test it for no cost.
Good fitting pack, great price, proven..
Familiarity:

I've used it once or twice and have initial impressions
I got this pack because I think it fits well, looks good, and works well. It is a good price, and I live near several re-fill stations. I hope I never have to use it, but I am glad I have it.
Good airbag pack at a reasonable price
Familiarity:

I've put it through the wringer
The BCA Float 32 seems to be an all around touring pack that is just the right size for all day tours that is too big for sidecountry laps and too small for avalanche pros who carry a lot of extra gear. The spacious 32 liters, I think, is just the right volume for day tours.



While touring in the La Sal Mountains above Moab, I was surprised at how light weight the bag felt on my back. Compared to my 32 liter Black Diamond Avalung pack, I did not notice any measurable amount of extra weight. I liked how the bag felt on my shoulders as the straps are very cushy and comfortable. But I was disappointed in the waist belt. It did not seem to carry much of the load on my hips, which means my shoulders got tired pretty quick, and the safety buckle is difficult to adjust to my bony frame compared to traditional snap buckles. I also took issue with the back panel. It is thin and not terribly sturdy, and even caved in the middle if I stood upright and moved my shoulder blades back. I suspect this non-burly back panel saves weight, and is a lesson not to overpack the thing.



Dislikes include the two compression straps on the sides of the bag. They are pretty much worthless for carrying gear, are thin and cheap, and really only serve the purpose of compressing the bag down if it is not completely full. I also find this to be a problem as I like to strap my climbing skins to the outside of my pack when skiing down.



One of the key features of the Float 32 is the fact that the cylinder uses compressed air rather than nitrogen or CO2 gas. That means if you deploy the airbag, it is super easy to refill the cylinder at outdoor and scuba shops.



Design wise, it could use some work, but it is probably the most user friendly airbag pack in the market, and is one of the most affordable. If you are looking to purchase one, I do not think you will find a more functional avalanche pack at a better price.
Backcountry Access Float 32 Airbag
Airbags on a budget
Familiarity:

I've put it through the wringer
This pack is exactly what it is meant to be, an airbag pack for the masses. It's not your top of the line most technologically advanced airbag pack. The ABS system with twin bags will probably float better than the single bag from BCA. The ABS system will inflate microseconds faster than BCA. The ABS will also cost you about twice as much.



I've been using the Float 32 for two seasons now and I'm a fan. It is a very well organized pack. I love the separate goggle pocket, the tuck away mesh helmet carry, the dividers for probe and shovel are pretty standard and work well. I love that its a $5 cartridge refill as opposed to around $70 for ABS. There's plenty of space for just about any touring situation your going into. It is a big, and tall (as other have mentioned) pack. I'm 6'3 and feel that its size fits me comfortably, if I was much shorter I would go for the Float 22. I've seen shorter people (I'm talking around 5'6 and shorter) using this pack and thought it looked ridiculous and that there wasn't a shot in hell it was comfortable to ski with. Even for me it's still big enough that I never use this pack at the resort, strictly backcountry touring. I will admit I am not the biggest fan of how the pack sits. No matter how tight I strap it around my waist the support is not the best. I get more movement from the pack than I would really like, but its not horrible. The ski carry works well, but again it's not the best out there and on long boot packs it does start to wear one shoulder with the diagonal carry. It's not a big issue by any means but its noticeable.



I bought this pack because as a typical ski bum I didn't have the cash for a top of the line $1200 ABS pack and I am very happy with my purchase and absolutely recommend it. My complaints are minor and you will not find a better airbag pack at this price point. But, if you happen to have the cash, I'd recommend picking something out of the wide line of ABS packs.
Awesome Pack
Familiarity:

I've put it through the wringer
I got this pack after using the Covert Avalung pack for a few years (wanted a little more insurance in case things didn't go as planned). I'm 5'10" and 170 lbs and it fits perfectly. It's definitely a longer pack, in terms of height, compared to the Covert pack. I feel like if you're kind of short, this pack may be a bit too long. You can fit a lot of gear in and it's pretty dang comfortable. Definitely pleased with this purchase.
My second season using the Float32
Familiarity:

I've put it through the wringer
This is my second season using the Float 32. I love the fit and functionality (I am 5'9" and 155lbs). I can access my layers, food and gear easily. My rescue gear fits easily in the outer pocket with room to spare.



I have deployed the pack several times as a means to test it and empty the cylinder prior to traveling to B.C.. Folding and repacking the airbag is much easier than it was on the earlier addition Float 30.



The pros for me are the fit and function. It has ample room and can compress if you are carrying less gear. Mounting skis is easy and quick and they ride comfortably. The helmet pocket is easy to deploy and stash. Finding a place to fill the cylinder when traveling has been easy so far.



Cons When I attached my hydration to the velcro near the top of the interior compartment the zipper for the airbag would begin to open especially when carrying skis. The simple remedy was to not use the strap. A couple of the zip pull strings broke. I simply fixed them with parachute cord and tape, no problem.



I would highly recommend this pack for anyone who is serious about self rescue. I would much prefer not to be buried as all or at least increase my chance of being near the surface. The pack has a great fit and intuitive utility. My only recommendation would be to provide the side pockets for the shovel handle and probe like the Float 30 thus freeing up some room in the two main compartments.



Do yourself and your ski buddies a favor and get this pack. To me it is essential gear and should be used by all serious back country travelers.
Does this pack have the ability to carry...
Does this pack have the ability to carry a snowboard vertically and/or horizontally?
To make this bag snowboard carry capable you will want to purchase the Backcountry Access Float Snowboard Carry System. Unfortunately we do not carry this add-on at the moment but it is the best/easiest way to make this bag carry ready:

https://www.bcaccess.com/bcastore/english/products/product_detail.php?productID=137240
I purchased the float 32 last year. While...
I purchased the float 32 last year. While carrying my skis in the recommended diagonal position the airbag zipper and Velcro released under the extra weight of the skis pulling the pack apart. compression straps were pulled tight. Any suggestions on how to rig the skis so this does not happen?
Man, i cannot say besides you are carrying a ton of ski weight or that zipper/velcro is faulty. I've snowmobiled and hiked both with my skis with no issues. However, I am generally carrying a pair of Praxis 190 BC and Dynafits... lighter-weight setup.
I also have had this problem and it wasn't while carrying a heavy setup. I had ON3P Jeffrey Tours with Radicals on there.
Snowboard carry attachment?
Snowboard carry attachment?
We do not have the snowboard carry attachment in stock right now but you can see it here:

https://www.bcaccess.com/bcastore/english/products/product_detail.php?productID=137240
Snake River Avalanche BCA Float Deploy
BIG
Familiarity:

I returned this product before using it
I bought this bag and then returned it for the Float 22. This bag is BIG. Not just in terms of what you can fit in it, but in the length/height of the actual bag. I am about 5'7" and it was from my neck to my butt, if not more. I just couldn't ski with a bag that big.



Hoping the Float 22 is a better fit, I will be posting a review soon. Besides the fit, this bag looked awesome so it could be 5 stars for the right person!