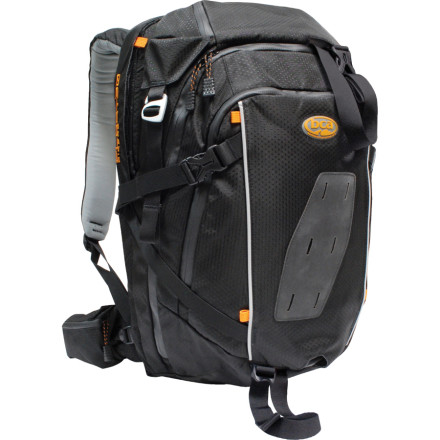 Detail Images

Community Images
Description
Because you never know.
A bluebird powder day can turn into one's worst nightmare if you happen to get caught in a sudden slide. Backcountry Access knows this and has developed the Backcountry Access Float 30 Winter Pack to help reduce or eliminate burial depth in an avalanche, and increase your chances of survival. When things go pear shaped and you're in for a ride, simply deploy the reusable 150-liter airbag and it will increase your overall buoyancy, hence helping you stay at the surface of an avalanche and minimize excavation time.
The avalanche airbag works on the science of the 'Brazil nut effect' (when a bowl of mixed nuts are shaken, smaller nuts fall to the bottom, while larger one's move to the top)
Reusable 150-liter airbag deploys behind the head and away from the hips and arms to help keep you at or near the surface of an avalanche
Leg strap system helps ensure that the Float 30 stays put when in a slide
Pockets hold your shovel, shovel handle, probe, goggles, and other small essentials
The Float 30 includes a 150-liter airbag, pressure gauge, ejector assembly, air hose, trigger cable, trigger handle, and system fittings
Best fits torso lengths between 17-22 inches
For refill locations near you visit - http://www.backcountryaccess.com/about/map/
For refill instructions visit - http://www.backcountryaccess.com/customer-service/float-tech-resources/cylinder-refill-instructions/
Editor's Note: wearing this airbag system does NOT guarantee that you will survive an avalanche burial or a slide amidst avalanche debris; get educated, get the right tools, travel with partners, and be smart out there
**Cylinder Sold Separately**
Share your thoughts
What do you think of the
Backcountry Access
Float 30 Winter Backpack - 1830cu in
? Share a...
I've filled this canister 4 or 5 times now...
I've filled this canister 4 or 5 times now and now they are telling me that I have to replace the o ring,has anyone heard of that yet, and is it a special o ring ???
You can get the o-rings you need in this kit from BCA https://www.bcaccess.com/bcastore/english/products/product_detail.php?productID=137082
I purchased the Float 18 after not being satisfied with the Float 18s features. Very satisfied with the Float 30 for its pockets and especially the back padding. The pack really is comfortable on the back and the weight is evenly distributed. Agreed that the torso length could be a little longer but the pack is adjustable enough to get it centered well. Having two hip pockets is very nice and the goggle stash pocket is great. I do think that more photos should be provided by BCA for a 360 degree view. Maybe I will post a photo of the back side of the pack as the padding is very nice.
Two questions - 1. What can I really...
Two questions - 1. What can I really expect to carry besides the airbag in teh 30L pack? My typical gear is a set of goggles, extra gloves, outer jacket, shovel, probe, snow saw and skins (on the descent). Just want to know if I have to severly comprimise how much gear I can carry. 2. How hard is it to refill the canisters. I have heard that you have order them prefilled from BCA. I was hoping it is simply taking them to a scuba shop for refill.
Best Answer
I used the Float 30 a bit last year (five days?) and found it had enough room for my backcountry kit, which similar to yours. For refills, I took it to a semi-local scuba shop, which was nice, except they claimed they had to fill it, let it sit, then creep up on the last few pounds of pressure later. All told, it was a two day refill, not just a stop in, refill, take it with you. I've heard other shops will gas them up all in one shot, but they may not be getting those last few pounds.
I used a float 30 a bunch last year as well. I did not have any issues carrying everything I needed for a full day of touring, which is similar to the amount of gear you are carrying. In terms of filling the canister, you can either bring it into BCA if your local in boulder or go to pretty much any scuba or paintball shop, they just need to have the adaptor. You can go to www.backcountryaccess.com and pull up a list of all the current certified refill centers. When I got mine filled at a scuba shop they refilled it in about 10 or 15 minutes and the pressure was just fine.
Service and refill in Europe? ABS seems...
Service and refill in Europe? ABS seems to total market dominant here and I haven't seen any shops that provides this for BCA yet.
The air canister uses the same fitting as any scuba tank or paintball air canister, so can be filled at most any scuba supply or paintball supply store, worldwide.
Hmmmm... I've heard they need a special nozzle or something for this cylinder, so I don't know about the universal fills at scuba/paintball/fire stations. I'd check into it.
As a skier in notoriously sketchy Colorado I love the added safety and comfortable fit of my new Float 30.

I have toured with the Float around eight times so far and I found it to be well designed and convenient. Even though the pack is designed for snow mobilers the three pocket system keeps all of my gear and food handy. Set the pack down and voila, sandwich and puffy right there.

It fits great (I am 5'10). Nice and tight no bouncing around, and is made of durable fabrics

Overall a great day pack and I am looking forward to the larger volume touring model.
Got the float 30 delivered today. The torso length on the pack is ridiculously small - I am 6 foot tall and it feels like I need to be 5'6 or less to fit comfortably. Can't imagine skinnig with such an ill-fitting bag.