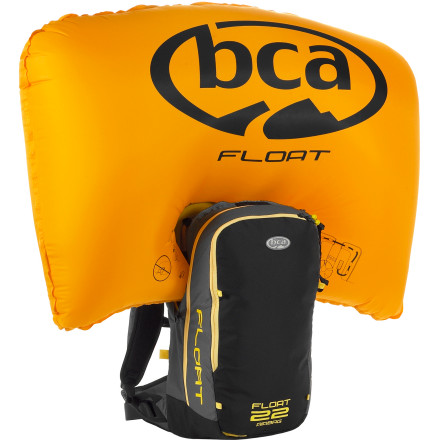 Colors

Detail Images

Videos

Community Images
Description
The smallest of BCA's airbag-enabled backpacks, but no less effective than the big boys.
Because of its minimalist design, the Float 22 Airbag Backpack feels light on your back, and this pack carries just enough for an afternoon sidecountry mission, helicopter or sled-accessed powder laps, or a quick dawn patrol. And like all of BCA's Float backpacks, this pack offers the protection of a trigger-activated airbag that helps you stay on top of sliding debris should you find yourself suddenly caught in an avalanche. At just five and a half pounds, the Float 22 pack barely weighs in much heavier than some backpacking bags, and it offers a compressed-air system that can drastically increase your chances of surviving an avalanche when you're on skis or a snowboard. Stash your shovel, probe, lunch, and a spare layer in the main compartment, and shred your favorite powder stash with extra peace of mind.
Easy-to-operate airbag system uses a compressed air cylinder to inflate a large synthetic airbag behind your head and shoulders in order to increase your overall buoyancy and decrease your likelihood of full burial if you're caught in an avalanche
Highly-durable, single-chamber airbag inflates via a 2,700 psi compressed air tank
Venturi inflation system is TUV and CE certified
External shovel and probe pocket give you a place to store your avalanche survival tools for quick access
Diagonal ski carry frees your hands on steep slopes so you can lean into the slope and dig with your ice tools
Helmet carry keeps your brain bucket secure so you can take it off for the heli or the tram ride
BCA recommends that you deploy your airbag at least once per year. Once you have discharged the compressed air cylinder, you need to bring it or send it back to BCA, BCA Canada, or to an authorized BCA Float cylinder refill station
Follow this link to enter your area and see a full list of cylinder refill locations near you: http://www.backcountryaccess.com/about/map/
Editor's Note: wearing this airbag system does NOT guarantee that you will survive an avalanche burial or a slide amidst avalanche debris; get educated, get the right tools, travel with partners, and be smart out there
**Cylinder Sold Separately**
Great Pack
Familiarity:

I've put it through the wringer
I've used this backpack from Chamonix to Japan, and it has never let me down. It is light for when you're going on long tours/rappels, and a surprising amount of storage space for how compact the design is. Fortunately I've never actually had to use the airbag, but having it is always a good backup!

Light avi pack
Familiarity:

I've used it several times
Overall this pack is lighter than all of the others that I've worn. And there's room for some extra layers, snacks, hand warmers, sunscreen and the other things you need to carry around for a day ski over and above your safety equipment.



Luckily I've never had to deploy it (and hope I never have to) so I can't comment on that part of the functionality. But I'm happy to read the reviews below that comment positively on this functionality. After all, it's really all about the safety aspect.



As a smaller woman (5'5" and 115 lbs) I find all of the avi packs a bit cumbersome, bulky and heavy so I'm looking forward to technical evolution in the years to come. But in the meantime, this pack is great.
The perfectly sized pack!
Familiarity:

I've used it several times
I LOVE this bag. Echoing a lot of the reviews below that this thing can carry everything you want without having to carry around the weight you don't, with canister all in. One of the smartest things you can have with you in the backcountry and you don't have to sacrifice any amount of ease to to it.
HOLY LIGHT BATMAN!
Familiarity:

I've used it several times
Alright - havent had the chance to deploy this thing in real time conditions, but i will say is how light this thing actually is. I've held many a airbag (all loaded up with canister and the like) and this thing feels legitimately lighter than others.

And to be honest 22 liters is all you need. I loaded this thing up with all the goods - a micro down puffy, my shovel, probe, water bottle, a small rappel rope for the gnar, a small harness, rappel device, skins, a small shell, a likkle food, goggle, my helmet in the helmet carry. -- and it wasnt bulging at the seams.

The diagonal ski carry is seamless and easy to use.

The canister (which is sold separately) is easy to attach and can be refilled at many a places (scuba shops)

And holy cheap.

How much is your life worth??????????
Great little Airbag!
Familiarity:

I've put it through the wringer
BCA FLOAT - Awesome little backcountry bag! So lite you barely feel it on your back. It does not really impede your movement. Can carry everything you need for a day trip and still provide you that safety and security. Easy to refill at a local scuba shop too. I highly recommend this airbag! BCA makes some great backcountry gear!
Here is a video showing a deployment of a BCA bag and it's use in a real avalanche.



Note: This bag does not guarantee you will not be buried - please make sure when travelling in the backcountry you are well educated and have all the proper equipment to keep you safe!


Light and Compact
Familiarity:

I've put it through the wringer
After shredding in AK with the Float 22 I now know how superior this bag is to other Avalanche Bags. My bag was noticeably lighter and more compact that the bags of the other girls on my crew. I never felt it on my back when riding lines and its great not to have to take the pull chord off everytime we got back in the Heli.
Solid Pack
Familiarity:

I've put it through the wringer
I've been using the float 22 a lot this season. For an airbag pack it feels light and unobtrusive, you won't notice the weight. The 22 size gives you enough room for skins, some food/water and a few other essentials. Great for shorter missions. If you want to fit crampons and other gear for longer missions, look to one of the larger float bags.
For me this size makes good sense. Airbags inevitabely take up some room in your pack so having a small one for Heli days and other days where you might be getting on radical shit and not wanted to have a super huge pack on your back makes the most sense to me! I love this pack, it has great compartments and I love the way the cartridge works.
Great Everyday Pack
Familiarity:

I've put it through the wringer
I use this bag nearly everyday and contrary to what I had originally heard about it being too small to carry anything, I am easily able to carry skins, extra goggles, water, food, an extra layer, a first aid kit, sunglasses, small camera, and my shovel and probe too (with room to spare).



This bag is perfect for smaller day missions, peak bagging, resort-accessed backcountry laps, or any other situation where you might find yourself in avalanche terrain.



Also to anyone finding their bag ripping open where the airbag is located while carrying skis, this is easily fixed by putting the set of zippers on the bigger pocket down to the bottom side of the pack when you close the bag.
One of the most convenient systems
Gender:

Male

Familiarity:

I've used it several times
HUGE PRO: The cylinder can be charged in any paintball club in Russia for 50-100 Rur (1-2 USD). It also can be charged at any scuba diving centers or fire stations (for that you need scuba-to-paintball adapter, available at ebay).

CON: The cylinder is more than 250 ml, which makes it formally impossible to carry that CHARGED in any type of luggage according to IATA rules (Europe only).

NB! The exact volume is NOT marked anywhere on the cylinder!!! So, every time I argue with security during x-ray check. The bottle seems really small (less than 290 ml) and that is the only argument in most of the cases. In most of the cases I succeed.

CON: One needs tho change the tiny o-ring in the valve every time after a discharge.

Overall a great piece of equment!
His & Her's Backpacks
Familiarity:

I've put it through the wringer
I received the BCA Float 22 from my husband a couple years ago because he wanted to make sure I had the best gear to keep me safe in the mountains. I have always skied with a backpack so I was a little worried the weight of the Airbag Feature was going to put me over the edge and not want to anymore. However, that was not the case. Instead I ski with a backpack even more and I am still able to carry all my water and snacks. The next Christmas I bought my husband the same pack and he loves it.
Best Avy Air Bag!
Familiarity:

I've used it several times
BCA Float 22 is the best bag on the market and the most affordable on the market today. Easy assembly instructions on the BCA website. I never go into the backcountry without my Float 22. Carries all my necessary Avy gear, shovel, probes, first aid, etc. Highly recommend getting one if you are serious about skiing backcountry or even side country at the resorts. GREAT PACK that will save your life someday.
BCA Float 22
Familiarity:

I've put it through the wringer
Pack Tested: BCA Float 22, Avalanche Airbag Backpack (color: blue and gold)



Reviewer: Miles Clark, Height: 6'1" (185cms), Weight: 170lbs (77kgs)



Number of Days Using Backpack: 62



Where Pack Was Used: Hakuba, Japan



There's really no argument anymore. Before you go into avalanche terrain you need knowledge, a partner, a beacon, a probe, a shovel, and most recently: a backpack with an airbag system.



This BCA Float 22 is the ideal pack for side-country skiing and day touring in backcountry terrain. This pack is simple, sleek, and safe.



Simple, because it has only two pockets. A large one and a smaller one. The large pocket has room for your snow saw, goggles, sunglasses, skins, extra layers, water, and more. This larger pocket can unzip completely and fully fold open for access to the entire pocket and its contents. The smaller pocket can fit quite a bit but has quicker access so it's a great spot for food, water, hats, gloves, shovel blade, sunglasses, and goggles. This smaller pocket has two vertical sleeves sewn inside to accommodate your probe and shovel handle making access to them quick and easy. The large pocket also has one small, zippered pocket built into it for can't-lose stuff like keys and wallets.



Smaller/Outer pocket opened up with easy access to probe, shovel blade, and shovel handle visible.



This pack comes with a helmet carry pouch that can be attached to the outside of the pack and easily carries any ski helmet to the pack. I've used this helmet pouch a lot and it's very useful.



The most important feature of the BCA Float 22 is the inflatable avalanche airbag system. The handle is located on the left shoulder strap and consists of a circular knob that is easy to grip. I did pull the handle and inflate the airbag once and you do need to give a decent pull to get it to go. This is good, as it helps insure you don't end up accidentally pulling the airbag handle.
I understand that the Float airbag system is now interchangeable between packs. I just bought the Float32 but would like to consider the Float22 for shorter tours or side-country days. Do you offer just the 22 pack without airbag/engine/cylinder? What would the price be?
In The near future BCA will be offering some interchangeable options, tough to get exact info though. They tried the interchangeable thing and it wasnt flying off the shelves so to speak. BCA wanted to focus on keeping the price point down so everyone could have access to the bags, lighter weight bags, and easy to refill canisters. When you look at a interchangeable system the price tag goes way up. Currently Mammut will run you around $700 for the system and bag and then another $200-$300 for a stand alone bag, where BCA gets you in a package for $500.00ish.
Backcountry Access Float 22 Airbag
Great Bag
Familiarity:

I've put it through the wringer
After using this bag extensively this season, in Utah and Montana, I can definitely say its one of my favorite pieces of gear. I initially bought the larger 32L bag, but due to the fit, I had to return it. Many people told me that 22L is not big enough for a ski touring pack, but I think it is the perfect size.



On a normal day, I will carry an extra pair of gloves, snacks, a beanie/balaclava, gopro and accessories, ski straps, small first aid kit and knife, and perhaps an extra layer, depending on the weather. This list is of course, on top of the shovel and probe that I always carry. My Black Diamond Deploy 3 shovel fits well in this pack, along with my probe that folds down to 1 ft. 4 in.



Some features I love about this bag are the hip belt pouch (its great for snacks or light gloves) and the helmet holder that clips on the pack. ALTHOUGH, you can't carry your skis and use the helmet carrier at the same time, which is definitely not cool and something that the larger 32L bag does not have to deal with, as the design is different.



As for the actual airbag component of this pack, I havent had to use it yet, and have only deployed the bag once as a test. Everything worked great and setting up/taking apart the system is easy and intuitive.



Overall, for day trips in the backcountry, I think this bag is an essential piece of gear!


Perfect size (no place to lash poles)
Familiarity:

I've used it several times
For backcountry snowboarding I like my packs light and small, so I don't feel awkward when I try to spin or play around on the way down the mountain. This guy is great in that respect, as it somehow doesn't way too much more than my regular pack and thanks to the helmet carry pocket it fits all my gear nicely.



One thing I would mention is that it doesn't have a good place for lashing tour poles. Not a problem for me since I keep my Black Diamond Compactor poles inside, but if you already have telescoping poles you might want to make sure they fit in the Float 22.