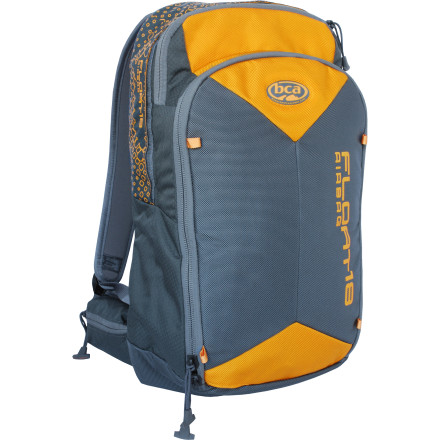 Rather than sucking carbon dioxide beneath a pile of avalanche debris, let the compressed-air powered, 150-liter airbag inside the Backcountry Access Float 18 Winter Backpack keep you on top of the slide. Designed to be Backcountry Access's minimalist model within its Float collection, the Float 18 Backpack has a thin profile but rocks enough storage for rescue tools, your lunch, some water, skins and an extra layer. You could wait for buddies to chisel through tons of rock-hard avy debris, or you could increase your chances of survival by pulling the cord on this pack and staying afloat if the slab under you breaks.
Float System uses a small compressed-air cylinder to quickly inflate a durable, single-chamber airbag that expands out of the pack and behind your head
Airbag increases your buoyancy amid avalanche debris and helps to protect your upper body from trauma without limiting mobility or peripheral vision
System can be refilled and prepped for reuse by a BCA-authorized refill center
Internal shovel and probe pocket provides easy, swift access to your safety gear
Ski and helmet carry systems for when you climb a steep bootpack on some slackcountry access
Torso length: 17-22 inches
Editor's Note: wearing this airbag system does NOT guarantee that you will survive an avalanche burial or a slide amidst avalanche debris; get educated, get the right tools, travel with partners, and be smart out there
**Cylinder Sold Separately**
The go to bag
Gender:

Male

Familiarity:

I've put it through the wringer
I've been using an airbag for the past few seasons and BCA really got it right with the 18. It's a good size which I felt was lacking in the past with most airbags. The size is perfect to fit skins, shovel, probe, one pair of gloves, goggles and some water. Anything else is a bit of a tight fit so I would recommend going for a bigger float pack. But if you want one for day tours and inbounds/ side country this is it. And also it is a pretty comfortable pack, no complaints on the fit while wearing it. I would highly recoommend getting this bag.
this is a great device and just remember it isn't foolproof, Our family has a friend that just died and had this device, He was skiing the backcountry of Telluride this season, His pack hit some sharp objects and put a hole in one of the inflatables, He passed away. He was very experienced in the back country especially where he died, So Please take it easy, check the slopes and always have a partner or 2, They will be the ones that save your life if the pack doesn't work.
BCA Float Cylinder Refill Instructions
BCA Float 18 Product Review.
Backcountry Access Float 18 airbag backpack
backcountry access product manager walks you through the Float 18 air bag backpack
Great for Its Intended Use
I normally like to carry a pillow and a ham sandwich with me in the backcountry - just in case I run into trouble. I was nervous that the Float 18 wouldn't hold the pillow. To my delight, it's bigger than I expected.

In all seriousness, I was surprised that the 18 has enough volume for sidecountry and heli-ski days. Getting a rescue sled, first aid kit, repair kit, etc. in the pack isn't really possible, but an extra layer, water, a little food, and a camera is. (Shovel and probe are a given.)

This pack is not designed for touring. If you access the backcountry from a resort, or go heli-skiing, you are counting on help being relatively close, and you might be making quick decisions without the benefit of gathering information on the way up. This is what the Float 18 was designed for.

I've blown up a lot of these as demonstrations, and putting the airbag back in the pack is pretty easy once you figure out the best system. Changing the canister is easy. It would be nice if the 18 was a zipper closing system like the 36, rather than velcro. If you pop open the velcro will carrying your skis in the ski carrier, use the haul loop to connect the skis and the problem is solved with no change in function.

It's not a touring pack, but it's great for those days when mechanical assistance gets you more vertical.
Well made pack but not good for Splitboarders
I got my Float 18 as a gift from the best girl in the world. Love it. Really well made and the Float airbag system is really simple and made of high quality parts. $15 fill up on the air canister at my local shop and BCA has you fill out a form so they can create a database of where the canisters are, when they are used, and who owns them. Very cool.

BCA really needs to get more photos of these Float backpacks on the internet. I think it makes purchasing them difficult without seeing a 360 degree view of the outside and a few photos of the inside. Seriously lacking.

The Float 18 is the lightest pack that BCA offers which is great. The downside is that the backpack can only be used for day trips. I wouldn't even go out for a few hour tour with this pack. Your avalanche equipment has storage. Your helmet has a nice stretchy holder. It also has a little belt pocket for your point and shoot camera or your keys. Want to store some water in the pack? Better keep it to around 8oz because you are not fitting a Nalgene bottle in this pack. No spot in this pack for a Camelbak bladder either. SPLITBOARDERS take note. There is no straps to put your poles on this backpack. Nada. Zip. This pack is like the Black Diamond Bandit AvaLung. Short tours, helicopter missions, snowmobiling, and side country.

One last comment. Again this pack is really well made and streamlined to be light and tight on the back. BCA made the back panel to be straight and non-contoured. It is very rigid on the first use and you can feel the Float airbag equipment resting on your back. Not comfortable at all but I hope that the padding breaks in a little. The Float 30 has additional back padding and contours.

Overall I like the pack but to be a pack that gets used everyday in the backcountry I am going to return the Float 18 and get the Float 30 just for the additional space and the additional straps to mount poles when shredding the splitboard.
I am looking for a avalanche kit for...
I am looking for a avalanche kit for snowmobiling and need your help on ideas and where to buy
The absolute minimum anyone should have in avalanche terrain is a beacon, shovel and probe. An avalanche airbag is a excellent addition that can save your life. All of these items can be bought on backcountry.com.
Anngela, please consider taking some classes as well! I agree Sandy, Beacon, probe, shovel and a pack are essential, ava airbag is an excellent edition as well. Education is a key, know how to use your gear and where and when to go!
does this pack ship, with the cartridge...
does this pack ship, with the cartridge charged? Or do you have to find someone to fill the cylinder?
Can you travel on the airlines with the cartridge charged (I heard you could do this in Canada domestic) or does the cylinder have to be empty?
The pack does ship with the cylinder filled, but there is a hazmat fee of 25 bucks on top of the normal shipping and handling charge. I requested that mine ship empty and I got it filled at a scuba shop to save a bit of money. Depending on your situation it might be better to just get it shipped full though. You cannot travel on airlines in the U.S. with a full cylinder. If you are traveling internationally you can request to be able to carry it in your checked baggage but you need to fill out a form which you can get off BCA's website.
Best Answer
We at Backcountry.com have requested that all of our re-fill able cartridges ship empty. As mentioned by Ted, they can be filled at scuba or paintball shops.
welding supply shops or fire safety shops are another great resource for refills. These tend to be the cheapest for filling air tanks.
Small on size, big on safety
4.5 stars

Looks good, fits fat skis, and is one of the most affordable airbag options out there. This is the smallest airbag pack out there, but I'm thinking they could have made it just a bit bigger. Maybe by expanding the outer pocket to the top of the pack or just allowing it to stick out a bit further. (More on what it fits below). I will also mention that there isn't much back padding and the back pad is not vented.

The pack fits a shovel, probe, skins, Nalgene, and mittens. Or you can substitute a Mountain Hardware Compressor jacket for the Nalgene. You may also be able to squeeze the jacket in there if you use a thinner Nalgene or a bladder (Platypus), but that is really testing the limits of the zippers. I'm sure you can squeeze sunglasses in there but there's no way to fit a coat, Nalgene, skins, and goggles.

My shovel handle and probe are just a bit long for the pack. (Which isn't a surprise since they didn't fit in my old Dakine Pro 2 pack either) So I'm gonna have to swap them out for smaller versions.

Most of the time I'll be using this pack for sidecountry, so I wont have an extra jacket or skins. I think if I get a slightly smaller shovel/blade and a more compact water bottle it will fit everything except goggles, which will be fine since on the way up, the skins will be on my skis.
Affordable, Durable, and Looks Fly
I just got my Float 18 shipped to me the other day. I heavily researched the different airbag options and found that BCA made the most competitively prices airbags out there. One thing that makes their airbags unique is the fact that you can go to several scuba shops found around North America who will refill your cartridge after it has been fired off.

Upon receiving my Float I instantly checked how my pow skis would fit on the ski carrying system, which has been refined to hide the straps instead of constantly having them flop around. My skis fit great, and I used the Rossignol S7 from last year with the FKS bindings. The skis fit like a charm, and were taught against the back of the pack. Another thing that I was wondering about in my research was whether or not the 18 was big enough for my shovel and probe along with other things that I would be carrying around like an extra layer. The shovel handle and probe go in through the top pocket whereas your shovel blade and additional layers go in through the back pocket. Lunch, layers, and a water bottle and the pack is pretty full, but still has space for a little more. Nonetheless, the pack has not disappointed thus far and I am sure that it will be awesome this winter. Sometime in January I will try and post another review about how it works on the hill. Any questions, feel free to post to this review and i'll do my best to answer them.
What are the best torso lengths for the...
What are the best torso lengths for the 36, 30 and 18?
On the BCA website it says that the best torso lengths are 17-22 inches for all the packs, at the ski shop I tried all the bags on and found that the 30 and 36 fit a slightly larger torso length whereas the 18 would fit a slightly smaller one, which makes sense as the Float 18 is an overall smaller bag. Hope this answered your question!