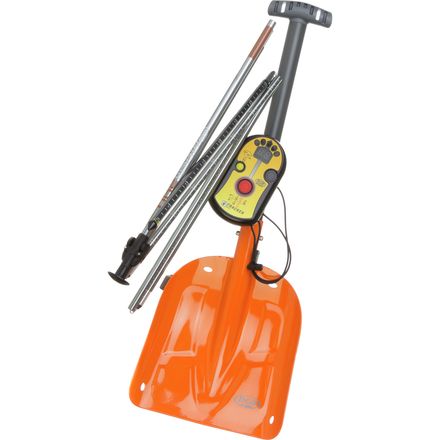 Colors
Description
The holy trinity of the backcountry.
Peanut, butter, jelly. Bacon, lettuce, tomato. Beacon, shovel, probe. Good things seem to come in threes, and Backcountry Access is hopping on the trifecta train with the DTS Rescue Package, which combines the legendary Tracker DTS avalanche beacon, Stealth 240 probe, and Bullet shovel to make sure you're fully equipped when you head into the backcountry.

The Tracker DTS beacon is a legend, due to its simplicity, durability, and reliability. With three AAA batteries included, it'll run for 200 hours in transmit mode and 50 hours in search mode, with two digitial antennas that provide reliable signal recognition over a 40m range. Clear and intuitive direction and distance indicators take most of the guesswork out of searching, and the easy-to-use multiple-burial mode is a key--if hopefully never necessary--feature. The DTS automatically switches to transmit mode after 10 minutes of inactivity, in case the searcher has been caught in a secondary slide, and the large buttons make it easy to operate with gloves on, giving you one less thing to worry about in an emergency.
The shovel and probe are far simpler, but no less important; after all, you need all three to successfully locate an avalanche victim. The DTS package includes the Bullet Shovel, a basic-but-bomber aluminum fixed-blade tool, perfect for moving large amounts of snow in a hurry. Backcountry Access designs the Bullet's blade to fit efficiently inside packs, saving space for other gear, and gave it an ergonomic handle for easy grip. Last but not least, the Stealth 240 Probe is made of tough and lightweight aluminum, with a Quick-Lock assembly system, depth markings for snow study, and a pointed tip to easily penetrate hard snow. If you're getting into the backcountry for the first time or looking to replace a tired-out avy kit, the DTS Rescue Package is a simple, bomber, and trustworthy setup.

Dual-antenna digital beacon with 40m range
Runs on three AAA alkaline batteries (included)
Multiple-burial mode
Direction and distance indicators
Automatically switches to transmit after 10 minutes of inactivity
Chest harness
Aluminum fixed-shaft shovel
240cm aluminum probe with depth markings
Quick-Lock assembly
Storage case
Great probe
Familiarity:

I've used it once or twice and have initial impressions
The probe is really fast and easy to use; I am well impressed. The shovel and beacon are good; no problems, nothing outstanding; which is what you want in a basic beginner kit.
Unanswered Question
Hi what would be the dimensions and weight of the parcel for this please?
What's the deal with the bullet shovel? I can't find any information or reviews on it. The neck on the blade looks long. Is that included in the shovel blade dimensions shown? Not sure if this will fit in my BCA stash 20 pack.
Best Answer
Hey nicp879938,



The shaft of the shovel is extendable and removable from the blade. The shaft collapses to 16 inches for easy packing.