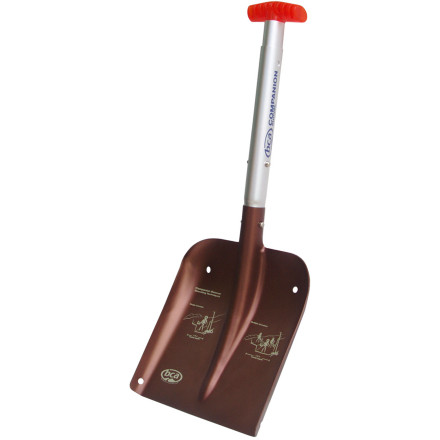 Community Images
An extendable 40-inch-long shaft? Sweet. We're talking, of course, about the Backcountry Access Companion EXT Shovel. This shovel extends to an optimal length for digging, while the flat back makes clean snowpit columns for study and predictions. A reversible, offset D-grip feels natural in your gloved hand. If you have Backcountry Access' stowable Companion Probe, the probe will slip up inside the shaft of this EXT Shovel.
Not the length Backcountry.com claims
This may be a good shovel for all I know, but I was looking for a 40 inch shovel and this one is only 31.5 inches fully extended. Check Backcountryaccess.com for the correct stats on this product.
When I asked Backcountry.com to pay for the return, they graciously did so, but also told me that the assembled length as described "30-40.5in (71-103cm)" is a range that covers the 31.5 inches I measured. You've been warned.
This shovel is the right size and strength... small enough to comfortably stuff in your sack and strong enough to accidentally dig into some not-so-soft boulders. I would definitely recommend the metal blade over any plastics, no matter how "light" or "small." If I need to dig out my bud from the slide he started doing a 270 of a cornice, this is what I want attached to my back!
Unanswered Question
Anyone have any recommendations as to the...
Anyone have any recommendations as to the Companion versus the Traverse? I know the Traverse is smaller and lighter, but for an all around shovel, which would you prefer?
This shovel is sweet for the money but the top shaft is a little wobbly when digging in harder snow. It is quite effiecint for moving lots of snow.
Great shovel, fits in pack.
Great lightweight shovel. Big blade but still fits in small volume pack without the handle sticking out. Pop it out, extend the handle and move some snow.
Lightweight and Great for Pits (and, of course, saving lives)
This thing is relatively light when compared to other shovels. Super durable elliptical shaft and flat shovel back for snow analysis (shaves cross-sections for layer analysis clean and crisp) and "large amounts of snow" removal. Great buy and the EXT aspect is a must! Worth the extra oz. or so! Buy this one........... do it!
I have a nasty tendency to bring along entirely too much junk, which not only sucks to carry up, is a real pain in the ass to ski down with, so the combination of being a very useful tool when it comes to digging efficiently (my hope is to only ever use this thing to build jumps, but regardless...) and being lightweight and therefore not cumbersome, it is a winner in my book. I have been carrying it around the BC for two years without ever having any problems with it functionally, and I don't even notice it in my pack until I need it.
Excellent All-Around Shovel
This is an excellent all-around shovel. The weight is reasonable for touring, especially given the large blade size and long telescoping shaft. To save a few ounces, you bring only part of the shaft so as to make the shovel into a fixed-length model.
The blade is relatively flat, which might be less efficient for moving snow, although it's great for snowpit work. (Pic is of me -- far right -- teaching an avy course, at which I coulda sworn I had brought this shovel, although I don't see it in the pic.)
I'm a bit surprised that BCA got rid of the D-grip in favor of a T-grip for a shovel this size. But if you always wear gloves (instead of mittens), then a T-grip is fine for many folks.
If you are want a good quality shovel, lightweight yet strong enough to cut thru the hard stuff, this shovel is great. I like the extendable handle, stows nice but extends so the shovel is more functional. The blade is bigger than the Tour shovel, just what you need when you need to rescue someone quickly. I only use BCA products, and i love them all. Backpacks, shovels, probes or beacons they just put out quality products.
What are the dimensions of the blade. ...
What are the dimensions of the blade. Will it fit in a 16L Dakine Heli-Pro shovel pocket.
blade is 10" wide by 13" tall, i dont know if it will fit your pack. Get out your tape measure and check it.