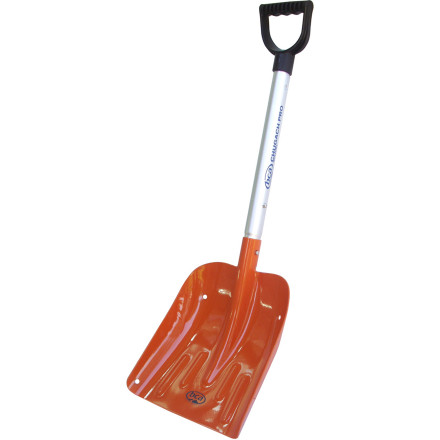 If you're dealing with big snow and you need a big, bad shovel in your hands, the Backcountry Access Chugach Pro EXT Shovel is the one for you. The oval shaft tube increases prying strength over traditional round tubes and minimizes fatigue by fitting ergonomically into a gloved hand. The 12-inch-wide blade on the Chugach Pro EXT Shovel allows for efficient kicker building, moving Sierra cement quickly off of your hot tub, or that most exciting of shoveling tasks—digging your car out from under a five-foot dump.
This thing is a plow not a shovel!
This shovel is great. I got it because wanted a shovel with a huge blade and a ton of extension. It definitely covers both those needs. It moves a ton of snow fast, it's strong, and the extra extension is great for your back. I would definitely recommend something else if you travel light or are just riding resort slackcountry. If you don't care about the weight or height in your pack and want a rugged shovel that will dig your buddy out fast, this is for you.
True believer in this blade
I have carried this shovel in my pack heliski guiding for the last 6 years. I am constantly moving snow for landing zones, Pickup zones and snowpits. I shovel all day, and I want a tool that gets it done efficiently. The long extension and D grip really helps with the backaches that come along with shoveling at your feet. I can move a ton of snow quickly with this thing, which has obvious benefits in an avalanche burial/rescue. I ski tour with a bit smaller shovel, as the Chugach Pro is big and doesn't fit great in smaller packs.
Backcountry Access Chugach Pro EXT
Damn, this thing is badass. If you're looking for something to dig your car out with, or build Chad's Gap with, this is the tool you need, and ignore the 4 star rating. If you want a shovel to get out into the backcountry with on your pack, unless you actually are a Pro in the Chugach, this probably isn't the way to go. It's pretty darn heavy, but the thing that would concern me is that I'm not sure whether it would fit into your average BC pack at all. It'll definitely dig whatever you need it to though, so if that's what you want, BUY THIS SHOVEL.
This shovel is not as light as some other shovels I've used, but more than makes up for it with a solid construction that makes moving a lot of snow an easy task.
This shovel is big, burly, and will move a lot of snow in a hurry. great for building kickers or doing stability tests. fits well in my pack, D-shaped handle is nice. Hopefully you won't be needing to dig out a buried friend, but if you do, this shovel would definitely come in handy.