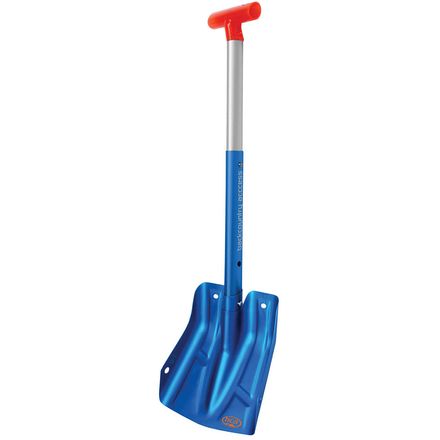 Videos

Community Images
Description
When functionality counts the B1 won't let you down.
When you're looking for a bit more leverage and comfort turn to the Backcountry Access B1 Extendable Shovel in your shoveling endeavors. Its unbeatable strength-to-weight ratio impresses you when you dig a pit, kicker, or snow cave. Thanks to its durable components and ergonomic grip this strong shovel won't let you down when you're in a pinch either.
very light shovel
Familiarity:

I've used it several times
I picked up one of these because it is really light, and it works! You can break it down into 3 small sections. I let my teenager carry it in her pack skiing Silverton. FYI, I do test gear for Gore, from time to time, only gear that I choose to test.
Backcountry Access B1 Extendable Shovel
Close to perfect
Gender:

Male

Familiarity:

I've used it several times
With the removable handle, this shovel packs more compactly than any other extendable shovel on the market. Weight is also amongst the lightest at 21oz.

Blade size is perfect for stowing inside packs in the 20-35 liter range. Anything bigger, and you'll need a bigger pack, or risk snagging / loss by external attachment.

I used this shovel at my Level 1 Avalanche certification and was consistently among the 3 fastest in my class of 30 participants to deploy & finish digging in Tahoe's heavy, costal snowpack. In fact, I observed several participants struggling with larger blades attached to shorter handles. Bottom line: be aware of the conditions you are most likely to face: those in continental conditions in deep, light snow may benefit from a bigger blade. In subsequent use up and down the Sierra Nevadas, I've found the dimensions of this tool perfect for western snow conditions.

Overall I'd rate this shovel 4.5 out of 5 due to one minor quibble:

I would have liked to see extra holes equidistant from the ends of both sections of shovel handle for use in building an emergency sled w/ my skis.

BCA would do well to follow K2's lead & add this "big picture" functionality to their shovels as a stock feature. I am going to drill holes where I need them, but why should I have to resort to a DIY fix that voids my warranty when other manufacturers incorporate it into their base design?

Are you listening BCA? Just 4 holes short of perfection!
Nice
Familiarity:

I've used it several times
Nice and light, small but functional, and no crazy corners, lips, or edges to wear on your pack. The extendable handle is sweet, and the extra inches make life nice. Great shovel.
Are the shafts of the B1 and B2 intercha...
Are the shafts of the B1 and B2 interchangeable? I've got a B1 with probe but would like to have the option of larger blade with the probe and extendable handle for the smaller blade. Thanks
Best Answer
The shafts for the B1 and B2 ARE interchangeable.
Hey Wayne, do you know if the Arsenal shovels are interchangeable with the Bomber shovels as well?

Thank you
Great shovel. Strong, lightweight and packs down nice and small. Excellent tool to take into the backcountry.
I love the blade on the BCA bomber shovels because they are more packable than other shovels I have used. The ferrule of the shovel blade is actually welded to the blade itself, which makes it really burly. They are also lighter for their size in comparison to most other avalanche shovels.
Great light option for a shovel. I compared it to the Black Diamond and the orthovox comparable options and this was the lightest most compact unit. The actual blade was not bad at all it just packed up nice.
The best aspect of this shovel is that when collapsed, it fits perfectly on the exterior clamps on my pack. Save time pulling it out of the pack. May take a little bit more labor on the dig, but save time on access.
I used this shovel digging a snow cave with the kids. The snow was piled up by a truck and was hard and very icy. This shovel did the job perfectly.

Besides, it is light, easy to assemble and space eficent when you strap up for backcountry.
Compact, strong and simple
Gender:

Male

Familiarity:

I've used it several times
It's one of those items you hope you never have to use for its intended purpose. Still though, I've carried this all season for digging pits, helping move snow in an injury situation and of course, if the awful happens. It packs well into a bag thanks to the handle coming all the way off. The blade is not huge, but if you need to carry a shovel for those 'just in case' moments this is the one. If you need a shovel for building jumps or lots of avy instruction training, I'd go bigger.
Long tours
Gender:

Male

Familiarity:

I've put it through the wringer
I have been using this shovel all season. I think that those who want a small light shovel for going to a longer tour will really like this. If you are going to be building jumps or slackcountry I would get a bigger blade. The one downside is I seem to get the handle stuck in the blade after I have been digging.
Good shovel, a tad small.
Familiarity:

I've used it several times
It is lightweight and very compact, but the shovel itself is a little small. Luckily I haven't had to use it to seriously dig, but I think I would go with something a bit bigger.
This shovel is awesome because not only does it work but it is light and compact. When you pack you bags to get into the backcountry no longer will your shovel take up all the room on your outer straps. This will be nice compact and sturdy. The best is the new weld less connection point to help strengthen the shovels life. I have not had any issues with the Pin falling out!
Failed during a simulated avy rescue.
The lower spring loaded pin assembly fell out of the handle, making the shovel unusable.
Write your question here...what's it made...
Write your question here...what's it made of?
Aluminum, all that type of information is on the right side of the page under the box that has the price. :)

-Jared