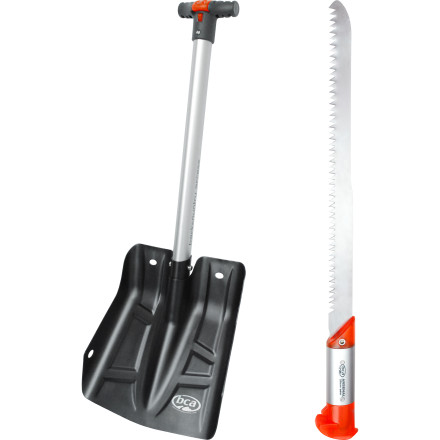 The Arsenal Shovel EXT with 35cm Saw and A2 Blade stashes easily in your backcountry touring pack, and thanks to the integrated system, you'll always have a snow saw available for snow study. This clever system allows you to slide the snow saw right from the t-grip handle without disassembling your shovel. The shovel's extending shaft gives you the extra reach and leverage for fast digging and makes this shovel easy to collapse and attach to your pack once you're on the move again.
Tough-as-nails aluminum offers a strength-to-weight ratio like none other so you can depend on the construction when lives are on the line
The T-grip can be looped through and worn without a pack with user-supplied webbing or rope
Pre-punched holes in the shovel blade make it simple to set up a sturdy snow anchor or emergency litter
What is the difference between an A1 blade...
What is the difference between an A1 blade and an A2 blade?
The A2 blade is about an inch bigger in both dimensions.
A1 blade= 9x10"
A2 blade= 10x11"
There are various probe or saw with or without extendable handle configurations.