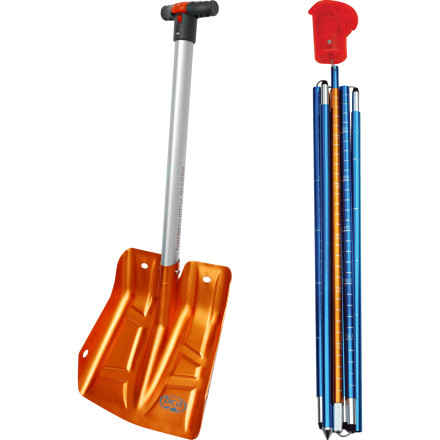 Instantly deploy a 240cm probe from the shaft of the Backcountry Access Arsenal Companion Blade shovel and save valuable seconds when seconds could mean the difference between life and death for your friends. Unlike other probe-and-shovel combos that require you to remove your t-grip handle, this two-in-one rescue system cleverly allows you to access the full-length probe inside without disassembling your shovel. Time saved deploying your gear means you're ready to start digging faster, giving the people buried below a better chance at surviving disaster.
Tough-as-nails aluminum offers a strength-to-weight ratio like none other so you can depend on the construction when lives are on the line
The T-grip can be looped through and worn without a pack with user-supplied webbing or rope
Pre-punched holes in the blade make it simple to use this shovel to set up a sturdy snow anchor or fashion an emergency evac litter
Share your thoughts
What do you think of the
Backcountry Access
Arsenal Shovel With 240 Probe and A2 Blade
? Share a...
Shovel and probe work well, but not as a combo
I'll agree with most of what Soren McCarty said in that the shovel is good and so is the probe.

Regarding the shovel. It's light, tough, and easy to remove the blade. There's no plastic here, so I wouldn't expect it to break like some of the shovels with plastic blades. It lost points not being telescopic as a longer shaft is always nice when the seconds count. But by itself, yeah it's a good dependable shovel I've used for general BC tasks.

Regarding the probe. It's easy to erect, it feels tough, and packs away nicely. I'd have liked to buy a 3m probe for some of the extra deep powder we get in Hokkaido, but since the probe packs into the shovel shaft I thought it seemed like a good idea.

The problem is when you try to take the probe out of the shaft. The probe gets stuck in the shaft, and on more than one occasion it's taken me minutes to take the probe out of the shaft in living room conditions. If you actually have to rescue someone from a burial you do NOT want to be fumbling for a couple of minutes getting your probe out. Thus I pack the 2 items separately in my pack.

Bottom line:
The shovel is good.
The probe is good, but gets stuck inside the shaft of the shovel.
Buy them separately and go for a telescopic shovel.
BCA Tour Shovel with Probe
Familiarity:

I've used it several times
Product Review: BCA Tour Shovel with Probe
I've been happy with the quality of this product , made well and compact. I bought this when me and my girlfriend were going to Argentina for Ski/Snowboard Vacation . She Needed a shovel , so might as well get her a probe too. I like the design , but it can get difficult to get the Probe back into the Shovel handle. Other than that Great Product!