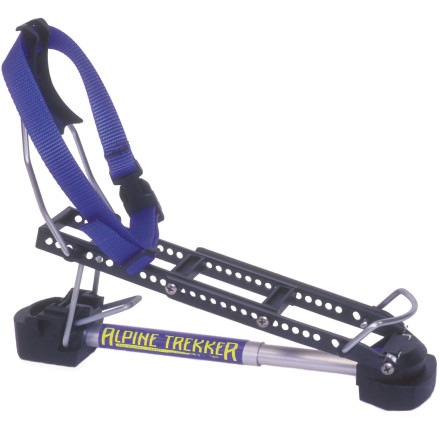 Colors

Videos

Community Images
Whether you're new to the touring scene or just want the performance and reliability of your alpine binding on gnarly descents, the Backcountry Access Alpine Trekker Adapters is the tool for you. A releasable heel facilitates climbing, while two adjustable climbing bars help initiate steep climbing so you don't end up wreaking havoc on your Achilles tendon.

Fits into standard alpine bindings; for ascent use only
Climbing Bar Height: 1.25in (3.2cm); 1.75in (4.5cm)
Sizing: 240-355mm (one size fits all)
Ski crampon attachment (not included)
So, just to be clear, one purchase of $179.95 includes two binding adapters, correct?

Best Answer
Hey Harold,



That is correct. The $179.95 price includes two Backcountry Access Alpine Trekker Adapters, once for each ski. Feel free to contact me directly if you any additional questions.
I have a pair of Look Pivot bindings mounted currently. Will these slip out of the heel because they are able to pivot? I really like the bindings I currently have but still would like touring ability!
Nope! They will stay in that pivot binding the same way your boot does - that bar will keep the toe and heel piece lined up so you don't have to worry about that at all when you're climbing.
Actually if you check out John Kutcher's picture in his review, you can see that the middle guy (possibly Kutch?) is using his trekkers with a pair of Rossignol FKS bindings - exactly the same binding as the Look Pivot, just a different (BRIGHT orange) paint job.
For a certain skinner
Familiarity:

I've put it through the wringer
I will start by saying if you are looking to spend an entire winter skinning exclusively, these are not for you.



If you are however someone, like me, who gets out in the backcountry fairly often, but need something more bomber than a touring specific binding for the way down, look no further.



I used my first pair for about 4 years before eventually breaking one. I would say that is not half bad. Yes, they are heavier than a tech binding, but no, I wouldn't want to send a booter or a cliff on a tech binding.



The proper tool if you want to go up the mountain and be able to come down in your reliable, bomber alpine bindings.
Love these things
Familiarity:

I've put it through the wringer
The Alpine Trekker for me is a tool I use almost everyday when going in the backcountry, even if on a snowmobile. I love the trekker because it gives you a quick way to turn your skis into touring skis, without the hassle of having a touring binding where you have to worry about bindings icing up and not being able to lock them from touring mode to ski mode. Or having the AFD plate snap off rendering one ski useless. With the Trekker you always get where you want to go, and once at the top have a solid reliable binding. I've done everything from 10 min skins, to a 6 hour approach from hut to hut in Argentina on these things.
Backcountry Access Alpine Trekker
Works
Familiarity:

I've used it several times
Not really what you want to take into the backcountry but works well for basic things. I use it to skin up easy slopes or after the mountains close for the season.
They'll get you up there...
Familiarity:

I've put it through the wringer
I've been on the same pair of trekkers for a few seasons now and they are still holding up. Though they aren't quite as convenient as today's AT bindings, they will get you to the top and then you have the reward of shredding your line in your trusty alpine bindings. They may be a little outdated, but if you're primarily doing short tours or sidecountry shred, they will get it done. There's a reason they aren't extinct...
Junk
Familiarity:

I've put it through the wringer
What a disappointment. Every time i have gone out with these something on them has broken. I picked up a pair of these to just mess around and see if i was going to like alpine touring and all they have done has made me frustrated. I have just been going in the hills around Pittsburgh and thankfully that is as far as i have gone because i have had to walk part of every trip. I managed to find a pair on sale for $75 and now i know why. Save the money and get a real pair of bindings.
Great Beginner Binding
Familiarity:

I've put it through the wringer
I have used these for a few seasons now and have been a great alternative compared to buying a more expensive tour binding. I got these on Ebay for $50, well worth it. I have had the back plastic piece break on me which is inconvenient, but not a deal breaker. I have also had them popping out of my bindings when turning or putting a lot of pressure from the side, which isn't always a consistent thing. Take note mine are an older model.

I don't regret getting these.
They are what they are...
Familiarity:

I've put it through the wringer
I have had a pair of these for about 4 years now (too broke for touring bindings) and they have always worked fine. They have the most issues side-hilling, as they do not have the best torsional rigidity. Sometimes they can be a bit funky on kick turns as well. I lost one screw from mine, and once I realized this decided to epoxy them all in place. I can never adjust them from a 28.5, but the chances of them falling apart on me have been drastically reduced. It is nice to take these off and step into a 16 DIN alpine binding for the way down. These are a great option if you do not have the money to invest in a pair of touring bindings or are just starting to get into AT. With a little care they will take you a long way...



It should be noted that they do not work super well with FKS bindings, the turntable heel does not allow them to go fully down, so it is kind of like walking with the riser up all the time. They seem to work the best with Salomon STH type bindings, or the Atomic version, or anything with a similar heel piece.
Great entry point
Familiarity:

I've put it through the wringer
My first foray into the BC was on a early pair of these decades ago. 1/2 Pricey now compared to Dynafits Speeds. But for anyone wanting to try it out in the BC on Alpine boots/bindings you shouldn't hesitate. I used these for a week at Rogers Pass in Salomon alpine boots and bindings and and never knew the difference. The fun was on the down anyway. Easy jump into the BC fun!
Trekkers In a Marker Binding
Trekkers in a Look binding
Take care of them, they take care of you
Familiarity:

I've put it through the wringer
My first day on these was a disaster. One broke after 20m of skinning. I kept going with just one. Then that one broke a few hours later. I have since got them dialed to work very well. Here is what you do. First thing before anything is DON'T USE THEM IN LOOK/ROSSIGNOL BINDINGS. They are amazing in marker jesters. Second. Before your first tour glue the front screws that hold the pivot point in. I cannot imagine why you would ever need to take this off. So I JB welded mine on. This is what broke 20m into my first tour and I lost the screw. In the 3 years since I have glued them they have worked fine. Also extent the part that goes into the binding as big as you can still fit it in so that it pushes the heel peice back so you don't hit it with the heel of your boot when you step down. So they work, kinda. Just keep an eye one them. Tour with duct tape, extra screws, and super glue. And they will be just fine
If you can't afford a whole new binding
Familiarity:

I've put it through the wringer
I have toured on these for a couple seasons (someday I'll be able to afford a touring binding) and they get the job done as long as you're careful with them. They are not going to kick turn like an alpine touring binding will so be careful on those switchback skin tracks. All in all though, they have got me where I wanted to go.

My recommendation would be to make them slightly larger than they need to be so that the binding will lock them in real tight.
cheap alternative to touring bindings
I used these for a season when I started touring and they are a good and cheap alternative to touring bindings for the aspiring backcountry skier.
Day Wreckers,...
Gender:

Male

Familiarity:

I've used it several times
These were good back in the 90's, they way out of date know, spend your more more wisely. If you want something get Marker or Salomon Guardians. If you want your DAY WRECKED buy these, if you want the ability to do some skinning/touring get Dukes or Guardians. If you want to get serious get a Dynafit setup. I have not used these in over seven year, but I still remember how badly they sucked.
Compromise
Gender:

Male

Familiarity:

I've used it several times
I bought these to use for a 3 day backcountry class and I wasn't sure that I wanted to invest heavily in new gear for (potentially) a single trip. Reading through the other reviews, I can just as easily apply the positives and negatives to my experience. Set up was easy and pretty intuitive. Traveling on flats or directly up the fall line was easy enough, but traversing and side stepping were very difficult. There was too much play between the boot-trekker-binding to set a really solid edge with them on.

They pack up nice and small. They're not as light as a rando set up, but skis, bindings, trekkers were lighter than a friend's designated backcountry set up.

My biggest problem wasn't with the trekkers directly, but with the stiffness of my boots and the inability to really flex forward onto my toes for a more natural gate.
Awesome
Gender:

Male

Familiarity:

I've put it through the wringer
they work great.
These work well for me...
Familiarity:

I've put it through the wringer
I get out about 20 days a year in the BC and these work great once you set them up properly. I've never had an issue with them coming out of the binding of off the boot. Once I got a bit of a system down they are quick and easy to get on and off. They aren't a replacement for a solid AT boot/binding but they work very well for an occasional BC skier like me who doesn't want to drop huge $ for a dedicated setup.