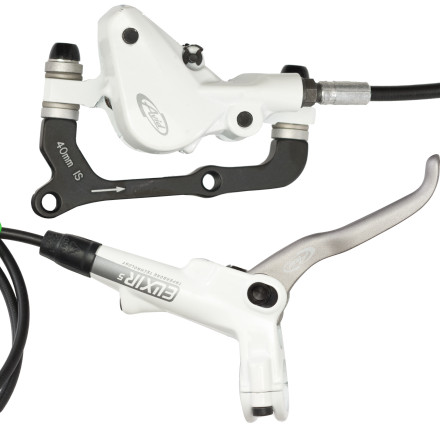 Detail Images
Get all the power of Avid's phenomenal Elixir Brake System without making the kids go hungry for a week. The Elixir 5 comes with Avid's exclusive Power Reserve Geometry (with the lever pivot point closer to the handlebar), which reduces fatigue and gives you more braking power than other brake levers. The 3 millimeter reach adjustment feature lets you position the lever at its most comfortable position for your hand, and the split clamp design increases clamp strength while reducing overall weight.
MatchMaker compatible for super-clean bars
DOT 5.1 fluid won't boil, even on long, screaming-fast descents
Good Brake
Familiarity:

I've used it several times
I'm probably not as technical a rider as most. But these brakes were definitely an upgrade from the stock ones I had in my Stumpjumper, especially for the price.
Not for professional use.
Familiarity:

I've used it several times
These brakes are awesome.. for the first few days. Then they start to loose all braking force. I would recommend them for a beach cruiser or a gentle ride bike. Definitely don't use them if you are into DH or MTB.
Good Basic Brake Good Basic Brake
When I saw these on sale I purchased them to replace the old cable disc brakes on a friends bike. She loves them. Much stronger than her old brakes, she says. Installation was easy but the lines are long and they have to be cut. I have installed more than a few of these and this set didn't need to be bled afterward. Psyched!
Unanswered Question
i just bought a felt 920Q 21.5 sl frame...
i just bought a felt 920Q 21.5 sl frame and will these brakes work for this frame ; Avid Elixir 5 Disc Brake and what size do i get ?
Terrible brakes, worst I have ever run.
Will go from super mushy pull almost to the bar, to no modulation and on off switch in the same ride. If these came on your bike throw them out. Do not buy these as an upgrade. Cantilevers would be better. Zero stars if BC would let me
These are basic, no frills brakes. The work great for the money and include rotors and mounting brackets. They don't have a contact point adjustment which can be annoying and Avid brakes can be hard to bleed. Once they are bled properly though, they feel solid and powerful. I've seen these work just as well as higher priced Avid brakes.
Elixir 5's are ok, like corn flakes...
No frills, nothing beyond normal, basic disc hydro's. Once they are set-up properly and working at their potential thats about as good as you'll get. They are competent brakes that came stock on my bike and if I had never ridden any other disc brake it wuold have been fine but knowing how other stuff performs for the same or less price I sold them and bought my second set of Formula Rx's, done.
Awful brakes for anything advanced
Squishy right out the box on my Santa Cruz AM bike and fade like a cheap t-shirt. I could never put any trust in them after numerous bleeds by different shops. The fix: Buy Saints - once you get over the cost you won't look back. Besides, the hospital bills will be far more expensive when the el-cheapo brakes don't hold up.
These brakes came stock on my 2012 Salsa Spearfish and I've had problems with them since day 1. They are way too squishy at times, and the modulation on the lever is too much. It touches my knuckles. I've had them bled to no avail.