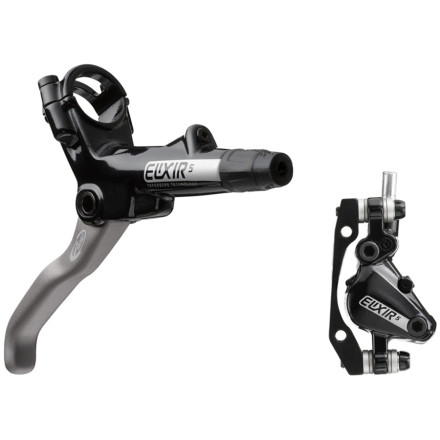 Differing itself from the lower price-point Elixir 3 Hydraulic Disc Brakes, the Elixir 5 Brakes use Avid's Matchmaker X-compatible hinged clamps. This lighter package enables a comfortable lever/shifter position and a clutter-free cockpit.
The Elixir 5 is just under 20 grams lighter than a comparably equipped Elixir 3, and that's primarily due to the hinged, 6061-T6 aluminum clamp that replaces the standard U-shaped, two-bolt design of the Elixir 3. Weight, however, is only part of the benefit, as the Matchmaker X compatibility allows you to cleanly mount SRAM X0 and XX shifters, along with an XLoc fork remote.
This simplified control arrangement also allows you to adjust, unlike standard Matchmaker, where the shifters sit in relation to the brake levers for a more purposeful layout. And if you like having triggers on their own clamps, but want the XLoc remote on the brake lever clamp, you're able to place the remote on whichever side that you prefer.
The ambidextrous levers (left/right interchangeability for moto/regular placement) use Avid's proven TaperBore master cylinder. This incorporates the fluid reservoir into the piston assembly in order to simplify the system a bit. Additionally, it saves weight over designs that use separate reservoirs. Taperbore also features a new bladder material that reduces air permeability for a smoother feel and more braking power than previous iterations.
A lever swing, that more closely matches the movement of your finger as they close in towards the handlebars, gives the Elixir 5 a natural feel. Even better, the reach adjust ensures proper lever position for the most power possible. At the receiving end of the hydraulic system is a revised, two-piece forged aluminum caliper that now has an adjustable angle banjo for clean line routing. The caliper still retains the top-loading pad design for a hassle free replacement, and Avid's Tri-Align Caliper Positioning System makes installation easier, too.
The Avid Elixir 5 Brakes use DOT 5.1 fluid and can be ordered with 160, 180, or 200mm HS1 rotors. The calipers are compatible with both post and IS frame mounts.