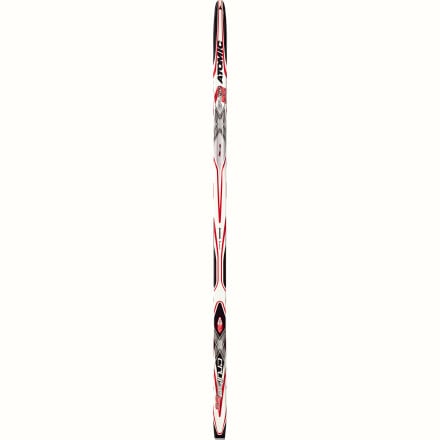 Description
Smooth as silk and ready to go the distance.
Like a luxury touring motorcycle, the XCruise 53 Posigrip Ski handles like a dream and feels just as stable accelerating as it does gliding along while you enjoy the view. Skate down a groomed trail or kick classical-style down the track and this light little ski tracks straight as an arrow. Atomic designed the XCruise for skiers who venture a little further, go a little faster, and demand the most out of a versatile touring stick.
Helium Tube Densolite Core sandwiches a low-density foam core with air ducts between a top and bottom layer of fiberglass to create a strong and snappy ski that feels extremely lightweight
G2 Synchro base features the smoothest transition between kick and glide so sporty skiers get more acceleration and a fast glide
X-Cruise Profile 3D ski shape has a medium sidecut designed to maximize glide without sacrificing fine ski control
Share your thoughts
What do you think of the
Atomic
XCruise 53 Posigrip Ski
? Share a...
Hi,

I am looking at the Atomic XCruise...
Posted on
Hi,

I am looking at the Atomic XCruise 53 as I have heard good things about it for groomed and packed trail. I have been XC skiing for about 1/2 season, and I am 6' 4" and weigh 220. The 193 length is worrying me. Any feedback re. if this length will work and impressions of ski would be appreciated. Thanks!
Responded on
Hi Erik, These are great touring skis for groomed or skier-packed trails. Don't worry that they are too long. A traditional length ski for your weight would be 205-210cm. The shorter length will make them easier to handle. The weight chart on this page doesn't include these skis. The official range is 180-210+. Since you are at the top of the range, you will get more grip (great for the uphills) and a little less glide. Hope this helps. Enjoy!
Hi,
Please, let me know does this ski have...
Posted on
Hi,
Please, let me know does this ski have metal edge and how much will it cost to deliver to Canada, Ontario, Aurora, L4G 6Y4?
Thanks
Responded on
Viktor, for a faster response contact customer service using the "Chat Now" feature in the upper right hand portion of your screen and they can answer your questions.
Responded on
No metal edge. For the Canadian shipping question you will need to talk to customer service.
Responded on
Viktor. I realize this answer is coming a little late, but hopefully the answer may be helpful to yourself and others in the future. We cannot guarantee shipping times to any international destinations. However, our experience has been that shipping to Canada on non-freight items typically takes 7-10 days. Again that is only an estimate. It can be quicker and it can be longer, but that is roughly the window to expect.