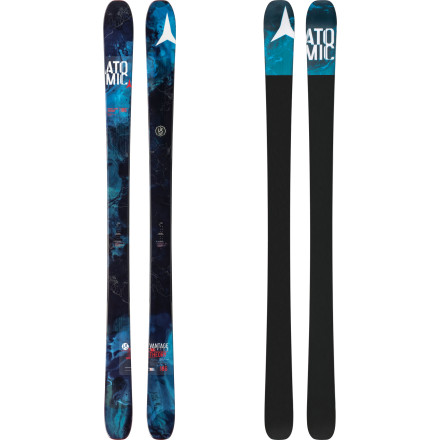 The Atomic Theory Ski is ready to float the soft stuff, sculpt the hardpack, and bomb over the teeth-rattling dust on crust that sends others into the lodge. Part of Atomic's Vantage all-mountain lineup, the Theory is built to tackle the best and the worst conditions on the mountain. With an All Mountain Rocker profile, meaning rockered tip and tail and camber underfoot, this ripper can make big, floaty turns in soft snow, carve up the groomers like a champ, maneuver down tight, techy terrain, and hold a wickedly firm edge while maching down boilerplate.
Thanks to a versatile 95mm waist, the Theory can float in soft and deep stuff without being clunky while speeding down the corduroy. Atomic engineers also gave this sweet all-mountain rockered ski a Twin Progressive Sidecut, which is a bigger radius at the tip and a smaller radius at the tail for easy turn initiation and optimum grip out of turns. Equipped with Step Down Sidewall construction for solid strength and durability, this weapon provides seasons of wicked fun riding. A wood core features a Backbone Technology carbon insert that runs the length of the ski for light yet strong stability.
All Mountain Rocker profile
Step Down Sidewall construction
Woodcore
Carbon Backbone
95mm waist
Twin Progressive Sidecut
Unanswered Question
Hi, I am 5'9" in height and weigh 195 , intermediate to expert skier what size skis do I need to get in the theory.?
As well I see ur out of stock, when do u expect to get them in?
What bindings would u recommend for these bad boys?
Thanks in advance for ur responce.
What size binding would you recommend for this ski?
I have the 100 mm wide brake bindings on my Theory skis, which were recommended to me and seems to work perfectly.
How does this ski do in the park because I love park but also like to have a ski that can do well in pow
Ski is definitely going to perform in the park as well as some light powder. It will perform in the powder as well as you can ski it I guess. Of course a 120mm underfoot is going to be easier to ski in deep snow but, I ski an 88mm underfoot and do just fine. Definitely make a lot more turns than some of my friends with powder skis out there. Wood core though makes it snappy, sidewall makes it durable.



You can call or email me directly. 801-736-6398, or bporreca@backcountry.com
Would this be a good all-mountain ski (90-100 mm waist) for an intermediate skier looking for a ski that's easy to turn and good for groomers as well as some fun during a powder day out west?
Best Answer
Hey Blder Seven,

This is a great all mountain ski for an intermediate skier. The radius on this ski allows it to initiate a turn quickly without a lot of effort. The traditional camber underfoot will help the ski hold an edge well on groomers and in variable conditions or even ice, while the rocker tip and tail allows the ski to float well in powder. This ski is very playful and is a great option if you are looking to have one ski to do it all with.
Thanks for your help - Dan. I ended up demo'ing these skis and loved them! Performed exactly like you said and I ended up buying them! Appreciate the help!
Just Playful Fun
Familiarity:

I've put it through the wringer
Does good equipment make a good skiier? No. Do Atomic Theorys make a good skiier become an awesome skiier? Yes. Been skiing them for three years now, and damn, I love them more every time i'm out. You have to move and edge hard on boilerplate, but they'll get you over it. These skis are happy on groomers and crud, but they make you smile on pow, chowder, moguls, semi-mogul/fluff piles, trees, chutes... thanks to these puppies I've become a more aggressive and able skiier. Only comment is that if you ski a lot of deep or dense powder you will need a bigger ski than your normal size.
Best Ski For the Price
Familiarity:

I've put it through the wringer
Mountain magazine (who does a real ski test) has rated this ski as one of the best for the last three seasons.

Check it: http://goo.gl/FGvE4T
pure sweetness
Familiarity:

I've put it through the wringer
if you push these skiis they push you back total all mountain FUN light quick stable and they want to go fast plow through any crud floaty in the puff stuff amazzing that a 95 mm ski can carve like that these skiis are truly the GOAT the price is just funny you will be laughing all the way to the bank
A Very Energetic Ski
Gender:

Male

Familiarity:

I've put it through the wringer
I own a pair of Theory's, and have ridden them approximately 50 times over the last year. They are very energetic, and will pop you out of a turn. They carve easily, and will take you most places, but they aren't really ideal for everything. They will do well in relatively small powder conditions, but anything more than 4" and you'll wish you had pow skis. The rocker isn't large enough for big pow days or gnarly terrain (I've been rudely ejected a few times), and the waist is slightly narrow. The skis also don't dampen the small bumps as well as heavier, meatier skis, although the upside is that they are easy to jump. Their swing weight is noticeably lighter than beefier all-mountain skis, and therefore they are more maneouverable. They are very stable, and love to go fast. I have pushed mine to 76mph (121kph), and they've remained stable, although I wouldn't recommend this. They easily handle crud and tracked out snow. If I were to buy again, I would look at the Atomic Ritual though. Slightly larger at the waist, with the same characteristics, so it should be more capable in deeper pow.
The best ski out there
Familiarity:

I've used it several times
This is the best ski that I have ever skied on it wants to go fast it wants to jump it it so much fun to ski on !!!!!!