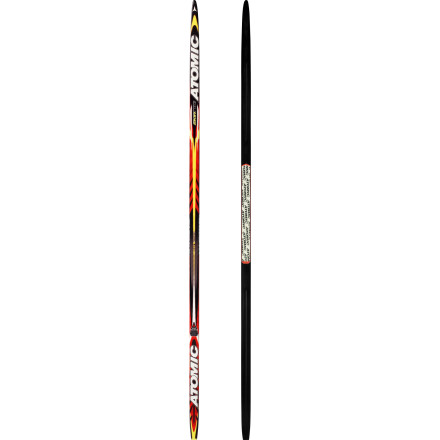 If you're a classic-style Nordic skier, you know the hassle that can be associated with the constant need to reapply or change your kick wax. What if you never had to deal with kick wax again? The Atomic Skintec MED Classic ski is bred from the same heritage as Atomic's venerated Worldcup Classic, but is engineered with a revolutionary interchangable Skintec module in the kick zone that eliminates the need for kick wax.
Set into the base of the ski in the kick zone, the Skintec module is a mohair climbing skin-style apparatus that is designed for optimal kick and grip. Unlike glide skins of old, a hydrophobic coating is added to the mohair to guarantee that you won't be struggling with snow buildup as you kick and glide your way to the finish line. For more tunability and versatility, each ski comes with two sets of Skintec Modules: one full width set for better kick and one narrow set for better glide. Swapping the modules is simply a matter of using the supplied tool to release the module from the base, which is held in place by a series of strong magnets. Click into the Atomic Skintec ski and experience the freedom of the next generation of no-wax skis.

Sidewall core construction
Nowax base with Skintec Module
Medium-to-hard stiffness
Superlight
What do you think about this product?
Have questions about this product?
I am 220 lbs or 100 KG, are there any cross...
I am 220 lbs or 100 KG, are there any cross country skis built for a man my weight?
Hi Warren,

these get stiffer as they get longer. so I would get the longest ones we have. realistically if they are a little too soft that is better than being a little too stiff. the idea behind wax-less skis is that when you have all your weight on one foot to kick you compress all the camber and the scales in the middle of the ski bite and give you traction. when you stand with both feel evenly weighted you should not be compressing the camber and gliding on the smoother tip and tail.

if you are compressing the camber when standing on both skis that is fine, just a little reduction in glide, hardly noticeable.

I have used my mom's wax-less skis and I was too heavy for them and did not have a problem gliding.