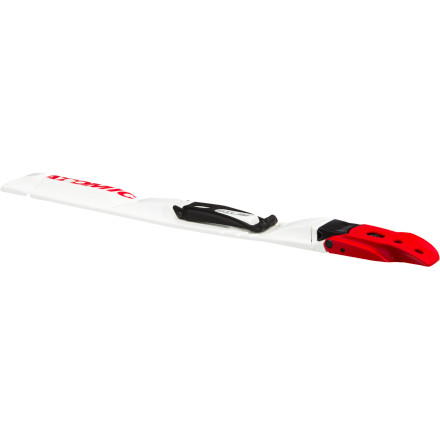 On race day, it's easy to put all your faith in your ski or your boot, but the glue that sticks these two pieces of gear together shouldn't be taken lightly. The Atomic Pilot Race Skate binding is designed to give you maximum power return during your skate kick and superior security when you're gliding. Although it's not the lightest binding in the Atomic family (even with its top-tier personality), it is one of the most powerful. Only the Pilot Sport Skate, a fully automatic step-in binding, is stiffer.
Binding performance isn't all about plate stiffness, of course. The Pilot Race also utilizes a unique two-axis binding-to-boot connection system shared by the entire Atomic performance and sport family, a full-length guide ridge, and a rearset toe pivot. Although not all of the bindings share a rigid second link in the aforementioned dual axis system, the Race does, and this rigid link ensures maximum influence over torsional rigidity. Combine this improved rigidity with the advantage in ski control offered by the guide ridge underfoot and the benefit of the natural foot roll encouraged by the rearset pivot point, and you have a binding capable of delivering uncompromising performance.
SNS Pilot system uses a rigid link behind the toe pivot to interface with a metal bar behind the toe-binding bar on the boot—this link improves lateral ski control by creating a secondary, floating connection between the boot sole and the binding
Bumperless toe interface requires you to manually lock and release the toepiece and reduces overall binding weight
115 flex is Atomic's second-stiffest flex, and it's focused on maximum energy return for those with strong legs and a powerful, race-style kick
Rearset pivot point moves the toe-binding pivot point further beneath the toe of the boot, resulting in a more natural foot roll and improved forward acceleration through smooth release after push-off when skating
Binding uses a full-length guide ridge that interfaces with a full-length boot groove in the sole of an SNS-compatible boot—this interface between ridge and groove improves ski control by eliminating the opportunity for the boot to slip laterally off the binding plate when you're skating
Universal mounting allows you to mount this binding to either a SNS/NIS interface plate, which allows the use of the bvinding on NIS-equipped skis, or directly onto the topsheet of a flat ski
An Atomic SNS binding can also be mounted onto a Wedge Plate which provides a 5mm underfoot lift. This underfoot lift gives you more room to fully angle your ski on edge when skating and it improves ski control and glide-through acceleration.
What do you think about this product?
Have questions about this product?
Top of the line pilot bindings
Familiarity:

I've put it through the wringer
Almost all the top of the line pilot bindings are the same now, differing a bit in color. There is a reason the design has changed for classic but not skate- these still rock, have the spring-back for kick, and never let your foot slide out of line. A stiff carbon boot and a nice light, lively ski make a great pairing.
World Cup Athlete Simen Ostensen