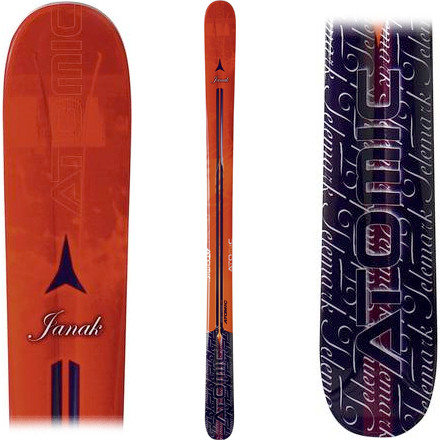 Unanswered Question
It's been a while since I've upgraded my...
It's been a while since I've upgraded my skiis. How will these compare to my Atomic TM 24s? I generally ski the powder at Alta but I also ski the hardpack.
How are these in the crud? I'm looking...
How are these in the crud? I'm looking for a new set of tele boards. I already have a good set of stiff, high octane skis that I like for hard snow. Now I need a set for the thick, heavy, sticky stuff we get out here in the Pacific NW. How do these compare to the Janak Bros? Stiffer maybe?
Definitely stiffer. These are the stiffest Atomic Tele/AT skis both torsionally and length-wise. Also, no twin tip. Great crudbusters!
Enjoy!
You should get a rockered or early rise ski. Crud performance is unparalleled, (tele humor) and powder performance is unbelievable. Also, wood core is the only way to go if you'll be skiing tracked conditions and want a lasting ski. Check out the Atomic Bentchetler, 4FRNT CRJ or the Armada JJ. Early rise tips make crud into smooth skiing. Seriously.
This might be a redundant question- but...
This might be a redundant question- but I'm very new at this. I saw in an earlier post that 130mm skins would fit a pair of 183's for this ski. If I have 153's do I need that same size skins?
Best Answer
The size given for skins typically refers to the width of the skins. A 130mm skin will allow you to get full coverage of the ski surface. If you want a little less weight/resistance you could go with a 125 or 115 (brand dependent). Narrower is usually cheaper, too. At minimum, your ski should have full coverage under foot. This means you need at least a 100mm skin for this ski. You have options on how much skin coverage you want on your skis. Buy a wider skin for more coverage, narrower for minimal coverage.
One additional note. Many people like a straight skin (even on wide shaped skis) - less weight, better glide, but less grip. If you choose that route, you want to size the skins @ 4mm narrower than the ski width, so that the edges remain clear of the skins.
Enjoy!
I have last years' Janak mounted with BD...
I have last years' Janak mounted with BD 02s. 183 cm, I'm 6-1, 185 lbs, and I really like this ski. But here's my question - any advice on best skins for this ski?
Best Answer
I use 130mm from climbingskinsdirect.com. They are a reincarnated classic BD Ascension skin with a simple twin wire attachment system that works well on twin tips. Asolutely no slipping out on any track.
I second that. Or purple BD's.
Sizing? I'm 147 pounds (skinny and tall)...
Sizing? I'm 147 pounds (skinny and tall) and an expert-ish (mostly do nordic track skiing) skier. Any advice on 163 vs. 173 cm? (I'm also new to the world of mega-wide skis, so not sure how that plays into it.)

Thanks, Jon
How tall are you? Conventional wisdom matches ski length to weight. But for Tele, I've found that really short skis (relative to your leg length) make it annoyingly easy to get one ski crossed behind the other. But for what it's worth, I'm 5'11, 160lbs, and I ski on 173cm Janaks. So I'd guess that 163 would be a good length, unless you're over 5'10.
Hey Jon, Just FYI, Are you planning to tele or AT or Alpine ski on these? I am 6 ft and have the 173s...and they are too short for me. Since I tele-ski on them, when skiing on tech terrain, I sometimes just barely cross one tip behind my opposite boot because of the shortness. I should have gone with the 183 or at least as ski that is a few cms longer. Again, this is an issue with tele knee droppin.
I am on the Janeks in this photo and not really at risk of crossing so maybe its my skill level sometimes in tech terrain.
Good Luck.
Best Answer
i would go for 173 myself 5'8 165 lb. The major problem with crossing the back ski over the front is more of a a technique problem of not enough weight on the back ski. You can't weight it when the knee is bent 90 degrees. this was what they did in the 80's. Modern tele now stand taller and not much between front heel and back toe. less energy. better edge control and true two ski carving.
John is right. Keep that heel down closer to the ski, and tighten up your stance. Stay high and give yourself somewhere to go when you get into the bumps. Short skis suck, but you shouldn't be crossing the tip behind your opposite heel- that's just poor form, and getting longer skis isn't going to help much with that. All said, though, I'd go for longer skis, as longer will seem good going from nordic boards.
These skis would be good for almost any relatively modern boot and binding combo that isn't totally floppy. I'd recommend T2's with Hammerheads. G3's and BD's would be fine, too, but I think Hammerheads are far superior.
I'm also about 147-150# and would say that the 173 is the way to go. Much more versatile than going to 163 for all the already mentioned reasons. Good advice from the other posters.