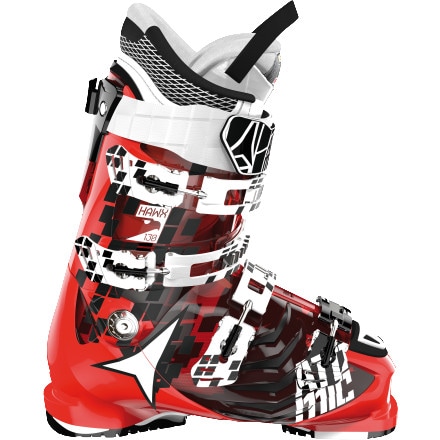 Videos
Description
Nothing holds back the Hawx.
The all-new, 130-flex Atomic Men's Hawx 130 Ski Boot is an all-mountain monster of a boot. But as stiff as it is, it has plenty of features for all-day comfort without sacrificing performance. The ASY Elite T3 liner heat-molds to your foot for precision and efficiency. It has a four-way stretch toe box and Sidas comfort footbed, plus a comfy microfiber lining. Durable Dynashape 3 foam makes the custom fit last longer. A medium-size 100-millimeter last give you room enough for comfort and warmth with high-performance priority.
Four aluminum buckles give bomber foot hold and energy transmission, and the ingenious i-Flex technology allows natural foot flex with room to prevent bone spurs skiers accept as reality. An extra-wide power strap adds support to the shin area. For post-skiing comfort or sure-footed hiking, this boot has no-slip grip pads on the heel and toe.

In a nutshell, the Hawx 130 is strong and the stiffest of Atomic's all-mountain series with a precision fit that encourages endless exploration.
Two-component shell with I-Flex inserts
ASY Elite T3 liner with Dynashape 3
Sidas footbed
130 flex
Medium 100-millimeter last
45-millimeter strap
Four Edge 7000 buckle
One-millimeter offset shell
Three-degree shell rotation
15-degree forward lean
Flat bottom chassis
No-slip grip pads