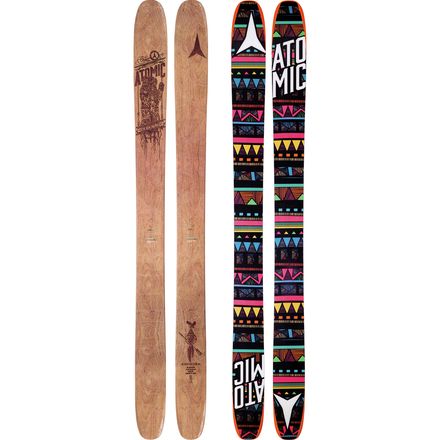 Description
Get Bent.
There are two ways to view the mountain: as an obstacle that you need to conquer, or an always changing playground that offers limitless possibilities for self-expression. The Atomic Bent Chetler Ski subscribes to the latter. It's always been a fun, jib-ready powder ski, but this time around it's been re-engineered to float through pow even more easily, charge down crud like a freight train, and spin, butter, and pop like the laws of gravity don't apply to it. What sort of soul-selling did Atomic have to agree to hit this sort of do-it-all shred benchmark? None, actually. It just built the Bent Chetler using Step Down ABS sidewalls and brand-spanking-new HRZN Tech—a subtle edge-to-edge horizontal rocker, like the hull of a boat--to increase the Chetler's tip and tail surface area by 10%, without boosting the swing weight or reducing the ski's ability to track and resist deflection. Along with the tip and tail Powder Rocker, the Chetler has a loose and playful feel, so you can butter, slash, and powerslide your way down the mountain.
The Chetler's not just one-trick pow pony, though. The poppy and playful Lite Woodcore gets a stiffness boost from Carbon Sprocket Booster inserts, which are laid up fore and aft of the binding area to maximize stability and increase edge hold so you can mach through chop and chunder without feeling like you're going to get bucked into a tree. Burly sidewalls give you extra edging power, and the Chetler's 40% of traditional camber take the pucker out of high-speed groomer laps, so you can rally it every day of the winter if you so choose. If the mountain's going to be your playground, you'd better be able to get rad, regardless of the conditions.
Powder rocker profile
Step Down sandwich construction
Light wood core
120 mm waist width
Carbon sprocket power boosters (SPBs)
HRZN Tech
Where would you mount these in 185? I really like to ride switch, especially in powder. Center?
Hey Owen,



If you like to ride switch, then the Bent Chetlers are the big mountain powder ski for you. You should center mount them if you are going to be cruising backward downhill with any regularity. The 2016 version of these skis performs very well in firm and variable conditions too. Feel free to contact me directly with any more questions about these skis.



Kyle

Expert Gearhead

klivingston@backcountry.com

801-736-4337
looking for advice on length. last season I demoed the 185 and loved the ski. I am 5'10" 150lbs and am a somewhat advanced skier. I usually rock the soul 7s in 180. on the souls, 180 feels like my max, they even buck me around a bit as I am still building strength. but on the bent chetler, even 185 felt like it skied short. not sure if it was just psychological because I was looking at less ski in front of my boot due to the bindings being more center-mounted. I never thought I'd ever go for something as long as 192 given my height and weight, but I thought I'd put the question up in here since I've gotten good advice in this site before. I'm looking to be a playful skier (butters etc) but also want to handle high speeds on big-mountains lines. I heard that the 192 is also heavier/stiffer so would that make buttering more difficult for me? also curious if I should give the armada jj a shot before deciding on this ski. any advice is appreciated, thanks!
Hey Terry,



Just going to keep it simple here... if you skied the 185 and loved it, then that's exactly what I'll get! Even though these ski on the shorter side, I'd recommend against the 192. You'll lose some of the agility that makes this ski fun.



Ben
I heard that this year's model is the same as last just with a different graphic. is it true?
David, I would get the 115mm brake and have the shop bend them to fit the 120mm waist width. You can use the 130mm, technically you can use a break within 10mm in either direction. I prefer to have the shop bend them when they can so its a closer fit. This way you dont run the risk of docking the brake should you get a super high edge angle in a turn.



If you have anymore questions feel free to send me an email or call!



Bill Porreca

bporreca@backcountry.com

801-736-6398