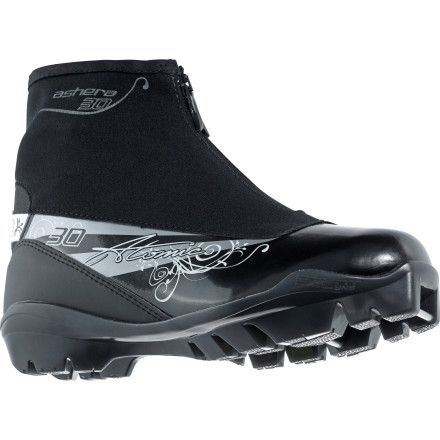 The Atomic Ashera 30 Classic Boot delivers a balanced combination of comfort and performance in a women-specific design that's ready for either a tour through the town woods or several laps around your local track.
Water-repellent center-zip front cover sheds moisture
106mm last offers all-day comfort
Oval lacing gives you quick tightening and secure knotting
Fixed heel strap delivers additional support
What do you think about this product?
Have questions about this product?
The sizes we are featuring are in UK sizes. You can compare those with our US sizes in the sizing chart directly beneath the select size options box.
The sizes listed as available for purchase are UK sizes. The size chart is listed below if you need to find a conversion from US to UK

http://www.backcountry.com/Store/content/sizingChart.jsp?chartId=2208&categoryId=bcsCat51110068
Will this work with the salomon sns binding?...
Will this work with the salomon sns binding? I have an older set-up and can't find my boots.
Yes, but you need to do a simple modification to your SNS Profil binding. If you have the SNS Profil Auto (step-in), you need to modify the flexor (bumper). With an exacto knife or razor blade, cut off the first section of the bumper closest to your boot toe. If you have the SNS Profil Plus or Profil Classic, you need to cut off the first 2 sections.

Changing to the Pilot binding will give you more control over the ski, with its 2 attachment points. Changing is easy, as all the holes in the Pilot binding match the Profil, plus you need to drill one more.

Hope this helps.