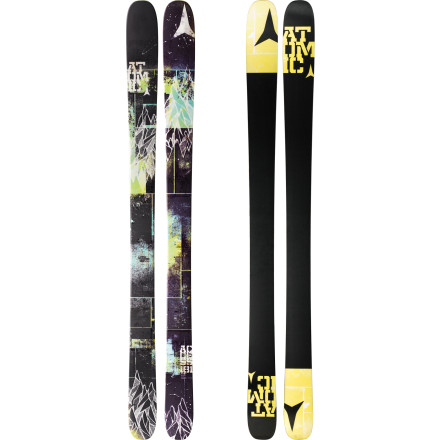 Videos
With the Atomic Access Ski, you can and will ski it all, from untracked pow and crud to firm chutes and techy lines. With a mid-fat 100-millimeter waist and traditional camber underfoot, you'll have no problem when things get firm or skinny; and this ski's Powder Rocker helps it pioneer lines in fresh pow. A wood core keeps the ski light and lively yet enduringly strong. And the stepdown sidewall delivers control on edge and added durability. The raised tail reduces tip hook and gives it extra float in the deep. So, go now and get the goods.

Powder Rocker rockered tip and camber underfoot
Step down sidewall construction
Wood core
100-millimeter waist
Slightly raised tail
Large radius sidecut
Custom, prefit Charter Pro skins available separately
Unanswered Question
What is the weight of these skis? Specifically the 161 length.
Hi there. I'm 5'7" and 135 lbs. For the...
Hi there. I'm 5'7" and 135 lbs. For the last two years I've been skiing a pair of ski trab tour rando s 157 but now I want to get a new pair of backcountry/at skis, and I'd like to mount them with dynafit bindings. I love skiing powder and jumping small cliffs but I will also take them on some steeps with hard snow. The question is: are the 171 too short for me? I'd take them to save on weight and maneuverability for the uphill but I'm afraid they would be too short
I would go with the 181cm , because of the rocker profile it will ski better , and will still allow for ease of turning , but will be more stable and a bit faster. Sure they will be a tad heavier but will ski way better.
Hey N3MO -



I am a 5'3" and 120 lb expert skier.

I grabbed the Atomic Millennium skis mounted up with Dynafits for my dedicated touring setup. I sized down further than I would normally do to save on weight. I definitely notice the shorter length, but for me the weight savings are worth it, I think (168cm). Were I using it as a frontside ski, the 168cm would not cut it - TOOOO short!



These aren't dramatically rockered, so they won't ski much shorter than the measured length. (The Millenniums have a similar amount of rocker/profile shape).



SO this question really comes down to how important weight savings are for you. Performance will obviously be better on the 181cm, but the uphill climb will be a little tougher.



If I had to do it again, I would still stick with my shorties since the performance isn't compromised enough to warrant hauling extra pounds up the mtn.
Hey there. I'm 5'3" and 110lbs. I've been...
Hey there. I'm 5'3" and 110lbs. I've been skiing Volkl Aura 167 for last couple years and need a serious upgrade. I have AT setup, and considering my weight, I prefer a lighter weight ski for skinning around the backcountry with marker tour bindings and shorter hikes inbounds. I seek the powder fields, cliff drops and tight tree skiing... Considering this or the Rossignol S7 womens ski. What length and ski would you recommend? I ride 100+ days/year in Summit County, CO. Thanks for your help!
Best Answer
Hey Jes,



I have a buddy who uses this ski as a backcountry setup, he really likes it and seems to think it was a good choice.



I'm your same height, but I do have 10lbs on you, and I'm an expert aggressive skier. I too typically size down a little bit for an AT ski to save on weight for the uphill.



For this pair, I would go with the 171cm because 161cm would just feel too short for me in pow and landing cliffs.



For the S7 (I'm assuming you mean the older version, rather than the Star 7) I'd go 168cm.



Hope this helps, feel free to post below if you want to discuss further.
Thanks lexi. I'm going to go for this in 171


Sizing...I'm 5'7" on a good day 180lbs....
Sizing...I'm 5'7" on a good day 180lbs. Rode a 160 atomic nomad in Lake Tahoe last couple days. Mostly groomers with some ungroomed and crud. Would've been in woods but they don't have the snow. From back east and will do most all mountain skiing in Vermont. What size do you recommend ? Thinking between these and rossignol sin 7 thanks!
Best Answer
I think for your size the 181cm is the way to go, its the 180lbs that concerns me about you going for the 171cm. On any snow days you will find the 171cm pretty short but on the other hand you were riding a 160cm Nomad in Tahoe. So going from that all the way up to a 181cm ski of any kind is a pretty big jump in my opinion. There is a review of the Access on Blistergearreview.com by a female skier smaller than you from Jackson Hole to check out to maybe help guide your decision. Click on her name to get her height and weight but remember she is an aggressive expert.



Sin 7 in similar size will have a much tighter turn radius than the Access. I feel the Sin 7 will be more fun on groomed conditions, moguls and tight spots especially if you like a quicker ski. Access should perform better in deeper snow.



I think either ski would do well for you but I would give the Sin 7 a higher versatility rating. My length recommendation would be the 180cm based on your weight alone. But if you are an advancing intermediate living on the east coast you could possibly get away with the 172cm based on your height.



Sorry but I honestly can't offer a 100% size recommendation yet, its the 160cm Nomad throwing it off for me.



If you charge and play hard going up a size is always the better choice. Conservative and timid skiers are usually better off staying with a size down until they grow their abilities. I know that didn't help you much but just wanted to give you some information to ponder over the weekend.



Let me know if I can answer anything else,



SF






Thanks SF. The 180 is fully clothed in all ski gear. Stepping on the scale I range from 170-175. Regardless I did heal really good on the 160s. I do go fast and hard too so I feel as if I did test them. However, I did not get into any powder but I feel like a powder day I would snowboard as I do both. Would there be any other ski you would recommend to me?



Thanks
Let me ask what is your primary purpose for this ski? One ski to do it all on back east resorts most of time? Mostly firm snow? Or wanting more of a specific soft snow ski?



The Nomad is night and day different than the Access. Nomad has two thin layers of titanium, an integrated binding system, short turning radius, and is more geared toward someone wanting a great frontside carver that only dabbles a little off piste/trail. At 161cm I bet it was a fun short turning slalom ski that was a blast in the bumps!! Just not much for all mountain versatility, especially in that length.



Other skis to consider as well are

Rossignol Sin 7

Atomic Theory, Atomic Alibi

Line Sick Day 95

Blizzard Buschwacker

Volkl Bridge

Armada TST

Volkl rtm 81 as an option comparing to the Nomad



That's a few to get you all confused, so look them over and let me know what you think. Once you narrow down the conditions you are wanting it to really perform in I can help some more.



SF








Thanks SF! Thanks for confusing me! I will look at those suggestion...So, more than likely these skis will be an east coast resort most of time ski. As you know, we do have it all...powder days are great, but I only get 10-12 days in on a good year...so it is hit or miss and more than likely it will be packed powder...I am flexible work/wknd so I do watch conditions and usually get up to VT from Jersey in pretty decent conditions. When I do travel out west, I do like to rent new/different equipment. So again, it will be an at home ski. I like to get in the woods when I can, but again it's hit or miss and if it is a super powder day I would probably snowboard. I am looking at the Access...one because of cost and two because my friend who I went to Steamboat with this year tried these skis and two other pairs and wound up buying the Atomic Access. We had a ton of snow there and he was able to use in deep powder, woods, and groomers...He is 185 but about 6 ft tall and bought the 171s



Thanks again
I do like the sound of the sin 7s as well...and now I'm confused which length to get. being 5'7" and being that I am not an expert...(more intermediate/advanced) shouldn't I not get a ski that is taller than me? Or because of my above average weight should I get one that is my height.
This one is tough for me, I'm 6' 178lbs and I would buy the access in nothing less than the 181cm and I prefer nimble and playful skis so tend to always choose one notch shorter than big mountain chargers do. For your height, weight, and stated ability level I would recommend ski lengths between 170-180 depending on the ski and it's rocker profile.



Based on everything you've told me so far and your preference for shorter skis my length recommendation for the two skis mentioned above is this.



Rossignol Sin 7 172cm

Atomic Access 171cm



If you were a very aggressive charger the 180cm length would be my recommendations based on your weight for these skis. I'm a firm believer in not pushing someone to go longer than they're comfortable with. I'd rather let their abilities grow and go up a size when they are ready.



SF


thanks again! what are differences between sin 7 and access? worth the extra $150?
Hey there!



I think you will find that the Sin 7 is a more versatile ski for you.

The Access is geared more towards powder harvesting and while it will be decent for cruising around the whole mountain, I think you will find better performance in a wide variety of conditions with the Sin7.



The Sin will also be slightly more nimble, so you will notice a difference when skiing trees and moguls.



The Sin7 has a good little bit of rocker in the tip so it will ski shorter than expected, so keep that in mind. 172cm or 180cm would be your best bet on that one.
My thoughts exactly Lexi.



I do think the $150 is worth it for the versatility. The Atomic may lead you to want something additional for the east coast groomer days which will cost you a whole lot more than the $150. But you know your financial situation, I don't.



Just do some researching in magazines and other forums to see the differences between the skis. Both good solid performers with slight differences in objectives.



Skifreak




thanks again to the both of you...I have ruled the atomic out but am now deciding between sin 7 and experience 88...i have read great things about both skis...thoughts?
Two great skis indeed but with a little different target. You need to decide what part of the mountain you want this ski to excel at.



The Sin 7 will be geared more towards off piste capabilities with good on piste performance. It will pivot, surf, smear and remain a lot less hooky off piste. In my opinion more fun in the bumps as well due to its rocker profile. Better powder performer.



E88 will be more of a true carving ski. A lot of sidecut/shape to it, only a touch of rocker in the tip and not much in the tail. E88 will be a more powerful performer in typical smooth, quiet, stable Rossi fashion. Not as bombproof as the E98 but still a smooth and damp feeling ski with a little spunk. It will do very well off piste because of the wide shovel but plows through the powder and crud vs trying to stay on top of it like the Sin 7 would.



Two great skis and when you read Rossignols descriptions you can be misled into thinking they are serving the same purpose. Which is true to a point. They will both perform great as an all mountain ski but the way they approach it is entirely different.



Smooth, stable, damp, awesome edge grip, traditional carver, more powerful, quick edge to edge, will have a tendency to plow and destroy anything off piste. Overall a more traditional all mountain ski. E88



Playful, surfy and smeary when needed, pivots in a mogul field, skis short with tight turning radius, good groomer performance, and will try to remain on top of the powder vs bombing through it due to the rockered tip. New school way of approaching all mountain. Sin 7



Hope that helped!!

SF
East Coast 10x a year...which one are you picking?
Is the above comment for me to answer?



SF
Well I'm not picking anything, you have to make that final decision based on the above comments.



If you want a more playful new school way of approaching your ski day go Rossi Sin 7. Especially if you are younger and want a jibbier and fun ski that will excel in deeper snow.



If you want a more traditional high speed and powerful oriented all mountain ski like the Atomic Nomad for east coast ice then go Experience 88.



I can only tell you how the ski will perform in different conditions but understanding how you ski, your ability level, and what you prefer is a little tough to do in forum style.



SF




What did you decide to do? I always like to follow up with people.



SF
So far very happy
Familiarity:

I've used it once or twice and have initial impressions
Hi I'm an aging advanced skier who doesn't have the time or money for a quiver of skis. This ski really nailed it as a bang for buck ski. It took a few runs to feel the pivot point on them but once I found it, I was really pleased with how effortless they were. They've handled incredibly well in a wide range of conditions and truly are a crud buster as well as a dream in powder. They're still relatively new so we'll see how they hold up but so far so good.
hi! what do you think about which ski will...
hi! what do you think about which ski will be the best for every day ride from atomic - blog, access or ritual? i'm an beginner-Intermediate skier and most of all like to ride powder.
Demoed these and they felt a bit soft. All wood core is most likely responsible. Better to go for the Alibi. The TI backbone is great!