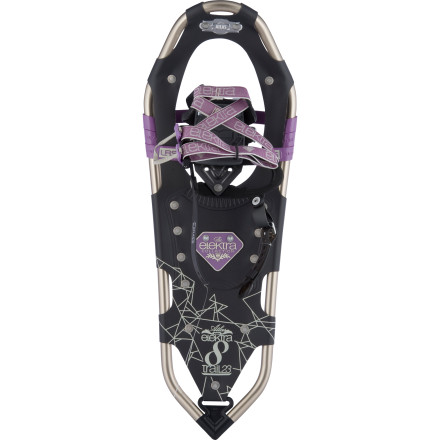 Detail Images

Videos
The Atlas Women's Elektra 8 Series Snowshoe begins with a hassle-free, minimalist binding with a Uniloop pull and loads of arch support, then comes a strong, light aluminum frame shaped just for the ladies and a friendly and forgiving decking that won't bog you down. Now, let the free-rotating suspension cushion roll you down the trail and the steely crampons move you along when the ground gets firm. From start to finish, it's a walk in the snow-filled park.

Women-specific design features tapered tail, narrower nose, and outside rolling bends that nest the shoes together
Women-specific 6061 aluminum V-frame tracks straight in deep snow, sheds snow with its tapered tail, and rolls smoothly
Free-rotating suspension cushions every step to allow natural articulation and unrestricted movement
Tempered steel toe twin-trac toe crampon and heel cleat provide death-grip on hardpack
Strapp bindings have a no-fuss Uniloop pull and are minimalist, supportive under arch, and gender-specific
Nytex nylon decking flexes for a forgiving performance
Whenever I've tried to use my Atlas snowshoes...
Whenever I've tried to use my Atlas snowshoes the back of my body gets covered in snow from the snow flying up from each step I take. I don't have the instructions so I'm wondering if I'm not wearing them correctly? My heel goes up/down, should it be? If anyone can help I sure would appreciate advise. As it stands right now I'll never use them again.

Thanks!

Janet

Goldensadie@roadrunner.com
Janet, my guess is that it's the way you're walking. Try walking normally and not lifting up your knees. There is a natural kick-up of snow but if you're getting soaked try walking slower at first and finding the stride that causes the least amount of kick-up. Also, clothing makes a huge difference. Wearing waterproof clothing (boots, pants & jacket) will keep you dry even when snow is flying up behind you as you blaze a trail :-). Remember, always layer clothing and never wear cotton, you'll sweat and moisture will stick to you.
This is my first pair of snowshoes and I have no complaints so far. They are easy to get into and out of (after a few practice rounds) and they are light enough that you barely feel them on your feet. The only downside so far is that they immediately sink in deeper snow, so I have not done a lot of "back country" exploring. I live in Minnesota, if that helps.
Atlas Elektra 8 Series FRS Snowshoe