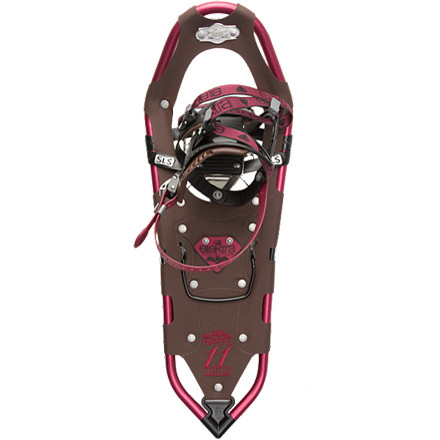 Videos
Some go out to walk, others go out to explore. Atlas made the Women's Elektra 11 Series Snowshoe for women in latter category. This women-specific snowshoe features a narrower waist and a tapered tail that works with your natural stride for greater efficiency and comfort.
Spring-loaded suspension keeps the snowshoe close underfoot for easy maneuvering and enables deeper crampon penetration into the slope
Wrapp Plus bindings feature supportive arches that cradle your feet and urethane heel straps that lock down with the SureClick buckle
Tempered steel All-Trac crampons get you across steep, icy slopes, while advanced aft traction delivers extra-secure footing
Atlas 6061 aluminum V-Frame design with a turned-up, tapered tail lets you walk naturally
Burly Duratek deck fabric handles rocks and sheds snow
Riser bar eases strain on calf muscles
Love the color. Heel lift works smoothly. Only drawback, is they are a bit heavy. Weigh more than my old MSR ascents. The 27 is pretty long, and also wider than my women's MSR.
These snowshoes are undeniably beautiful. Hence one of the three stars. However, I'm used to Redfeather Women's Stride, and I was expecting the Elektras to be as just narrow (since they are also sized for women). Unfortunately they were just as wide as my other unisex snowshoes, and I'm 5'8. Plus, the "thong slap" against your heel was like dragging a cement block behind each foot with a 8 inch rope. My Redfeather Strides also have a thong slap, but for some reason it's energizing and enjoyable. Must be a difference in weight and design of the tail of the shoe. So I was very surprised I didn't like these. Also the binding was extremely difficult to get the front of your boot in, although I have to say once it was in the binding was extremely comfortable and secure. Hence the second star. The third star is for the crampons -- an impressive number and array.
Do these shoes kick up snow like the 2008...
Do these shoes kick up snow like the 2008 version? My wife loves everything about hers, but the snow kick-up has become a deal-breaker.
Joh,

My parents bought the Atlas 12s last season and had the same problem. I can't attest to the newer models, but I believe the snow kick-up is tied to the spring-loaded suspension, which is pretty much the same between the two models. My mother believes it has something to do with the pointed tail, as well. I have MSR Lightning Ascent snow shoes and have not had this problem.

Happy trails!
Really nice, but wish they came in a 25
I never knew that buying snowshoes would be such an ordeal- but the sizing question has kept me up at night. I am technically a 23 according to the size chart, but I will be using them in very deep powder so I would prefer something a little longer. Unfortunately, the 27 is just toooooo long and a 25 would be perfect but they don't have those available in womens. I guess I will try out the 23s this winter and hope for the best!

Other than the fit, they look really nice- I am usually not a pink person but its a darker shade so I dont mind it. They are very easy to put on and take off even with gloves on.
How do I release the heel lift from the...
How do I release the heel lift from the full-height, locked in position back against the platform of the shoe?
Ruth,

Basically, push back and down on it. I found mine really tight at first, though they loosened up with use. I think the first time I used them I had to get someone else to help me get them down. Good luck!

Andrea