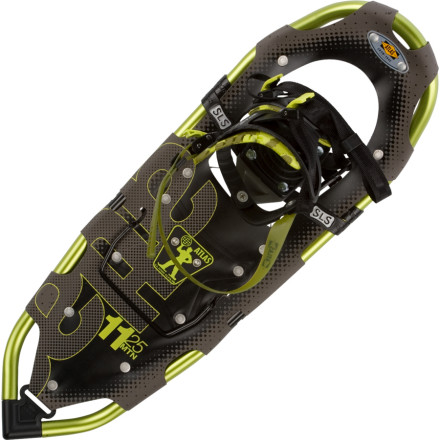 Videos
Blending top-end performance with a price that won't bury your budget, the Atlas 11 Series Snowshoe will keep you on top of the snow and your finances. The 11 Series offers the reliable Atlas 6061 aluminum V-Frame, durable stainless steel toe crampons, and an easy-to-use binding system for convenience and comfort.
Lightweight, strong 6061 aluminum frame stands up to abuse when you scramble across the occasional rock outcropping
V-Frame construction allows the shoe to track straight in deeper snow; tapered tail pulls less snow as you step
Spring Loaded Suspension system absorbs impact and lets your foot flex naturally, which means the crampon digs deeper on steep, icy ascents
Wrapp Plus binding offers a customizable fit, extra arch support, and one-pull UniLoop buckle design allows for easy adjustments on trail
Nytex decking wraps around frame for a taught fit and increased surface area
Stainless steel, All-Trac toe crampons feature pointed prongs for superior grip; stainless steel aft traction provides lateral stability and edging
Heel-lift bar relieves stress on calves during ascents by compensating for slope angle and loss of traction
All I can say is amazingly satisfied
Gender:

Male

Familiarity:

I've used it once or twice and have initial impressions
Just did my first snowshoeing backpacking trip and spent lots of time in these in wet slushy snow where post holing was a problem without the shoes. I am 170 lbs plus 40 lbs pack with these 1125 shoes. They were extremely comfortable and the boot attachments are superior to two of my backpacking buddies with MSR straps of two styles. I could put my shoes (size 13 OSLO boots) on and off in about 1 minute (without any further adjusting) while they were 5 minutes. I used them one day for 6 hours straight where heel lift was need going up and they were very comfortable with a pack. They do not lay on top of each other nearly as flat as the MSRs but I love the looks, shape, and storage of these on each side of my pack.
Great Product!
Familiarity:

I've used it several times
The first time i used them, kept looking down to see if they where still on - very light. Very easy to strap in and seem to work well with any footwear. I'm 5'8" and 170 lbs, went with 25". Used them yesterday for a 5k race with consistent elevation change. Never had to adjust once.
I am 5'9" and weigh around 170. Should I...
I am 5'9" and weigh around 170. Should I go with the 25 in or 30 in?
The max load for the 25 inch is 200 lbs, take into factor all the gear you might be lugging around and you are getting towards the top of the max load. Considering the two sizes are less than a half pound difference in weight and the added float you will get out of the 30 inches I would suggest sizing up.
I am a avid fly fisherman, and I have...
I am a avid fly fisherman, and I have decided to keep doing it year round to improve my skills and area knowledge. We just got a helluva winter storm here in South Dakota, and I discovered today it is not easy to get to my "honey holes" with this deep snow. Will these work good for me while wearing wading boots (with cleats) in gnarly backcountry terrain?
I think they would handle the terrain well but if you are using cleats like the ones I have (Patagonia stud kit) then those will chew up the decking of the snowshoes and destroy them in quick order. Might be worth throwing the wading boots in the pack and then just using some sort of winter boot like a Sorel to get to the spot and then putting on the wading boots. Not ideal but it may keep the good times rolling through the winter and not completely destroy the snowshoes.
I want to purchase the Atlas 11 Series...
I want to purchase the Atlas 11 Series snowshoe for my son; he is 6'2 and weighs about 170. Should I get 25" or 30"
he's a big boy. i say go with the 30", which have more coverage for his size.
I currently have this snowshoe and need...
I currently have this snowshoe and need some warranty work on them, any ideas on addressing this problem...this is a fantastic snowshoe and had worked great.
If you bought them on BC initiate a chat with a BC rep. They are good with warranty issues. If purchased elsewhere you will probably want to contact them or go straight to the manufacturer.
Can you wear snowboard boots with this...
Can you wear snowboard boots with this shoe?
New to this. I'm looking for a versatile...
New to this. I'm looking for a versatile snowshoe that would be good for both groomed trails as well as lower pitch inclines. Would this snowshoe it the part?
Best Answer
Hey there, yeah this snowshoe would fit your needs well... if you are strictly recreation and just getting started, you might want to check out places like Costco, Walmart, etc for non name brand snow shoes for a lot cheaper...
I really love these snowshoes. I've used Redfeather, Tubbs and US Army Mountain snowshoes and the Atlas are by far the easiest to adjust and have excellent build quality. Living in Montana (and 12 years in Alaska), I place a high premium on backcountry gear that is simple to use when you are tired and so cold that your fingers are stiff. These bindings pass that test very well, something I can not say about the design commonly found on MSR and Redfeather shoes (at least in my experience).
When you strap these guys on it doesn't feel like you've added any weight to your feet. The straps work quickly and deliver a secure fit that is easily adjustable. The traction on these things is super burly and will give you sure footing and everything from fine powder to the occasional ice patch. The climbing bar is a nice feature but a steep sustained incline is needed for them to be worth pulling up. At least a few hundred yards of consistent up hill. Otherwise they push your weight too far forward putting unnecessary strain on you calves. All in all a great set of snow shoes.
I have a pair of Atlas 1130's and am looking...
I have a pair of Atlas 1130's and am looking for a backpack to haul them around. Without using a lot of awkward and clumsy straps and bungees, etc. is there any pack that is designed carry snowshoes vertically - don't want to carry them horizontally - they get caught in the branches, etc. Thanks in advance!!
Any of the larger Dakine packs will carry them just great... Try the Guide, Poacher or Blade...
I've carried mine vertically on my Dakine Heli Pack too.
Ive rigged them in my Black Diamond Covert too
Ya I have the poacher and its not bad.