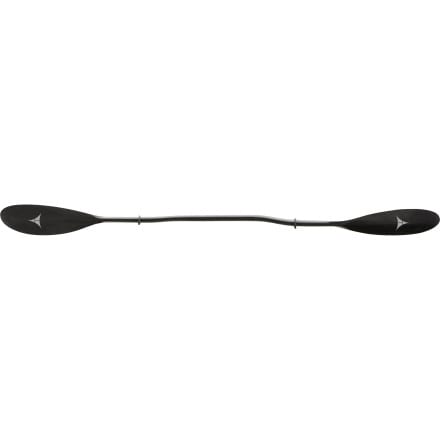 By virtue of pinnacle design and high-end materials, some paddles simply rise above the rest. The AT Paddles Xception Superlight 2-Piece Carbon Paddle does just that, offering supreme power and stiffness in package that's so feathery light you'll quickly forget you're holding this carbon masterpiece in hand. Unmatched in AT's lineup of Elite touring paddles, the Xception stands alone with its full carbon-braid construction. With a single, unibody design from blade tip to ferrule, there are no seams or junctions to rob this paddle of stiffness or power. Unlimited feather adjustment allows you to precisely dial each blade angle to match your paddling style, a vital and necessary feature to maximum comfort and efficiency over the long haul. Although this paddle is top-shelf by almost every standard, the Xception rewards a range of stroke types and either a high or low style. Wrap your fingers around this performance tool, dip the blade into the ocean or lake, and begin your tour across long stretches of coastline or inland waters.
Shaft uses braided-carbon construction that provides maximum stiffness and durability at an astonishingly low weight
Braided-carbon construction is proprietary to AT Paddles' designs, it's more flexible than traditional unidirectional carbon layups, and it's completely seamless
Unibody construction means that the shaft and paddle are molded as one, which results in a more consistent flex from the blade to the shaft and eliminates the need for the heavy glues, thus reducing overall weight
Ergo shaft (bent shaft) design bends the shaft on two planes in order to align the bones of your forearms and wrists to reduce fatigue on your joints, forearms, and grip
Bent shaft design also helps you create more torque when paddling, it positions your grip in a more natural position, and it allows you to position your hands quickly and confidently the very first time you grab this paddle
Carbon blades feature foam core construction that reduces swing weight precisely where weight reduction matters the most
Unlimited feather adjustment is a low-profile internal adjustment system that uses a simple pull and twist of the shaft to make adjustments
SmartSet Technology in the feather adjustment auto-sets your feather angle to the last position between dismantle and re-assembly
Length adjustment gives you and additional 5cm of length for those with long arms or a particularly wide grip
Share your thoughts
What do you think of the
AT Paddles
Xception Superlight 2-Piece Carbon Paddle – Bent Shaft
? Share a...