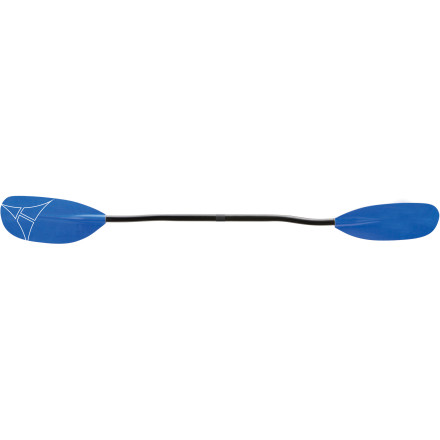 The AT Paddles River Carbon Whitewater Paddle will quickly become best buddies with your creek boat. Strong, lightweight carbon keeps the swing-weight minimal, and the large blade offers powerful pull. As part of AT Paddles' C-Series, the River Carbon offers a uniquely high fiber-to-resin ratio that makes it as strong as possible.
Carbon shaft is lightweight and supremely durable
Blade offset of 30 degrees offers powerful purchase and maximizes efficiency with each paddle stroke
Large, contoured fiberglass blade generates superior power in rocky areas where you might be able to only dip the blade lightly
Full control grip gives you the most secure handle on your shaft
Unanswered Question
want to buy a smaller WHITE WATER kayak....
want to buy a smaller WHITE WATER kayak. for creek running, I AM NEW TO THE SPORT AND STILL DO NOT KNOW HOW TO ROLL A KAYAK. USED OR NEW IS OK. THERE ARE SO MANY BRANDS OUT THERE IT MAKES IT HARD TO CHOOSE,. I DO HAVE A PLACE NEAR IN PORTLAND OR. WERE TEST SOME BRANDS. I ALSO NEED A PADDEL FOR MY 2013 WAVE SPORT ETHOS 9, CROSS OVER KAYAK W/ DROP SKEIG. IF I BUY A PADDEL W/ THE BENT SHAFT FOR WRIST SUPPORT. ARE THE EASY TO LEARN TO PADDEL AND DO THEY HAVE BENT SHAFT PADDELS WERE THER IS AN AJUSTMENT FOR THE 15' TO 30' OFFSET.


I have used many paddles over the years, but they were either aluminum or fiberglass, but they were all straight shafts. This was my first paddle purchase and I will have it for a long time so I decided to get a Carbon Fiber Bent Shaft and I'm glad I did! This thing is so light and it sits properly in my hands. I'm still trying to get used to where I need to put my hands, but I love my paddle! :)