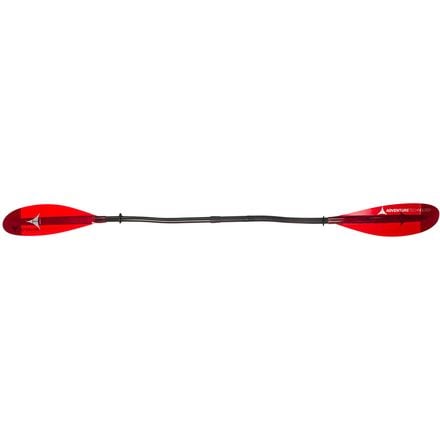 Detail Images
Arm yourself with the trusty AT Paddles Quest Glass 2-Piece Paddle before you hit the water. Lighter than ever, this touring paddle has shaved a few ounces since the '11-'12 season and it still offers the same silky smooth pull for paddlers with a relaxed, low-angle paddling style. You'll find a blend of materials in the shaft and the blades, all utilized in various ways to balance weight, performance, and value. Carbon-blend material lends the shaft plenty of strength and a consistent flex, while fiberglass keeps the paddle blades lightweight and resistant to dings should you dip the Quest a little too low and hit the bottom in shallow water. Grip fatigue can quickly turn a fun paddle session upside down, and to combat this the Quest uses a bent shaft design that positions your hands in exactly the right spot on the shaft and helps to reduce torque on your wrists. And rather than locking you into one length or feather angle, this paddle makes it quick and easy to adjust the shaft length and blade feather angle. Even the soft lines of the dihedral blades have a certain smoothness and versatility that you'll appreciate immediately. One of a few touring options in AT Paddle's Advanced line, this is a paddle fit for a day of cruising the ocean shore or hopping inland lake chains.
Carbon-blend shaft offers strength, durability, and a consistent, balanced flex that's not too stiff and not too soft
Fiberglass blades are light and feature high durability so you won't have to feel bad if you strike the bottom while perfecting your stroke in shallow water
Ergo shaft (bent shaft) design bends the shaft on two planes in order to align the bones of your forearms and wrists to reduce fatigue on your joints, forearms, and grip
Bent shaft design also helps you create more torque when paddling, it positions your grip in a more natural position, and it allows you to position your hands quickly and confidently the very first time you grab this paddle
Unlimited feather adjustment is a low-profile internal adjustment system that uses a simple pull and twist of the shaft to make adjustments
SmartSet Technology in the feather adjustment auto-sets your feather angle to the last position between dismantle and re-assembly
Length adjustment gives you and additional 5cm of length for those with long arms or a particularly wide grip
Share your thoughts
What do you think of the
AT Paddles
Quest Glass 2-Piece Paddle – Bent Shaft
? Share a...