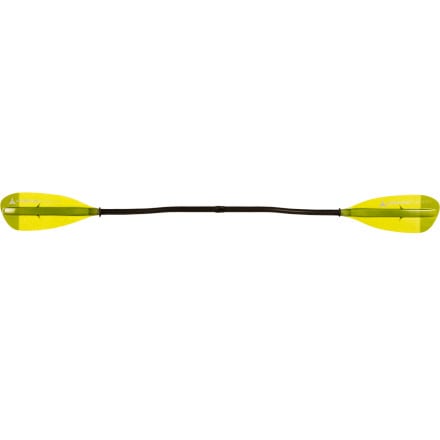 Go on tour with the AT Paddles Oracle Glass 2-Piece Paddle. With a blade adapted from the AT2 Whitewater Paddle, the Oracle offers massive power for kayakers who have an aggressive, high-angle paddling style. Fiberglass material offers the most ideal balance of performance, durability, and value for both the shaft and the blades, and the two-piece design makes this paddle easy to pack. Key features like the bent shaft and adjustable ferrule reduce stress on your muscles, wrists, and hands when you're on the water for the long haul. Squarely positioned in AT's Advanced category of touring paddles, the Oracle is stiffer and lighter than paddles found in the Sport category, and it shares some features found in the high-end Elite category without the top-shelf materials or price tag.
Fiberglass shaft and blade material offers the most ideal balance of performance, durability, and value
Two-piece design makes transport and storage easier than that of a unibody design
Full Control Grip (bent shaft) aligns your hands, wrists, and elbows in a neutral position to keep your arms more relaxed
Standard blade size gives you ample pulling power without causing you undue strain when you need to change up your stroke to maneuver or change direction
Slight dihedral blade shape gives the Oracle a powerful pull with less flutter
Dihedral shape also offers a consistent feeling in the water whether you're using a forward stroke or a lateral, maneuvering stroke
Unlimited ferrule (feather) adjustment allows you to twist each side of the paddle to dial in the angles of the right and left blade
Feather adjustment allows you to find the blade angle that best complements your stroke and paddling style, thus improving paddling efficiency and making each stroke feel more natural
Share your thoughts
What do you think of the
AT Paddles
Oracle Glass 2-Piece Paddle – Bent Shaft
? Share a...